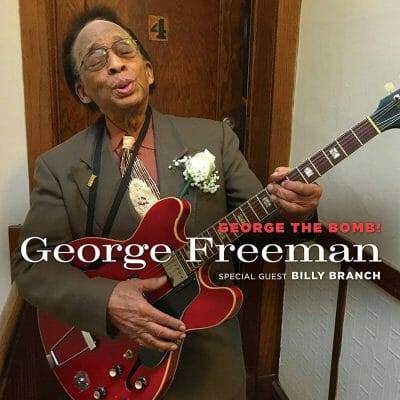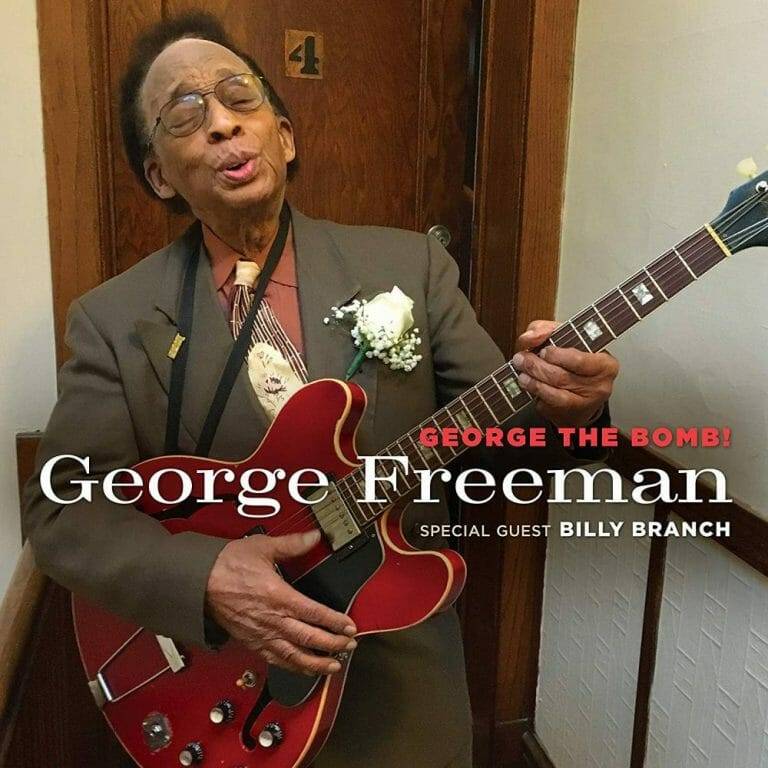 George Freeman
George the Bomb! Featuring Billy Branch
Southport
This is the epitome of "less is more." George Freeman is a legendary Free 91-year old jazz-blues guitarist who does not waste one note and has such an inherent feel for each genre, befitting the title. Yes, he is the bomb! Freeman can remember when Charlie Parker wouldn't go onstage without him. He is one of the few remaining musicians who recorded with Bird. (An Evening in Chicago, Savoy , 1950). Freeman has heard and played virtually every genre from swing, blues, bop, rock, or modern.
Consider this legacy. Freeman has toured or recorded with Parker, Lester Young, Johnny Griffin, Richard "Groove" Holmes, Gene Ammons, Dinah Washington, and with his brothers Von Freeman and Bruz Freeman, as well as his nephew Chico Freeman. The Freemans are Chicago jazz royalty. George is as authentically distinctive jazz guitarist as his brother Von was an authentically distinctive tenor saxophonist. Nephew Chico, not heard on this recording as he was on the previous Blujazz 90 Going On Amazing, stepped into his father Von's tenor footsteps.
To quote George ,"it all starts with the blues." At the age of 91 he wanted to try a new approach. Tired of the same old "jazz standards," here he traces his roots before Charlie Parker and Louis Armstrong, reaching back for mostly a set of deep blues. In April of 2018 Southport Records presented George at Chicago's City winery, adding 3-time Grammy nominee and harp master Billy Branch along with a rhythm section of John Devlin on bass and accordion and Luiz Ewerling of drums. They joined vocalist Joanie Pallatto and pianist Bradley Parker-Sparrow, all of whom appear on this album, due to the show's success. The liners contain some great historical information and photographs, another reason to pick this one up.
Branch and Freeman get a groove going on the opening title track. Just as the chorus "George the Bomb!" gets to be a bit repetitive, Freeman surprises by breaking into a jazz scat, immediately shattering any boundary between blues and jazz. Branch and Freeman have some fun interplay on "Where's the Cornbread?" and get damn near explosive as Branch blows and sings on Sonny Boy Williamson's oft-covered "Help Me," with their version standing uniquely apart from the many bland interpretations of others.
It's a casual recording, with many tunes seemingly improvised, musically and vocally but Freeman's strength in composition shows through in places too. "Gorgeous George" is a soothing jazz tune, imbued by the lush canvas painted by Devlin's accordion. Pianist Bradley Parker-Sparrow opens "Tonto" with a moody swing groove, making way for Freeman's scat and the requisite "Kimosabe" uttered near the end. "Uncle Funky" is another moody piece where Branch answers Freeman's single notes and chords. "home Grown Tomatoes" has a bluesy vocal duet between Freeman and Joanie Pallatto. Freeman, who introduces the closing "Al Carter-Bey": with a "Twinkel, Twinkle, Little Star" riff emblematic of the humor that finds its way into several tunes. This one, again featuring Pallatto on vocals, was penned for his lifelong friend and Chicago radio impresario.
There's no doubt that George Freeman is a living legend. This is one of this year's best surprises so far.