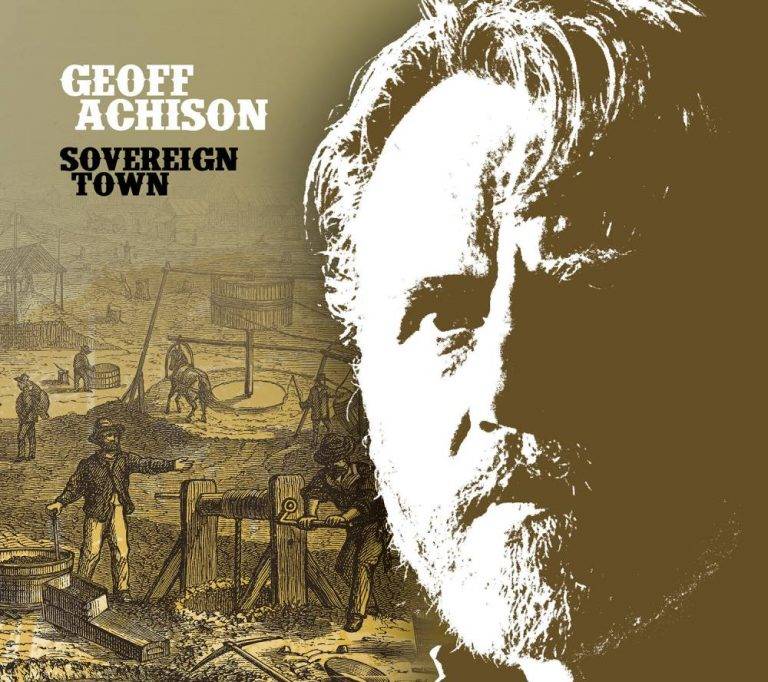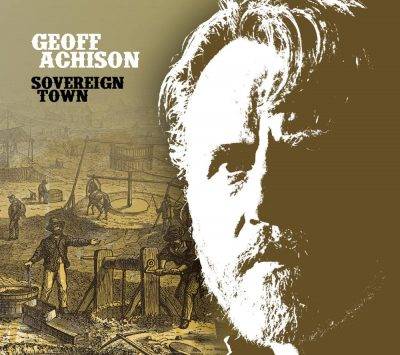 Geoff Achison
Sovereign Town
Landslide
Geoff Achison hails from Down Under and his album from last year, Another Mile, Another Minute was nominated for Album of the Year in the 2017 Australian Blues Awards. It was brilliantly eclectic and wide ranging, clearly one of the best albums in 2017. His electric guitar tone was so impressive on the record – in the Carlos Santana – Ronnie Earl range. So, what does he do for an encore?  He strips down and delivers a singer-songwriter album for his 15th release, Sovereign Town. Not only is he eclectic but he proves downright versatile too.
This album was inspired by the early days of Australia's gold rush of 1850 in the state of Victoria. It was recorded in the historic mining town of Ballarat, Victoria. It's about leaving home to seek one's fortune, love and destiny but quickly realizing that gold digging brings costs and downsides too. He comments, "Growing up in Malmsbury in the 'Golden Triangle' of Victoria's goldfields, we had dozens of dull grey mullock heaps all around us, remnants of old diggings. We kids would explore the discarded mine-shafts and tunnels, daring each other to leap over huge holes in the ground. It was fascinating history, so much work that had been suddenly abandoned. This inspired the song 'Sovereign Town,' the first track written for the new album.  As writing progressed, I began listening not only to the whispers of my own past but to the ghosts haunting the history of the area. It morphed into this story about what it might have been like out in the goldfields back in the day, more a story about the people who dug those holes and tunnels I saw as a kid. These stories were written with a small combo in mind, I specifically wanted upright bass & drums with Hammond organ to accompany my acoustic guitar & voice."
There are eleven originals and one cover – Ben Harper's "Walk Away." Geoff teamed up with locals Andy Fry on upright bass, Dave Clark on drums and Liam Kealy on Hammond organ, and headed to Ric Formosa's Pilgrimage Studio not far from the heart of town. Vocalist John McNamara dropped by to sing  harmony on some tracks. Normally Achison records with his band, The Souldiggers.
The opener, "Skeleton Kiss" is a bit more electric than most and has McNamara harmonizing with Achison. "A right ain't a wrong and a wrong ain't a right." Don't worry.  There are electric guitars and lap steel, mostly added for mood and effect as heard on "Miniature Men" and "Sovereign Town" among others, with some soloing and expansive playing on other tracks.   As Achison sings, his voice sounds familiar. Maybe it's the accent, but there are similarities to James Maddock, Mark Knopfler, and Ray Bonneville.
Some titles like "Wadsworth Bridge" ('we'll make it home by Valentine's Day") seem deeply personal until you realize that these are stories about a lost age.  McNamara joins again on harmony for this one, as Achison sings about hope amidst regret. "Misha Bell" is a jazzy instrumental interlude.  Then Achison hauls out his electric axe with pedals and all for the rocker "Small Town Crimes." Shifting into ballad mode for "World of Blue" he sings about playing a 'sweet blues guitar,' every bit reflecting it in his long sustained notes that just linger beautifully. It's here where accolades from Jorma Kaukonen fit, "Geoff is one of the finest blues guitarists I know with a completely individual style. I have never seen anyone play quite like him."
"Sleep Walking" is a gorgeous acoustic tune followed by the acoustic instrumental interlude "Hand of Faith" before drums signal a more robust sound of swirling B3 and electric guitar in "Rescue The Past," a summary of the album's theme. Achison closes in acoustic fashion with "Coolbardie Sunrise," somewhat reminiscent of the way the iconic Layla album ends with "Thorn Tree in the Garden."
Achison is a world class talent. Be on the lookout for USA tour dates, both band and solo, in September and October.
[amazon_link asins='B07FT6DQZ9,B01K6RAPKG,B0028NSEQY,B008EU9MWU,B004ZQRIS2,B0000516YU,B0089B23CA,B00Q524FO4,B00AYDQ700′ template='ProductCarousel' store='maasc-20′ marketplace='US' link_id='9311aa5f-b054-11e8-8a04-3b88fe3fc638′]