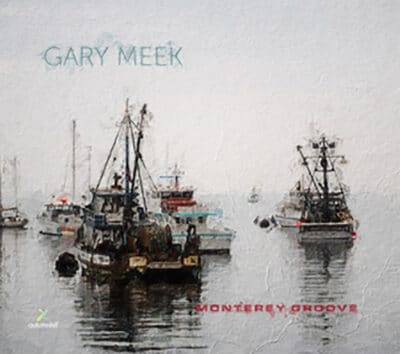 Gary Meek
Monterey Groove
Autumn Hill
Saxophonist and multi-instrumentalist Gary Meek debuts a new band formed in and inspired by California's central coast, as indicated in the title. The project began with no intention of a recording but simply to form a fusion band which was unique to the Monterey area, for playing locally.  You've likely seen the veteran Meek on many recordings, over 200 of them, notably his collaborations with drummer Dave Weckl and his two-decade association with Flora Purim and Airto Moreira, all three of whom Meek invited to appear as guests on Monterey Groove. The core quartet he formed features guitarist/producer Michael Lent along with bassist Robert Wider and drummer Skylar Campbell.
Meek revisits compositions in his catalog through this remote recording which not only allowed for the recognizable guests but also for next generation players such as saxophonist Anthony Paolini and trumpeter Akili Bradley. The theme of old and new runs through the album, kicking off with "For a Long Time," from Meek's 1995 Time One, his second as leader. Long-time collaborator Weckl is aboard on drums. Funk sets in with the potent "Power Station," where we hear Meek's full arsenal of tenor, soprano, and keyboards. The tune was co-written with Lent and gets additional energy from percussionist John Nava. The flowing beauty of "Midnight Sky" draws its inspiration directly from the Monterey area as does the highly melodic title track where Meek soars on tenor while Lent plays both a nylon string and electric guitar.
The jarring nature of "Bosphorus Blues" interrupts this smooth flow with its jagged rhythms and staccato lines as Robert Papacia takes Lent's place in the guitar chair and Nava again helps to propel the tune. As a centerpiece of sorts, we hear the unmistakable vocals of Flora Purim, who added lyrics to "The Hope," also featuring her partner, Airto Moriera, on percussion and Meek's especially lovely soprano.  Interestingly, Weckl volunteered for the opening track after seeing a video and Purim did the same after seeing a video for "The Hope."
"Move Out!" is the other tune featuring Weckl and it traces back to 2000 when Meek composed it for the Dave Weckl Band. However, the demo, recorded with Weckl, stayed on the shelf until now.  The original performance of Meek on tenor and Weckl on drums is paired with new tracks recorded by Lent, Wider and the young trumpeter Akili Bradley along with new keyboard parts from Meek.
Bradley ascended rapidly through the Monterey Jazz Festival's Next Generation program and also appears on "Shuffle This" and "Horizon" while young tenor saxophonist Anthony Paolini, who solos on "Shuffle This" began studying with Meek while in middle school.  "Cannery Row" features Meek on flute as well as tenor, keyboards, and percussion programming while a sextet including Bradley and percussionist Krishna Booker take "Horizon" to soaring heights. The album concludes in gentle, gorgeous mode with the quartet delivering a tender tribute to Meek's granddaughter, hence the title "Jenna."
Meek is clearly inspired by the surroundings and atmosphere of his adopted home.  You hear it in the pulsating rhythms as well as its floating, seemingly windswept lyricism.