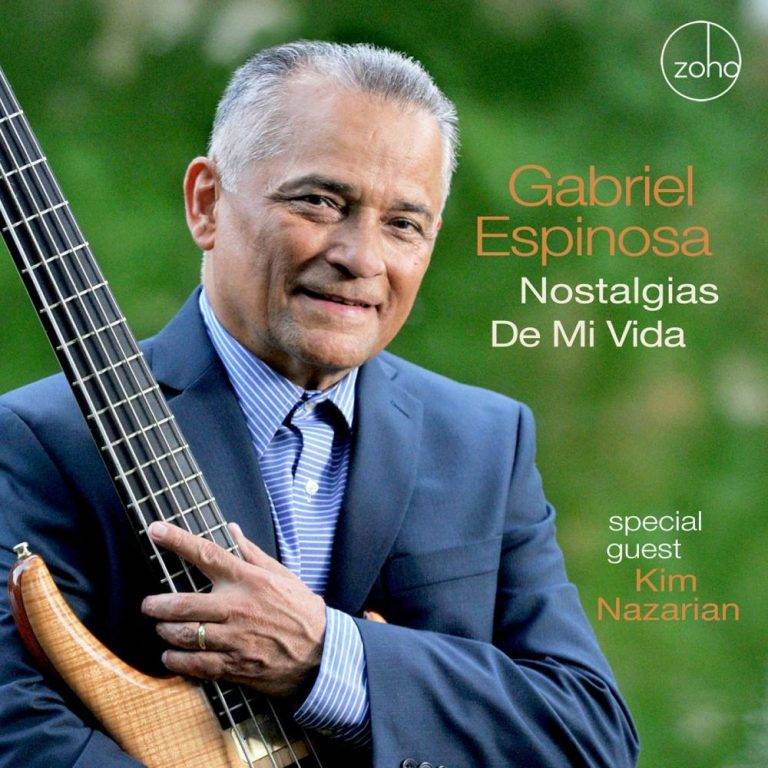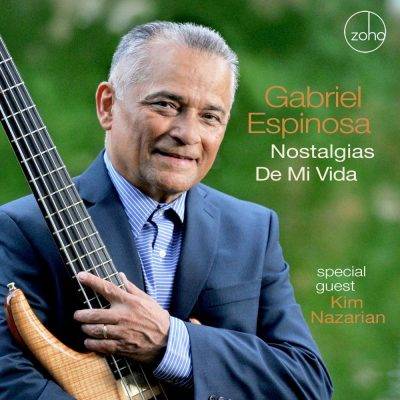 Gabriel Espinosa
Nostalgias De Mi Vida
Zoho
As you might guess from the title, even if Spanish isn't your language, this is about nostalgia and happy personal associations with the past (memories of my life). At age 66, Mexican-born composer/singer/electric bassist is looking back fondly on his life in jazz, from his first days with his brother's band, Los Deltons, in Mexico to recording in NYC with world class Latin jazz musicians. His is the music of his homeland mixed with Brazilian Samba jazz and an array of traditional jazz undercurrents.  He also features Grammy-nominated vocalist Kim Nazarian. Six are originals, one is from Kim, and three are modern "Mexican Songbook" classics.
Generally the combo consists of six-eight players with various tracks adding percussion, guitar, voice, and for two tracks the Christian Howes String Ensemble. As you'd expect, the music has a warm, tropical quality, full of upbeat passages and reminiscent at times of those early Chick Corea – Flora Purim projects in the 70s. This is a smooth ride regardless if a horn, guitar, or piano takes the lead.  The percussion is sprinkled in tastefully, rarely overwhelming the bright melodic thrust of the tunes. The ten tracks are generally in the four-five minute range  with plentiful, classy economic soloing.  Nazarian is heard on the first four tacks and on two in the second half. As described by Espinosa, her voice is "haunting, ethereal, and full of sweetness and energy."
Espinosa provides background and thoughts on each selection in the liners. He opens with an ode to his wife of 34 years, Gabriela with a breezy upbeat tune. "Nostalgia" gain features Nazarian's vocal carrying the melody with terrific support and soloing by flugelhornist  Jim Seely. "Tu Mirada" (Your Gaze) credits Nazarian who wrote the lyrics while Espinosa, uncredited,  did the music. This is the first time Nazarian sings lyrics as her previous two vocals were wordless. Jay Ashby provides a nice horn arrangement and solos on trombone. Nazarian ends with a vocal flourish that shows an amazing range.
"Sambatico" is another cheerful Espinosa original featuring a piano solo from Misha Tsiganov, who as a core band member, plays on all tracks. There's interplay between Joel Frahm on tenor and Seely on trumpet as well as vocals from both Espinosa and Nazarian. "Eres Joven" ("You Are Young") introduces a different sound, mostly due to the strings. The song has tremendous sentimental value to Espinosa who sings because it's the first song he ever recorded with his brother's band back in 1971. The late Eric Germon is the composer of this award-winning song.
Espinosa follows with his original "Tres." He has three sections with a distinctly different solo for each, courtesy of Seely, Frahm and Tsiganov, conceived to reflect the different personalities of three daughters.  His two other originals, "Two After Two" and "Papao"are primarily upbeat instrumentals with his and Nazarian's voices adding to the fine contributions from the soloists.  Seeley and Tsiganov and primary but have some admirable support from drummer Adriano Santo and guitarist Rubens de La Corte.
The two other "Mexican Songbook" tunes are "Un Tipo Como You ("A Guy Like Me") where Espinosa delivers perhaps his best vocal and "Si Superieras Cuanto Te Quiero ("If You Knew How Much I love You").  The former is composed by Sergio Esquivel, one of the most admired Yucatecan composers in the past fifty years. Espinosa has long wanted to record one of his songs.  He gets strong support from trombonist and arranger Jay Ashby. The latter was composed by Los Hermanos Castro and is another song Espinosa used to do with his brother's band, Los Deltons, in the early 70s. It's a lovely ballad where Espinosa's emotive vocals are bolstered by the warm full sound of Frahm on tenor sax.
Espinosa is a gifted musician delivering positive, cheerful music. His joy comes through on every tune.
[amazon_link asins='B07GGSB3XJ,B00OJ0WUSC,B007FQUH1Y,B01INNMXPU,B002AWM1DK,B01MD00UIJ,B01M8ORIC2,B01L8M1EZS,B01KAUSQAK' template='ProductCarousel' store='maasc-20′ marketplace='US' link_id='627b496f-f1ed-11e8-9d79-97b5369212f2′]