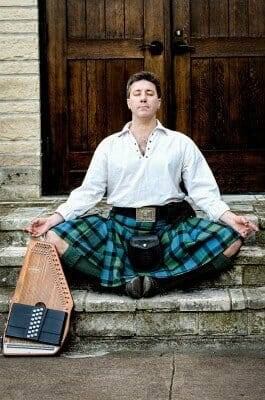 What a lovely relaxing and fun time we had at Johnnie MacCracken's in Marietta, GA Saturday night listening to our old friend Marc Gunn entertain.
For full disclosure, we have known Marc for years. We first met him as half of The Brogdingnagian Bards with Andrew McKee, After the Bards broke up in 2008, Marc continued as a solo artist, working tirelessly to build a full=ltime Indie Celtic folk career.
Today, Gunn is known to his legions of fans as "The Celtfather," not only for his own prodigious body of work and delightful performances but for his support and encouragement of other Indie Celtic artists through his Irish and Celtic Podcasts and compilation CDs.
The concert at MacCracken's (also known locally as "The Crack") was a typical one. Marc seamlessly mixed traditional Irish and Scottish folk songs like "Black Velvet Band" with non-traditional songs of his own and other contemporary artists. His songs range from a lovely song written for his wife to children's songs for his 4 1/2 year old daughter and the new one born almost 6 weeks ago, to drinking songs (the traditional "Johnny Jump Up" and his own non-traditional "Don't Go Drinking WIth Hobbits" and some very dark and humorous murder ballads and other tales of the macabre like my favorite,"Lullaby." ("Go to sleep, my child/There are demons under your bed…") Marc joked after that song that the tips and CD sales would go to pay for his daughters' therapy in later years.
It was very obvious that most of the crowd were familiar with Gunn's music, as we all sang along with the many sing-along choruses and even prompted him when he forgot certain bits of schtick he usually includes in his shows. So it was a bit like a family reuhion with good Irish food and drink provided by MacCracken's and a lot of singing and laughter. It's hard to think of a better way to spend a Saturday evening than that.
If you'd like to learn more about Marc Gunn, check out the Irish and Celtic Podcast and the Marc Gunn website,