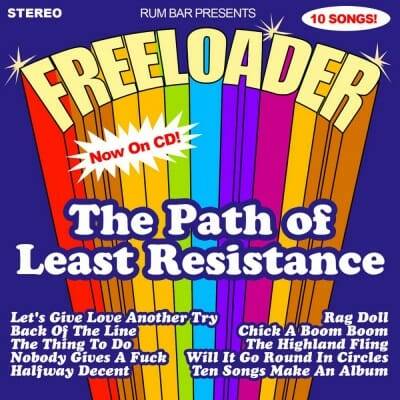 Freeloader
The Path of Least Resistance
Rumbar
Those of you that long for the days of blaring, crunch rock n' roll will enjoy these veteran rockers from Boston, Freeloader. Theirs is down and dirty, no frills rock, the kind that gets you shaking, sweating, and maybe even screaming. And, for whatever reason, it's a sound heard rarely these days. Freeloader bandleader is Nat Freedberg – singer, songwriter, and guitarist. Drummer Jim Janota played with Freedberg in the Upper Crust. Bassist Jim Hagerty and lead guitarist Charles Hansen round out the quartet, who together have graced (or, by turns, disgraced) the Boston rock scene since the '80s.
Freedberg is the oldest and maybe the most died-in-the-wool rocker of the bunch, hearkening back to the early '80s, logging time in the Flies, the Titanics, the Satanics, the Clamdiggers, and the Upper Crust. Janota is generally considered the best rock drummer in the city but he's still seeking regional gigs as is in-demand bassist Haggerty. Hansen is a world-class guitarist, teaches at Berklee, plays in several bands, and, like the others, stays close to home.
Freedberg released a solo album last February called Better Late Than Never. He continued to write songs that moved more into a hard driving rock direction. So, he returned to the studio with ace producer Ducky Carlisle and recruited these weathered rock warriors to round out the songs. With the presence of a title like "Nobody Gives a Fuck," it's clear where this crew is coming from – crank it up and let it rip. They transform one of two covers, The Four Seasons' "Rag Doll" into almost unrecognizable fare with the dual guitar attack. They absolutely bludgeon Billy Preston's "Will It Go Round in Circles" with guitar fury.
Freedberg brought seven originals to the studio, one short of the requisite ten he wanted. So, he quickly composed the anthemic garage-rock, puck-infused "Ten Songs Make an Album" the day before it was recorded. Like many of these blasters, its resonating guitars attack may rattle around in your head long after the song mercifully ends. But, wait – there is no rest. In fact "Highland Fling" brings on Gothic rock and thumps even harder than the former. "Thing to Do" is a raging three chord workout.
Oh, the first half of the album offers high energy from the get-go. The album just maintains its unrelenting combustible high energy end to end. There are no ballads here, nothing even remotely close. It's for the rock-crazed, unapologetic folks who love cranking up their car stereo or annoying their apartment neighbor because they just love "loud." If that's you, then this is yours. Blast away.