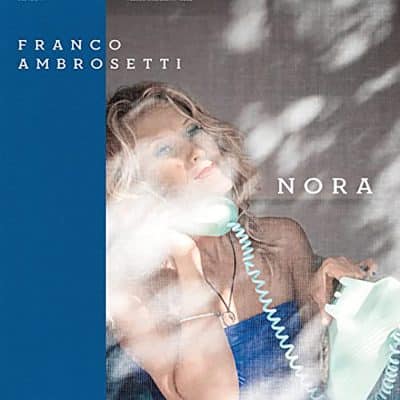 Franco Ambrosetti
Nora
Enja
Maybe it's these unsettled times that call for calming sounds. Or perhaps it's this writer's enduring love for Charlie Parker with Strings together with Swiss trumpeter/flugelhornist Franco Ambrosetti's touch on ballad material. Ambrosetti may have as a unique as resume as any jazz musician. For almost six decades he has been an active, respected trumpet player on the European scene. For 30 of those years, he also ran Ambrosetti Industrial Group, as CEO and eventually chairman. (The company manufactured steel wheels for vehicles and landing gear for airplanes.) Counting this one, Nora, which is indeed with strings, he has recorded 26 albums as a leader, often assembling all-star bands with people like Kenny Barron, Tommy Flanagan, Dave Holland, and Phil Woods. Blessed with these financial resources, he can command the best. In a repeat of last year's Lost Within You, he again hired guitarist John Scofield, pianist Uri Caine, bassist Scott Colley, and a different drummer, Peter Erskine. Leading the 22-piece string orchestra is violinist Sara Caswell and arranging and conducting is Alan Broadbent.
Octogenarian Ambrosetti draws on the groundbreaking Parker album with strings, the orchestral work of Miles Davis with Gil Evans, and the influential Clifford Brown with Strings, favorites from his youth. Chances are that if he heard alto saxophonist Jim Snidero with Strings, originally issued in 2011 and reissued last year, he would like that one too. Ambrosetti has superbly gorgeous tone, especially on flugelhorn, and is the ideal artist to record in this configuration. As he says, "When you're in your 20s, you want to play as fast as you can and as high as you can, like Clifford. But somewhere after turning 50, then you concentrate on more important things and you try to say something with just a few notes, but the right ones, like Miles Davis did. Miles is the inspiration for every trumpeter in their later age."
The album also introduces new 3D sound technology, courtesy of producer Jeff Levenson and engineer/mixer Jim Anderson, which maximizes the impact of Ambrosetti's tone and the sumptuous strings. Whereas Parker and others with string accompaniment, mixed swing and soaring takes with ballads, Ambrosetti primarily stays in the ballad lane, his sweet spot, as heard on the opening "Nora's Theme," which he originally penned for a 1997 production of Ibsen's House of Dolls that his wife, Silli, starred in. Think of Ambrosetti's expressive horn as akin to Sinatra's vocals with Gordon Jenkins orchestral arrangements. George Grunz's romantic "Morning Song of a Spring Flower" follows, beginning with guitarist Scofield's intro. Throughout Scofield plays as lyrically as we've ever heard him in this tune that Ambrosetti played often as a member of the George Grunz Concert Jazz Band from 1972 to 1991. The familiar "All Blues" follows, with Colley emulating the famous Ron Carter bass line and the strings carrying and swinging the melody. Ambrosetti begins in his usual restrained way but packs a few powerful punches in his solo too. Caine swings hard in his turn as well as the middle section of this piece contain the album's most energetic moments.
Victor Feldman's "Falling in Love" receives one of Broadbent's most tender string treatments as Ambrosetti's flugelhorn is as heart rending as any vocal could be with Caine in delicate form too. The mellow mood continues with a different sound as Ambrosetti begins with a muted flugelhorn in his caressing version of the standard "Autumn Leaves," before reverting to his customary open sound where he so beautifully sustains his notes. Lush treatment continues through "Sweet Journey" with Caine understated but an integral part of the proceedings. John Dankworth's "It Happens Quickly" follows suit with the flugelhornist's dulcet tones bathed in gentle strings. John Coltrane's "After the Rain," one of the most famous ballads in the jazz canon is the perfect closer. It's the epitome of Ambrosetti playing a few choice notes, elongating them with sterling accompaniment from Scofield who puts bluesy strains into it while the strings do the rest luxuriantly.
Eighty years on, the gorgeous Nora may well be Ambrosetti's best of all. Let these wonderful sonics lead you into a dreamy, trance-like state. We can only wish that heaven sounds as beautiful as these.
Help Support Making a Scene
Your Support helps us pay for our server and allows us to continue to bring you the best coverage for the Indie Artists and the fans that Love them!
Make a one-time donation
Make a monthly donation
Make a yearly donation
Choose an amount
Or enter a custom amount
$
---
Your contribution is appreciated.
Your contribution is appreciated.
Your contribution is appreciated.
Donate
Donate monthly
Donate yearly
You can donate directly through Paypal!
Subscribe to Our Newsletter