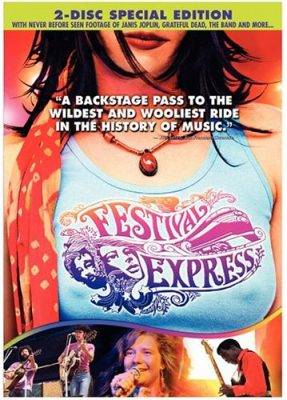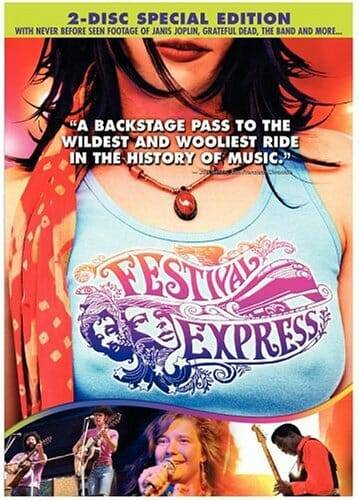 Festival Express
New Line Entertainment
DVD
In 1970 the following bands got on a train and rode across Canada stopping to play in Toronto, Winnepeg and Calgary. The film which shows footage of them both in Concert and "ridin that train", sat in a garage for thirty years. Imagine being on a week long train ride with The Grateful Dead, The Band, Delanie & Bonnie and Friends, The Flying Burrito Brothers, The Buddy Guy Blues Band, Ian & Sylvia & The Great Speckled Bird, Janis Joplin and The Full Tilt Boogie Band, Mashmakan, Sha Na Na, Seatrain, The New Riders, Eric Anderson, Tom Rush, Leslie West, Alvin Lee, and Kenny Gradney.
"Casey Jones" is the film's theme song, as the train pulls out of the station, and as it's heading down the track Delanie Bramlett sings "Going Down the Road Feeling Bad" which fades out to the Grateful Dead in concert with Jerry singing "Don't Ease Me In". The Grateful Dead then perform "Friend of The Devil". Then the Band is up next with "Slippin & Slidin". It is thrilling to see the Dead with Ron McKernan (Pigpen), and the original "Band" with Richard Manuel, Rick Danko, Garth Hudson, Levon Helm and Robbie Robertson.
Mashmakan, a terrific Canadian Jam band does "Comin' Home Baby", Buddy Guy sings "Money", and then The Flying Burrito Brothers (sans Gram) perform "Lazy Day". The Band's Levon Helm and Rick Danko sing "The Weight". Janis Joplin's footage is unbelievable as she sing's "Cry Baby". Later that night comes an incredible jam with Rick singing "Ain't No more Cane on the Brazos" with Janis and Jerry. "Sha Na Na" does their Na Na Na. The Grateful Dead are up again with the "New Speedway Boogie". Jerry Garcia then sits in with Ian & Sylvia and The Great Speckled Bird on "C C Rider". Then Richard Manuel sings lead with the Band on "I Shall Be Released". The film concludes with Janis Joplin singing "Tell Mama".
Outtakes include Seatrain with Peter Rowan and Richard Greene. Tom Rush sings "Child's Song", and Eric Anderson performs "Thirsty Boots". Buddy Guy sings "Hoochie Coochie Man". The Grateful Dead with Ron McKernan singing and playing harmonica on two songs is also a must have. The outtakes conclude with additional footage of Janis Joplin in concert. This is a "time capsule" for everyone who remembers what we had in 1970.
Richard Ludmerer