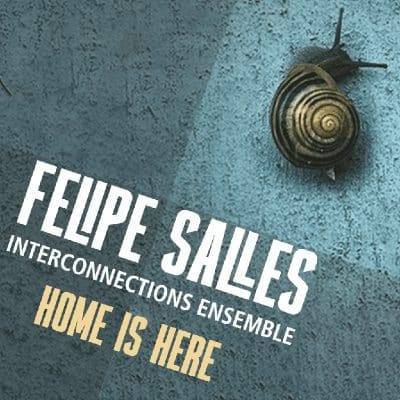 Felipe Salles Interconnections Ensemble
Home Is Here
Tapestry
Home Is Here is the third project for New England-based saxophonist, bandleader, and composer Felipe Salles' Interconnections Ensemble, which he founded in 2016. His multi-cultural nineteen-piece ensemble is flexible enough to play conventional big band music but more purposely apply themselves to different variations on Brazilian, Afro-Cuban and other Latin genres as a vehicle to convey diverse perspectives on the immigrant experience. The ensemble's 2018 debut, The Lullaby Project, reflected on his native Brazil, while its 2020 follow-up, The New Immigrant Experience, channeled anger and frustration over the fiercely debated "Dreamers" – those protected by the Deferred Action for Childhood Arrivals (DACA) program. The cleverly and aptly titled Home Is Here has Salles taking a different angle, focusing on the individual experiences of his fellow immigrants in jazz, spotlighting major names as he composes each piece for the soloist based on informed Zoom interviews with each during the pandemic.
They are legendary saxophonist/ clarinetist Paquito D'Rivera (Cuba); vocalist Sofia Rei (Argentina); saxophonist Jacques Schwarz-Bart (Guadeloupe); flugelhornist Nadje Noordhuis (Australia); vocalist Magos Herrera (Mexico); saxophonist/percussionist Yosvany Terry (Cuba); guitarist Chico Pinheiro (Brazil); and saxophonist Melissa Aldana (Chile). The project was made possible by the prestigious Jazz Road Creative Residency Grant (2021) with the support of Jazz Road and South Arts. Felipe Salles is currently a Professor of Jazz and African American Music Studies at the University of Massachusetts Amherst.
The first track, "Re-Invention" features Paquito Rivera playing both of his famed instruments, clarinet and alto saxophone based on his own remark about musicians constantly having to reinvent themselves. As many of the ensemble members possess deep classical backgrounds, they, like Rivera, are well prepared for the two bookended Bach motifs. The middle sections traverse through tango, Brazilian chorinho and Afro-Cuban traditions. Additional solos come from trumpeter Sabatini and drummer Lehmann (see personnel list below).
Sofia Rei penned the lyrics to Salles' score for "Meridian 63," which takes Argentinean influences to form a hybrid groove that incorporates folkloric elements, eventually morphing into powerful vocalese in dialogue with the ensemble, from which bassist Kaumeheiwa and Jonathan Ball, playing soprano sax, add inspired solos. The shift in dynamics with Rei's vocalese toward the end is especially effective. The celebratory piece for Jacques Schwarz-Bart, "Polymorphous," has heaps of Latin flavor and spreads out in multiple directions, buoyed by the featured artist's tenor solo complemented by one from trombonist DeWalt.
Salles seizes the opportunity to capitalize on Nadje Noordhuis' distinctive lyricism in the majestic "Wanderlust" where pianist Michelin is the only other featured soloist. Appropriately so, as the flugelhornist needs no other leading melodic instrument to state her dreamy, emphatic case. "Two Worlds Together" for vocalist Magos Herrera stays in a similar tonality as Salles paints a portrait of the singer – equal parts Mexican and New Yorker, with Burchfeld on bass clarinet and Glavanovits on vibes providing solos. "World Citizen" builds on Yosvany Terry's rigorous jazz/Cuban blend while bass trombonist Subero steals a little bit of the saxophonist/percussionist's thunder with a gutty solo of his own.
Fellow Brazilian Chico Pinheiro has an interesting perspective on the difference between jazz and Brazilian music which we'd be remiss not to share – saying the former is about the desire for power (bandleading, soloing, technique) while the latter focuses on "The Promise of Happiness." This is only place on the album where Salles solos, joining his guitarist friend with his own soprano solo. Melissa Aldana weaves her way through the sinewy, slithering closer, "Storyteller," named for her narrative ability with her horn. Guitarist Grudecki and Glavanovits from the ensemble's rhythm section add drama as soloists.
These eight pieces ooze emotion and evocative imagery in this exceptionally well-crafted project, encouraging this writer and likely you, to seek out Salles' previous work with his Interconnections Ensemble (listed below).
‍Interconnections Ensemble
| | |
| --- | --- |
| Saxes/Woodwinds | Trombones |
| Jonathan Ball, alto and soprano saxes, flute, piccolo | Clayton DeWalt |
| John Mastroianni, alto and soprano saxes, clarinet, flute | Randy Pingrey |
| Mike Caudill, tenor and soprano saxes, flute, clarinet, electronic effects | Bob Pilkington |
| Tyler Burchfield, tenor sax, flute, alto flute | Angel Subero, bass |
| Melanie Howell Brooks, bari sax, bass clarinet | Rhythm Section |
| Trumpets/flugelhorns | Nando Michelin, Piano |
| Don Clough | Luke Glavanovits, Vibraphone |
| Jeff Holmes | Kevin Grudecki, Guitar |
| Seth Baley | Keala Kaumeheiwa, Bass |
| Jerry Sabatini | Bertram Lehmann, Drums and Percussion |
Help Support Making a Scene
Your Support helps us pay for our server and allows us to continue to bring you the best coverage for the Indie Artists and the fans that Love them!
Make a one-time donation
Make a monthly donation
Make a yearly donation
Choose an amount
Or enter a custom amount
$
---
Your contribution is appreciated.
Your contribution is appreciated.
Your contribution is appreciated.
Donate
Donate monthly
Donate yearly
Subscribe to Our Newsletter