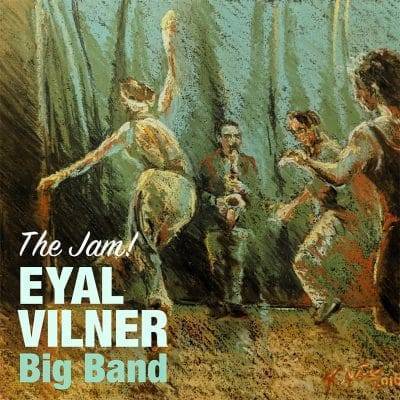 Eyal Vilner Big Band
The Jam!
Self-released
Multi-instrumentalist Eyal Vilner follows up his 2019 swing dancing effort, Swing Out where the band recorded live with swing dancers in the studio with The Jam! continuing to celebrate the renaissance of swing dancing and serve as one of its leading voices on the modern-day big band scene. Born in Tel Aviv, Vilner moved to New York in 2007, and began his big band the following year. The ensemble has performed at New York landmarks like Jazz at Lincoln Center, The Guggenheim Museum, Birdland, Dizzy's Club, Smalls Jazz Club and Minton's Playhouse. Several of the band members are leaders. In this current lineup, we have featured albums from vocalist Brianna Thomas, trombonist Mariel Bildstein, saxophonists Julieta Eugenio and Evan Arnstzen on these pages.
To deepen his understanding of jazz music, Vilner began taking swing dance lessons. Those interactions led to the Jam meetings, led by Vilner and professional dancer Gaby Cook, and proved one of the main inspirations for the album.
Nine of the tracks derive from a recording date close to the culmination of SWING OUT, the critically acclaimed collaboration that ran for two weeks at Manhattan's Joyce Theater. The EVBB interacted with virtuoso professional dancers, directed by choreographer Caleb Teicher, and those improvisations inspired new compositions from the pen of Vilner. Vilner's musical philosophy involves finding the common root of parallel artistic forms and seeing if those conversations can inform mutual creativity. He explains, "Both jazz dance – vernacular jazz dance and lindy hop – and jazz music come from the same place, being rooted in Black American art forms. They complement each other: We're reaching back to a tradition of moving and dancing to jazz music, delving deep into the sub-dialects within the language labelled as jazz, and then striving to tell a new, compelling story with these aesthetics in mind."
This music will feel familiar and new at the same time as Vilner taps both well-known big band tunes and originals. They begin with a fresh reading of Duke Ellington's "Just A Lucky So-and-So", with Imani Rousselle on lead vocals and vintage-like are growling solos by Brandon Lee (trumpet) and Ron Wilkins (trombone). Vilner (alto, clarinet, flute) steps out on alto on "Chabichou", named after Vilner's favourite goat's cheese, and displaying his penchant for bebop and hard bop. Listen closely and you'll hear a snippet of Dizzy's "Salt Peanuts" in a couple of the refrains. "Another Time" is another Vilner original with pianist Jon Thomas providing the Monk-ish strut with Vilner's alto taking on shades of Monk's famous tenorist Charlie Rouse. The band breeze through the toe-tapping vintage sounding title track, filled with stylishly executed shout choruses, Ian Hutchinson's walking bass lines, Eran Fink's drums, and a stirring turn from baritone player Josh Lee.
Vocalist Rousselle returns for a bit of tongue-in-cheek "Will you be my valentine?"-like "Will You Be My Quarantine?" featuring brief impressive turns pianist Thomas, Lee, Wilkins, and the leader on flute. "Monday Stroll" celebrates the legacy of Vilner's mentor (and legendary saxophonist and flautist) Frank Wess, with Vilner reorchestrating a Wess combo date from 1957. "Chad's Delight", named after a "fast, Balboa dancer" whose movements Vilner took inspiration from, has a ridiculous speedy tempo, but as the main soloist on alto, Vilner is more than up to the challenge. Trumpeter James Zollar and Brandon Lee, Wilkins, and Fink contribute as well.
We then return to more familiar territory with Brianna Thomas's witty take on "Hard Hearted Hannah," written in 1924 and covered perhaps most famously by Ray Charles. Trombonist Bildstein imbues the tune with a strong solo. That's followed by an elegant arrangement of Sy Oliver's classic "T'Ain't What You Do" with Thomas again at the mic. As the tune reaches the latter phases Vilner invites dancers to strut their stuff, paying tribute to the 'Ambassador of Lindy' Frankie Manning. Dance is also in the spotlight on the aptly named "Tap Tap" (featuring Caleb Teicher on tap duties).
"Call Me Tomorrow, I Come Next Week," the expression taken from the typical landlord retort to a request for repairs, features the big tenor sound of Michael Hashim who soars above a blaring horn section that continues to gather momentum and push the ante through the piece. Vocalist Brandon Bain's delivers sweet and savvy phrasing on Al Hibbler's hit "After the Lights Go Down Low,' with altoist Jordan Pettay delivering fluid lines. "Belleville" is a stark change of pace and mood as Vilner ventures into French impressionist music with that of Ellington/Strayhorn. With Vilner on flute, Josh Lee evoking Harry Carney, Ron Wilkins channeling 'Tricky' Sam Nanton on trombone and Brandon Lee on Solotone trumpet, the evocative piece depicts the wide range of Vilner's compositional skills. He's far from a "one trick pony." The closer calls for a classic and we get the Count Basie classic "Jumpin' At the Woodside" – a call for dancers to jump out of their chairs for the last tune of the evening, regaled by brief turns from Vilner, Thomas, both Lees, Wilkins, and especially altoist Julieta Eugenio.
Expertly blending the present and the past, Vilner's Big Band offers yet another stirring mix of bright big band sound, a carousel of vocalists, and concise, poignant solos that swing hard throughout.
Help Support Making a Scene
Your Support helps us pay for our server and allows us to continue to bring you the best coverage for the Indie Artists and the fans that Love them!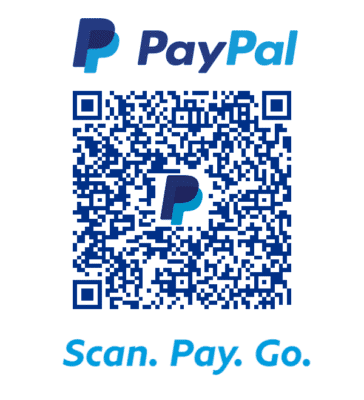 FOLLOW US ON INSTAGRAM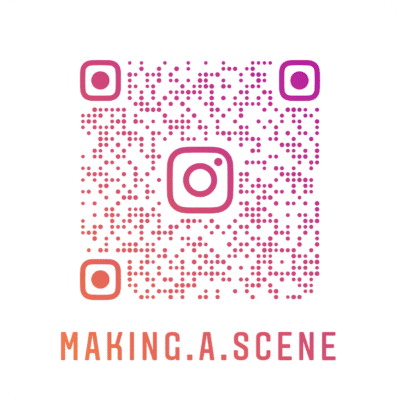 Subscribe to Our Newsletter