An Exclusive Interview with JP Soars

LIVE from the Midnight Circus Talks with JP Soars by Richard Lhommedieu on Mixcloud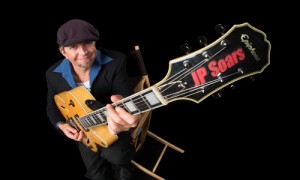 This week we talk to the one and only JPSOARS! With his new CD just hitting the radio airways "Full Moon NIght in Memphis" JP is out touring to support this great new Blues CD. Come hear for yourself! HE also also going to be appearing at Darwins in Atlanta this Saturday so if you are in the area you are not going to want to miss this show!
Since starting his recording career as a blues artist with the critically-acclaimed 2008 CD Back of My Mind, guitarist and vocalist JP Soars has channeled uncommon influences into a signature sound. Anyone could simply list revered blues artists like Muddy Waters and Guitar Slim, jazz guitar giants like Django Reinhardt and Wes Montgomery, and uncompromising rock acts like Black Sabbath and Slayer, but Soars has lived the diversity-cutting his teeth touring and recording with South Florida metal bands, and learning the complex style of Reinhardt to continue to perform in "Gypsy Jazz" solo and duo settings. All of these artists, and more, color and shade Soars' blues vocals and playing, whether on his hollow bodied Epiphone six-string or home-made, two-string cigar box slide guitar.
In 2009, Soars' unique approach paid off as he and his trio The Red Hots defeated bands from around the world to win the annual International Blues Challenge in Memphis, TN. Soars also won the Albert King Award for most promising guitarist. The group then channeled the excitement of that victory into its sophomore CD, the 2011 release More Bees With Honey. Like Back of My Mind, it received substantial airplay on XM Radio, even earning accolades from Little Steven on his "Underground Garage" program.
The CD also garnered Soars a Blues Music Award nomination for "Best Contemporary Male Blues Artist of the Year," and was named both "Best Blues CD" and "Album of the Year" by the Palm Beach Post. In 2011, Soars teamed up with Tampa singer/guitarist Damon Fowler and Memphis singer/keyboardist Victor Wainwright in the all-star blues act Southern Hospitality. Now Blind Pig recording artists, the group released a 2013 CD (Easy Livin') that earned a Blues Blast Music Award for "Best New Artist Debut Release." The collective tours in-between the schedules of its three bandleaders' solo careers.
Soars also released a 2013 live CD with The Red Hots to document their first European tour (Live From the Netherlands) after recording as a special guest with former Nighthawks guitarist and current blues star Jimmy Thackery on his 2012 release As Live As It Gets. "When I first heard JP Soars," Thackery says, "I knew he was separate from the rest of the pack."
A third studio CD, Full Moon Night in Memphis, is due out by Soars and the Red Hots in the spring of 2014, and promises to best illustrate the singing guitarist's broad range of styles and tastes. The bandleader has also democratically added a second guitarist, Steve Laudicina, for the group's live shows. Factor in a promising new bassist, Pat Ward, and longtime rock-solid drummer Chris Peet (who also works with Southern Hospitality), and the future is indeed looking red hot for Soars.