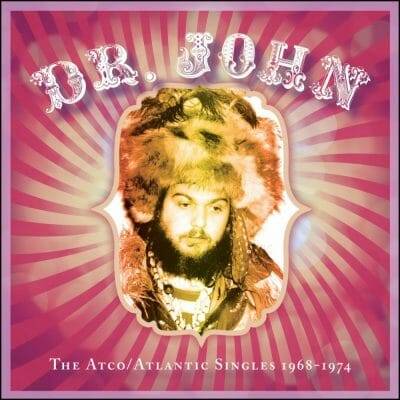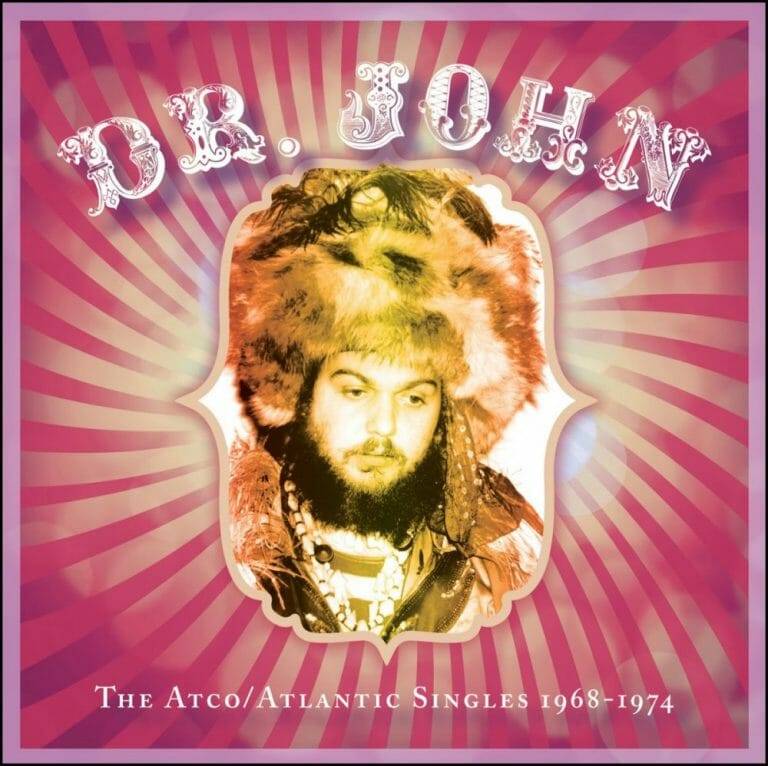 Dr. John "The Atco/Atlantic Singles 1968-1974" www.OmnivoreRecordings.com
Despite remaining extensively productive at recording albums, Dr. John's 1968-1974 stretch at Atlantic Record's subsidiary label Atco was his largest selling and most commercially successful era of making music. Along the way, he's won six Grammy Awards, and in 2011 he was also was inducted into the Rock and Roll Hall of Fame.
"Dr. John: The Atco/Atlantic Singles" collects his Atco A-sides and B-sides. The obvious hits are here, but there's much more, starting with the mono long version of the funky, kooky and fun "The Patriotic Flag Waver." "Mama Roux" is better known as are his frequently covered "I Walk on Gilded Splinters Parts 1 and 2," plus Wardell Quezergue's and Earl King's anthem "Big Chief" made most famous by the legendary Professor Longhair, and James "Sugarboy" Crawford's classic "Iko-Iko." Lesser known Dr. John covers include Willie Dixon's "Wang Dang Doodle" with a rare Dr. John guitar solo, Buddy Guy's electrifying "A Man of Many Words" with Buddy's vocal and lead guitar solos from Eric Clapton, Allen Toussaint sings background vocals on his superlative "Life," and the positive vibe that jumps out on Earl King's "Let's Make a Better World." Finally two Mac Rebeenack funk songs "(Everybody Wanna Get
Rich) Rite Away," "Mos' Scocious" conclude this under and over the radar screen parade of seven inch singles.
Last but not least nobody can forget Mac's 1973 chartbusting "Right Place Wrong Time," produced and arranged by Allen Toussaint who utilized the Meters as the backing band, and that mindboggling guitar solo from the strings of David Spinozza. Note: Regarding the Spinozza solo; I'd often read that David's solo was waxed in one pass, and that David happened to be walking by the NYC Atlantic recording studio, and was summoned to lay down his solo when it was decided that the song needed a hot guitar part. Several years ago during a WFDU radio interview I asked Dr. John to verify this Spinozza story, and he told the story was factual. But what he also told me was that Leo Nocentelli of the Meters also recorded his guitar solo in New Orleans, but someone misplaced his solo guitar master tape. So that's how Spinozza got the call to lay down his often referenced, immediately recognizable, forever memorable and sizzling guitar solo for "Right Place
Wrong Time." Took only about forty years to flesh this out but it's from Doctor John's mind and mouth.
This compilation is a great introduction to Dr. John's arguably best sessions as a leader. Other best of editions have been compiled, and even though the more expansive Rhino 2-CD box "Mos' Scocious: The Dr. John Anthology" has seventy-five percent of what is covered here. But you'd be missing several shinning diamonds ("Wang Dang Doodle," "A Man of Many Words," "(Everybody Wanna Get Rich) Rite Away," "The Patriotic Flag Waver,") plus one or two additional chestnuts. Also a plus are the recently penned ten pages of liners by Gene Sculatti, as are the production and arrangement credits for each and every tune. But I would have loved to have seen a song by song description of musician credits. And (this makes me nuts, and shouldn't be so difficult) how about time-lengths for each track? That being said; just sit back and enjoy the unique roux of Crescent City funk, soul, jazz and blues brought to you by (the only one of his
kind) Dr. John/Mac Rebennack.
For almost 17 years Bob Putignano has been pivotal at WFDU with his Sounds of Blue radio show (Wed. & Fri. 9am-1pm) www.SoundsofBlue.com – 2015's most pledged to ($21,000+) radio program at https://wfdu.fm Previously a contributing editor at Blues Revue, Blueswax, and Goldmine magazines, currently the Music Editor for the Yonkers Tribune www.YonkersTribune.com – www.MakingAScene.org & www.wfdu.fm/Whats-Happening/Bob's Music Reviews/bobs music reviews/ Bob was the 2003 recipient of the "Keeping the Blues Alive" award (given by the Blues Foundation in Memphis) for his achievements in radio broadcasting. Putignano can be contacted at: bob8003@yahoo.com