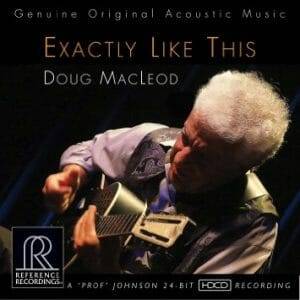 Doug MacLeod
Exactly Like This
Reference Recordings
Doug MacLeod has been nominated for thirteen Blues Music Awards. He finally won in 2014 for both Acoustic Album of the Year, "There's a Time"; and more importantly as Acoustic Artist of the Year. His song "The Entitled Few", from that album, also received a 2014 nomination as Song of the Year.
MacLeod learned to play both bottleneck and finger picking guitar from the old masters. He was a sideman for George "Harmonica" Smith, Big Joe Turner, Lowell Fulson, Big "Mama" Thornton and others. MacLeod is a troubadour who travels and performs his own original songs. MacLeod holds true to a basic tenant that he learned early on and that still guides him today. "Never play a note you don't believe".
This is MacLeod's 19th studio recording. Once again he is accompanied by his band, Denny Croy, bass; Jimi Bott formerly with The Fabulous Thunderbirds, drums; and Michael Thompson, piano.
MacLeod, a former bass player, has an appreciation for Jazz and Blues that constantly inspires him. Thompson's piano opens "Rock It Till The Cows Come Home". MacLeod states that this composition was inspired by listening to Louis Jordan. On "Too Many Misses For Me" MacLeod's guitar solo sounds like Wes Montgomery. "You Got It Good And That Ain't Bad" was obviously influenced by Duke Ellington. Jerry Reed can be heard in "Ain't It Rough". "Vanetta" gets it boogie beat from John Lee Hooker. Tony Joe White is the influence on "Serious Doin' Woman". My favorite song on the album is "Find Your Right Mind" and MacLeod has done so.
MacLeod is an American original as his songs; storytelling style and soulful vocals are mesmerizing. MacLeod developed his style by pursuing this tradition over the last 30 years.
MacLeod has already received an Acoustic Artist of The Year nomination for the 2015 Blues Music Awards to be held this coming May in Memphis. This new album almost guarantees him two more nominations in 2016. This new recording is highly recommended listening.
Richard Ludmerer
Find where Doug Macleod is going to be performing near you!