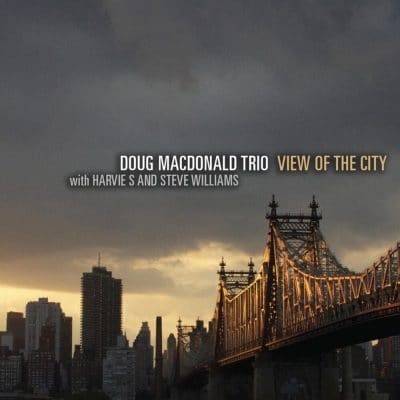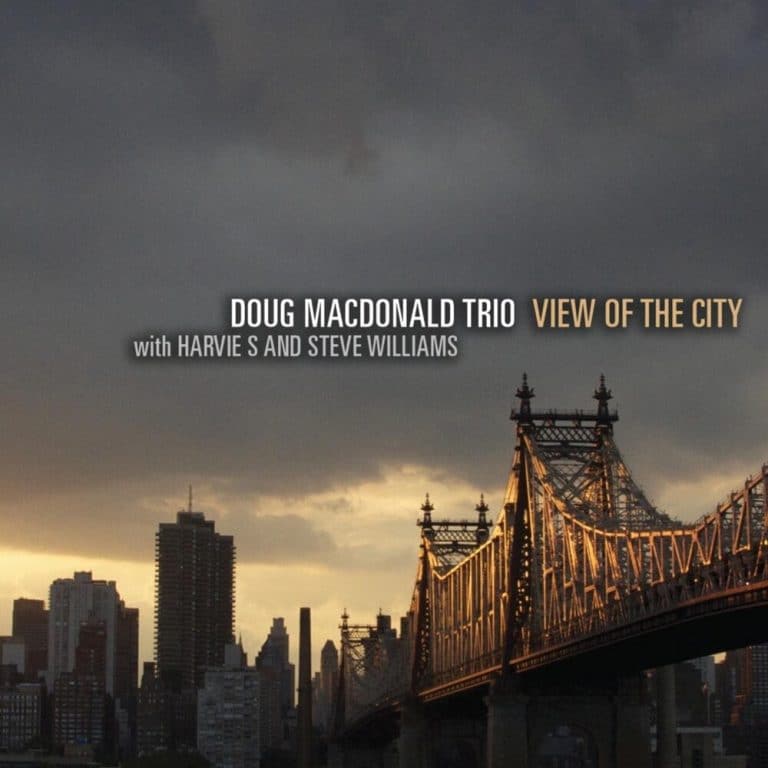 Doug MacDonald Trio with Harvie S and Steve Williams
View of the City
BluJazz
This is guitarist/composer Doug MacDonald's 13th solo release and fifth on the label. As one might glean from the cover art and album title, the transplanted West coaster is back in New York City for this straight-ahead date. MacDonald is a native of Philadelphia who has logged time n NYC, Las Vegas, and currently Los Angeles, while playing globally in various configurations. He has a trio, quartet and a 13-piece ensemble, The Jazz Coalition.
MacDonald explains, 'In August of 1979, I recorded an album in New York called, appropriately, New York Sessions. Years passed, and I began to feel that the time was right to return to the City and record a new project. I wanted to work with us bass and drums, which is a trio format I particularly enjoy. Although the trio had never played together before, there was a fresh sound, and the kind of interplay that happens n the spot, in a live performance. Someday soon, I hope we do just that. In the meantime, I hope you enjoy this view of the city."
Recorded in Queens, MacDonald offers five originals and eight covers across bossa novas, ballads, bebop, and blues. Although he didn't know the rhythm tandem of bassist Harvie S and drummer Steve Williams, MacDonald felt a true synergy, was buoyed by the interplay, and chose a "less is more" approach, playing fewer notes, going for some improvisation while his man responsibility was the melody. Although there was some minimal planning, it is essentially an organic recording played in a style reminiscent of guitar greats like Wes Montgomery, Barney Kessel, Herb Ellis, and others.
The set begins with an original, the minor blues "Griff," named for the brother of one his guitar students, 15 year-old Eunanue (who gets a co-composer credit). "Bossa Don" reveals more delicate playing in a tune he dedicated to retired professor Don Thomson, who has recorded MacDonald's live gigs in L.A. Another original, the up-tempo "Al's Pals" was originally written for his 13-piece unit where 4 tenors and a baritone sax are featured. Here the call and response, in the Al Cohn- Zoot Sims tradition, is handled between guitar and bass.
''Don't You Know I Care'' is a beautiful Duke Ellington ballad showcasing MacDonald's standout chord melody playing. The Johnny Mandel ballad "Emily," though, is treated with an upbeat tempo, unlike most interpretations. Kurt Weill's "Speak Low" features an extended drum solo by Williams before the trio conversation ensues with a bit of Latin tinge beneath it.
MacDonald takes Antonio Carlos Jobim's "Corcovado" solo before Harvey S then joins him for a lively duet on "Be My Love," a song originally written for opera star turned popular singer Mario Lanza. Williams' superior drumming comes to the fore again on MacDonald's original "Gateway Blues," which has a bit of Monk in it. Williams, by the way, was Shirley Horn's long-time accompanist and musical director. The impassioned interplay between Williams and bassist Harvie S is best depicted in Jerome Kern's "The Song Is You" and again in the ballad "You'll Never Know." Harvie S is the principal melodist on "Most of the Things," an answer of sorts to the standard "All the Things You Are." The Blue Mitchell closer "Blue Capers' has MacDonald in a Barney Kessel mode.
MacDonald sums up his view of the sessions, "Usually, the guitar is the singer and the other two guys are backing you up. But I really like to have more interplay and orchestration where it's more mixed, where it doesn't stay the same color all the time."
This is a laid back straight-ahead jazz session with superb, often understated guitar work and strong, often subtle interplay with the trio.
[amazon_link asins='B07KZJ3HCC,B07KZSP2X1,B07KZPT4QJ,B07KZPCKNX,B07KZLV3X7,B07KZLLZ7N' template='ProductCarousel' store='maasc-20′ marketplace='US' link_id='eec59180-128b-11e9-9f5a-6fc246e470cf']