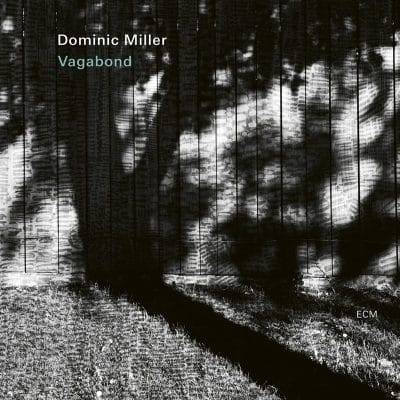 Dominic Miller
Vagabond
ECM
Guitarist Dominic Miller, a longtime member of Sting's band, releases his third album as a leader for ECM as he fronts a quartet. His co-conspirators are pianist Jacob Karlzon, bassist Nicolas Fiszman, and drummer Ziv Ravitz. (More on them later). Miller's first album, Silent Light (2017) was a solo venture and on his second, Absinthe (2019) he fronted a quintet. Like that album, Miller is far more interested in group interplay and creating sound textures than devoting the space to soloists, himself included. He is intent on instrumental songwriting and strives to surround himself with musicians who can share his vision. Many describe his music with terms such as poetry or storytelling. The title takes its name from the eponymous poem by English poet John Masefield. So, vagabond references those who travel frequently, the kind of people that Miller identifies with although he wrote the album in his current locale, in southern France. The music conveys the solitary walks he would take through the countryside, a hidden bar where he would occasionally meet locals, the town itself, or his feelings during the latter part of the pandemic.
The album begins so quietly that you may not think it is playing but gradually the dramatic crescendo builds with all four members contributing to "All Change." Drummer Ravitz sets a nice pace as Miller and Karlzon weave cascading lines in the brief piece that exits as quietly as it began. "Cruel But Fair" is softer, deliberate, and reflective, marked by single piano and guitar notes as Ravitz takes to brushes on his kit. "Open Heart," at close to seven minutes, offers the best opportunity for the four musicians to stretch out. It too develops slowly with Miller making his statement first, followed by a pause (Miller utilizes space often throughout) and then a minimalist but melodic piano solo that gathers some steam as his rhythm mates chime in, with the pianist and guitarist joining in to take it out.
"Vaughines" is the name of the small village in southern France where Miller wrote the album, and the tune emits a sublime aura of peace. "Clandistin," as you may have guessed references the hidden bar mentioned above. Other than Ravitz's insistent rim shots, it's relatively calm too before the mid-section where the piano and guitar become much more animated, likely reflecting conversations that took place. "Althea" is another slow burner, but it reveals, perhaps more than any other here, the keen listening of the ensemble as each seems to anticipate the other's move. Pianist Karlzon has his best moments here, propelled by Ravitz's steady hands. "MI Viejo," (my old man, my father) is a respectful ode with rich guitar from Miller and judicious support from the rest of the quartet while the closer "Lone Waltz," at first hypnotic, gathers robust momentum before gently easing out, a characteristic of several here. The album clocks in at a mere 33 minutes and clearly leaves us wanting more of these deft, gorgeous touches.
As promised, here's a bit more background on the players. Dominic Miller was born in Argentina and reaided in the U.S. and England. He's toured with Paul Simon, The Chieftains, Plácido Domingo and, most often, Sting, with whom he credits the lateral sense of harmony, concept, arrangement and narrative ability. With Vagabond, Swedish pianist Jacob Karlzon makes his ECM debut. He has performed alongside the likes of Kenny Wheeler, Norma Winstone and Billy Cobham, though his main current musical outlet is his piano trio with bassist Morten Ramsbøl and drummer Rasmus Kihlberg, with which he has released two studio albums. Over the past two decades Ziv Ravitz has established himself as one of the most prominent jazz drummers of his generation, performing and recording alongside Shai Maestro, Oded Tzur and most recently Lionel Loueke. He has appeared on ECM as part of Avisahi Cohen's groups on Big Vicious and Naked Truth. Bassist Nicolas Fiszman is Miller's "running buddy" having appeared in Miller's groups since 2005. He has played with a host of headliners including Sting, Charles Aznavour, Alphonse Mouzon, and Angélique Kidjo.
Find a few quiet moments. This will soothe you.
Help Support Making a Scene
Your Support helps us pay for our server and allows us to continue to bring you the best coverage for the Indie Artists and the fans that Love them!
Make a one-time donation
Make a monthly donation
Make a yearly donation
Choose an amount
Or enter a custom amount
$
---
Your contribution is appreciated.
Your contribution is appreciated.
Your contribution is appreciated.
Donate
Donate monthly
Donate yearly
You can donate directly through Paypal!
Subscribe to Our Newsletter