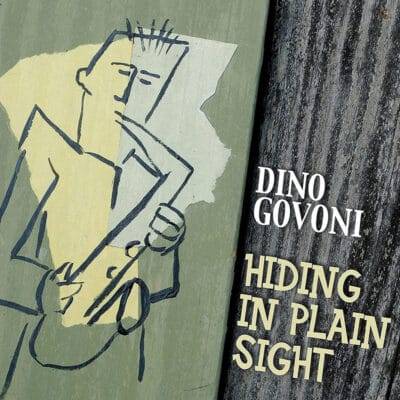 Dino Govoni
Hiding in Plain Sight
Whaling City Sound
Hiding in Plain Sight is a terrific title when considering that tenor saxophonist and composer Dino Govoni hasn't issued a recording in nearly a decade yet has remained continually active as an educator, a long-time faculty member at Berklee School of Music. This is his third release for the label and comes twenty years after his debut. Govoni aggregated heavy hitters for this quintet that features drummer Jeff "Tain" Watts, pianist Henry Hey, trumpet and flugelhornist Alex Sipiagin, and bassist Michael Pope. He renders some tunes with a quartet and some with the full quintet. Four of the tunes are composed by a pianist friend, Paul Nagel, who played with Boz Skaggs for many years. The remaining tunes are from band members except for one from non-band member Hal Crook. Govoni, is known for versatility and tone, having learned from two of the best, Jerry Bergonzi and George Garzone. Govoni's resume boasts impressive names such as Grover Washington Jr., Randy Brecker, Terence Trent D'Arby, Robben Ford, Mel Tormé, the Manhattan Transfer, to name a few.
Govoni's warm tones welcome the listener into the swinging, Nagel-penned "Stories Passed" which features a glistening piano solo from Hey, insistent beats from Watts, and lyrical turn from Sipiagin, followed by spiraling runs from the leader, in an uplifting tune that also makes room for Pope before returning to the head. Hey's "Cobalt" is another burning hard bop exercise with Govoni blowing with abandon, yielding to a blistering take from Sipiagin, rapid, explorative runs from Hey, and driving rhythms from Pope and Watts. Nagel's "Falling Ahead" is more mysterious, with Govoni and Sipiagin on flugelhorn authoring some dark, low register tones over plodding rhythms. Pope's electric bass solo is almost guitar-like in fluency, adding more intrigue to the piece.
Crook's 7/4 Afro-Cuban "Thinkers Anonymous" begins as a samba and morphs to a montuno, as all members are highly animated with Sipiagin venturing into the altissimo range and Govoni blowing his aggressive clusters. As throughout, it's Watts' work on the kit that is the propulsive engine. While there were ballad hints in "Falling Ahead" Nagel's "Ask Again" is a true ballad rendered by the quartet, that highlights Govoni's clear, clarion tones supported by Hey's comping and Pope's melodic plucking as well as a sensitive Hey piano solo. He's "Sublimate" begins with the two horns locked into a buoyant ensemble theme that dissolves into some complex rhythms that Hey rides in his solo before yielding to impassioned turns from the front line, stepping out again in vigorous hard bop mode.
Nagel's "Point Turn" is another Watts-fueled burner, in a complex arrangement by Hey who also produced and mixed the album, while Pope's "Appels to Apples" returns to the lush ballad mode, again with quartet where he, Hey, and Govoni are the soloists. The tune builds, and Watts is quite extraordinary as the piece climaxes. Govoni's lone composition, "Edge Walker" closes, a complex pattern involving intricate ensemble work from the two horns, in yet another swinging, exhilarating ride with an explosive climax.
This is genuine, at times absolutely burning, convicted hard bop balanced by a couple of lovely ballads and a couple of unexpected styles with all hands on deck, moving joyously full steam, and straight ahead. It's a keeper. Let's hope we don't have to wait so long for another from this tenor great.
Help Support Making a Scene
Your Support helps us pay for our server and allows us to continue to bring you the best coverage for the Indie Artists and the fans that Love them!
Make a one-time donation
Make a monthly donation
Make a yearly donation
Choose an amount
Or enter a custom amount
$
---
Your contribution is appreciated.
Your contribution is appreciated.
Your contribution is appreciated.
Donate
Donate monthly
Donate yearly
You can donate directly through Paypal!
Subscribe to Our Newsletter