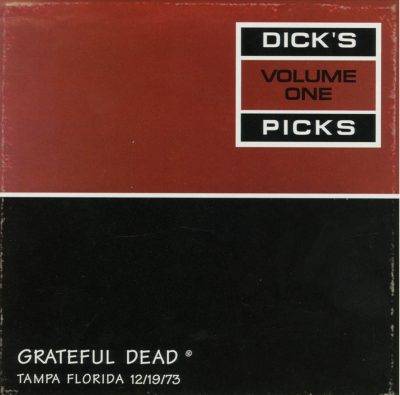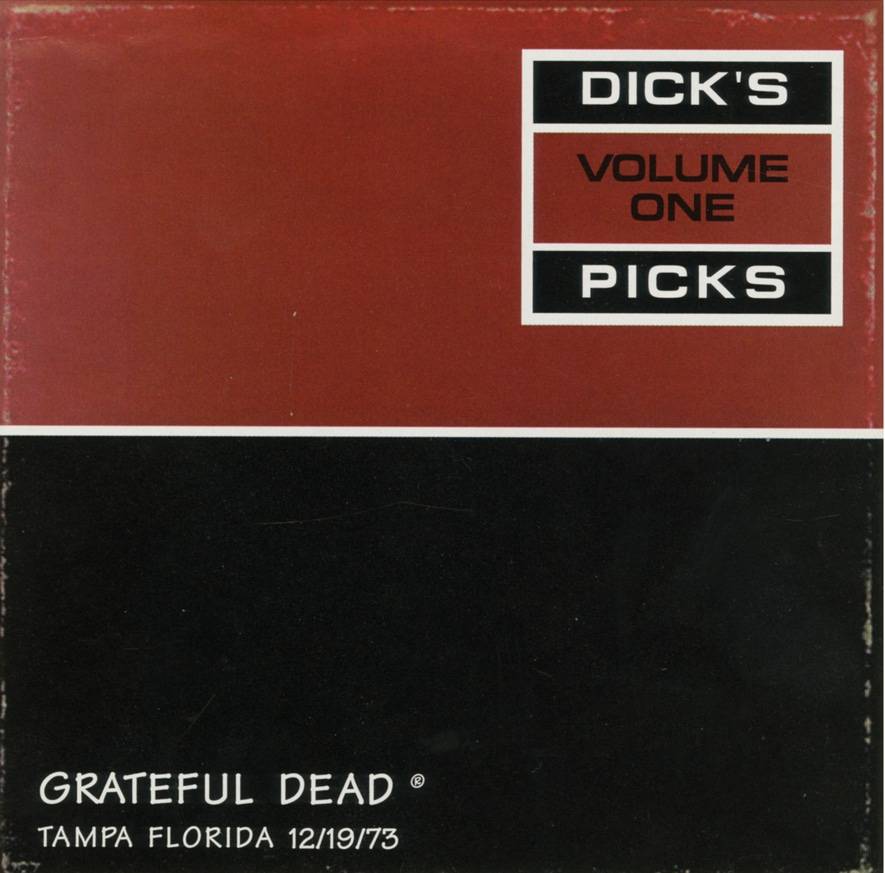 Grateful Dead "Dick's Picks Volume One" Tampa, Florida 12/19/73 (2-CD's) www.RealGoneMusic.com
This was the first Dick's Picks edition that was made available at www.Dead.net some twenty plus years ago in 1993. It's also the last of a series of Dick's Picks reissues from Real Gone Music. Real Gone started their countdown by first offering the last Dick's Picks (Volume thirty-six) from late 2011 until this 2016 reissue. * Note: Real Gone is also randomly re-releasing some of their more popular Dick's Picks again, especially the ones that have sold out on their site.
Titled for the for the official tape archivist "Dick" (who suddenly passed in 1999) Dick Latvala (www.DickLatvala.com) was the Grateful Dead's watchful vault keeper of the Dick's Picks series; encompassed three dozen entries spanning twenty-three years (1968 — 1991) of live (and sometimes raw and often electrifying) concert recordings.
This inaugural episode is over two hours of "highlights" (not the entire performance) from the band's final 1973 gig: 12/19 at the Curtis Hixon Convention Center in Tampa, FL. Additionally these "highlights" were not sequenced in the same order they were originally performed. These adjustments/maneuvers angered the Deadheads as they wanted the entire concert unedited and untampered with. Later Dick's Picks releases were sometimes three and/or four or larger CD box-sets, but this was their debut edition, and it was concluded to not let this album become larger than two discs. Supposedly this necessitated sequence changes, and unwelcome song performance edits which were not greeted kindly by the Deadhead tapers and collectors.
Disc one: Opens with one of my least favorites "Here Comes Sunshine" (14:13) but after just one vocal chorus the band quickly gels into a sumptuous and extremely tasty jam, so much so that it doesn't flow like a typical and tardy "Here Comes Sunshine" which is a pleasant surprise. Everyone's feeding off of each other's contagious stream of improvisational thoughts, which has me wondering if this was the first set opener or a later inclusion such as a second set dreamy jam? Johnny Cash's "Big River" cover also finds the band's intuitive powers sharp, but "Mississippi Half Step" falls flat. A full "Weather Report Suite" is next (15:56) initially meanders through its intro movements but lifts-off during the "Let It Grow/I Am" segments. Next: Garcia rocks out on a short (4:08) rendition of "Big Railroad Blues." Closing the first disc is "Playing in the Band" (21:10) sans Donna's screams – who was on maternity leave. This lengthy version became a point of contention because of the supposed hatchet-job bassist Phil Lesh who's bass solo was reportedly cut and omitted by the request of Lesh himself! Nonetheless this is a sparkly and inspired "Playing in the Band" again each bandmate is contributing and adding to the dynamics of this free-rolling jam. I don't recall many or any Lesh bass solos from live "Playing in the Band" performances, but he's righteous and upfront in the mix here, so it would have been interesting to hear his solo contributions here. Anyway based on Weir's comments – the first set (and first CD) is concluded with this controversial but solid version of "Playing in the Band."
Disc two: Mostly consists of a non-stop seven-song jam that clocks at over fifty minutes. Opening with a soft swinging, nearly eleven minute "He's Gone" that serves as a launching pad for the forever elastic but relatively short (9:18) "Truckin'," evolves into a Blues jam segueing to Blind Willie Johnson's (nearly six minute) "Nobody's Fault But Mine." Out from Blind Willie's Blues the band streams into a spontaneous and thought provoking instrumental (8:10) "Jam" that hints at and eventually becomes Weir's vocal choruses of "The Other One" for only two minutes. It's back to a second (free-form and sci-fi terrifying) "Jam" of a little more than eight minutes. This "Jam" quietly lands onto a (8:45) Garcia/Hunter's touching and soulful ballad: "Stella Blue." Time to head for the doors with Chuck Berry's "Around and Around" performed as a night ending and energetic cover should be. Garcia obviously loved Berry's fat rock and roll chord progressions and this version was no exception. So much so: I thought I could see Jerry's infectious smile beaming through my speakers. Goodnight everybody!
Musicians: Jerry Garcia – lead guitar, vocals, Keith Godchaux – keyboards, Donna Jean Godchaux – giving birth, Bill Kreutzmann – drums, Phil Lesh – bass, vocals, Bob Weir – guitar, vocals. Produced and Recorded by – Kidd Candelario Recorded Live: December 19, 1973 at the Curtis Hixon Convention Center, Tampa, FL
The rear cover of the CD carries the following Caveat Emptor: "The recording herein has been lovingly remastered directly from the original two-track master tape and is therefore not immune to the various glitches, splices, reel changes and other aural gremlins contained on said original. Dick's Picks differs from our From The Vault series in that we simply did not have access to complete shows (nor the modern mixing capabilities afforded by multitrack tapes) But we think the historical value and musical quality of these tapes more than compensates for any technical anomalies… In other words what you hear is what you get. And what you get ain't bad!"
*Note: It's nearly seventeen years since Dick Latvala suddenly passed at just fifty-six years old. At the time of his passing the Dick's Picks series had released fourteen volumes. But in memory of Latvala the Grateful Dead issued volumes fifteen (9/3/77,) and sixteen (11/8/69) supposedly Dick's favorite and most discussed candidates for future volumes. Not long thereafter the series was gradually handed to David Lemieux and the name was eventually changed to Dave's Picks. Though there was an in-between bridge release(s) of live Dead recordings titled Road Trips. As previously mentioned the Dick's Picks series concluded with volume thirty-six. As an apparent memorial; most of the Dick's Picks (volumes fifteen through thirty-six) if you looked closely you'll see the name "Latvala" carefully hidden in the artwork. Lastly; partly from recent interviews with Latvala's wife Carol you'll find more details about Dick's life and relationship with the Grateful Dead in Jesse Jarnow's 2016: "Heads: A Biography of Psychedelic America."
For 17 years Bob Putignano has been pivotal with his Sounds of Blue radio show: www.SoundsofBlue.com – Previously a contributing editor at Blues Revue, Blueswax, and Goldmine magazines, currently the Music Editor for the Yonkers Tribune www.YonkersTribune.com & www.MakingAScene.org Bob was also the 2003 recipient of the "Keeping the Blues Alive" award (given by the Blues Foundation in Memphis) for his achievements in radio broadcasting. Putignano can be contacted at: BobP@SoundsofBlue.com