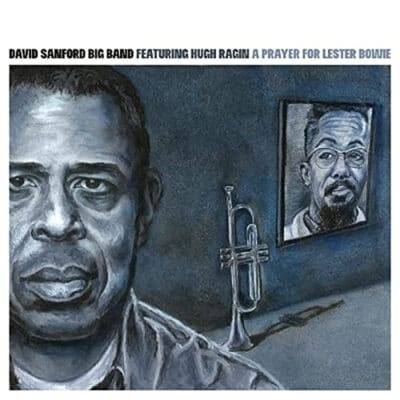 David Sanford Big Band (Featuring Hugh Ragin)
A Prayer for Lester Bowie
Greenleaf Music
We must warn you that this is so far from your father's big band music, that you need to be ready for progressive, improvised jazz that weaves in modern classical and defiant flavors of both avant-garde and punk.  Okay, so with those qualifiers out of the way, perhaps you are willing to venture into this highly imaginative recording, A Payer for Lester Bowie, from jazz educator, composer, arranger, and conductor David Sanford's Big Band, featuring trumpeter Hugh Ragin. Ragin composed the title track in tribute to the late great trumpeter and co-founder of the Art Ensemble of Chicago. It sits alongside six Sanford originals and his inventive arrangement of Dizzy Gillespie's "Dizzy Atmosphere."
Sanford is a longtime professor at Mount Holyoke College in Massachusetts and was honored this year by the American Academy of Arts & Letters for "outstanding artistic achievement," and award for "composers who have arrived at their own voice." Sanford assembled over twenty top jazz and contemporary music musicians for this effort recorded live at Sear Sound in NYC before the pandemic. Sanford and nine-time Grammy winning engineer Tom Lazarus were going for early to mid-1970s movie soundtrack feel as brass, woodwinds, electric guitar, bass, drums, and piano all merge to produce one glorious sound emanating from one room.
Theo Moore's congas introduce us to the rollicking "Full Immersion," inspired by both a fountain in Rome and the NOLA band Galactic. Terrific solos keep the energy flowing as hear from trombonist Jim Messbauer and tenorists Anna Webber and Geoff Vidal. Trombonist Mike Christianson and guitarist Dave Fabris lead the way on the haunting, edgy, bluesy and restless "Subraf" while the ballad "Women in the Shadows," featuring altoist Ted Levine, is even darker. The music is inspired by photographs form Luke Swank that reveal what he describes as "intoxicating dichotomy of beauty and grace in an environment of urban decay and extreme air pollution that was Pittsburgh of the 1930s."
Sanford has an affinity for roller coasters, and he devotes two of the tunes to that subject, first with "popit," a misheard phrase at Virginia's Kings Dominion amusement park but its most direct musical influences are The Clash's "White Riot" and the late'80s Boston hardcore band Hullaballoo whose band sometime included improvised trumpet and sax solos. Ragin is the lone soloist on this one. The closer "V-Reel" references the Virginia Reel, a ride at New Jersey's old Palisades Park, which burned down in 1944. The music reflects that special intersection of joy and terrifying power commensurate with that of coasters. The contrapuntal section nods to Bach and Bernstein but within there are also references to Miles Davis' "Prelude to Agharta," Jesus Christ Superstar, The Rite of Spring, and the rock band Soul Coughing. Featured are pianist Geoff Burleson, altoist Kelly Hart-Jenkins, Fabris (guitar), and Ben Herrington (trombone). Both immensely wild tunes, like rollercoasters, threaten to careen out of control, but somehow barely remain on the tracks.
So, in the epic title track, Ragin, the conductor, finds a balance between mourning Bowie with solemn taps-like trumpet passages and reflecting Bowie's forward-pushing spirit. He has a deep connection, having studied with the Art Ensemble of Chicago in the late '70s and generously reflects the late trumpeter's approach by making way for a number of soloists: three saxophonists: Levine (alto) Vidal (tenor), Marc Phaneuf (tenor); and four trombonists: Christianson, Mike Seltzer, Steve Gehring, and Messbauer. The trombonists lend a somber, heavy, elegiac tone to the piece as it goes out.
The other two pieces are Sanford's interpretation of Gillespie's "Dizzy Atmosphere" wherein he proves this band can swing as well as any big band when given a more traditional piece to play. Stepping forward are Wayne J. du Maine and Brad Goode (trumpet), Phaneuf (tenor), and Dave Phillips (bass). The noirish "The Soldier and the CEO" is inspired by scenes from David Fincher's film The Game with Kelly Hart Jenkins and Brad Hubbard (bari sax) out front along with a brilliant guitar spot from Fabris.
Sanford and Ragin do a great job of making room for as many soloists as possible. The only remaining musicians not yet credited above are drummer Mark Raynes, trumpeter Thomas Bergeron, trombonists Tony Kadleck and Tim Leopold; and tuba player Raymond Stewart.
Sanford says in summing up the album, "…But I still get the same excitement from rollercoasters that I did when I was 7 years old. The adrenaline rush I get from a jazz combo playing an up-temp burner is similar to that of a good launch on a rollercoaster. When they're done well, thrill rides are crafted like the music I love most: tension, release, surprise. It's what I aspire to." Unequivocally, this is some of the music exciting music you will likely hear from a large ensemble. Strap yourself in for the ride!
Help Support Making a Scene
Your Support helps us pay for our server and allows us to continue to bring you the best coverage for the Indie Artists and the fans that Love them!
Make a one-time donation
Make a monthly donation
Make a yearly donation
Choose an amount
Or enter a custom amount
$
---
Your contribution is appreciated.
Your contribution is appreciated.
Your contribution is appreciated.
Donate
Donate monthly
Donate yearly
Subscribe to Our Newsletter