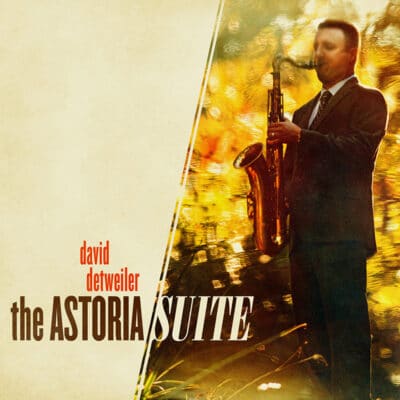 David Detweiler
Astoria Suite
NEXTLEVEL/Outside in Music
Born and raised in Houston, TX but having lived on opposite sides of the United States in both New York and Florida, Saxophonist and composer David Detweiler is well acquainted with shifting definitions of home. In 2010, Detweiler returned to New York, moving to Astoria, with his wife after living in Florida and this new perspective formed the compositions heard here on Astoria Suite. These began as a series of individual compositions but over time, these themes, melodies, and rhythms began subtly overflowing from one to the next, creating t a unified narrative.
The first element you may notice is the lack of a chordal instrument, Detweiler in one sense following a path blazed by iconic saxophonists such as John Coltrane, Sonny Rollins, and Joe Henderson. In the manner of those icons, many of these are rendered in trio format with bassist Mikailo Kasha and drummer Leon Anderson, but in a more unique configuration he engages trombonist/composer Kevin Jones on two pieces written by the latter. The fewer boundaries allow for more soloist expression that both Detweiler and Jones employ. In fact, the album begins with Jones' composition "Singularity," whose melody was written as a contrafact on Charlie Parker's "Confirmation," a signal that much of the album is in a bebop and hard bop mode.
"Blues for H and A" finds the saxophonist in the classic trio format, stating his theme crisply and poignantly followed by a thoughtful Kasha turn and then the exchange of eights, often found in these settings with drummer Anderson. "Jonesy" finds Detweiler dueling with the trombonist, beginning in ensemble mode before diverging into their own statements, the leader's demonstrating a full command of his instrument, especially the lower end. "Lookout" and "Under the Dome" are fast-paced trio exercises whereas "Twilight," which begins with his rhythm mates, is more deliberate before building to impassioned expression before yielding to Kasha's probing solo.
Beyond Astoria as a location, the inspiration for the compositions involves people that define the location as well. One such example is "Song for Julie, "written for his wife Julie who had previously lived in Astoria before returning to it with David. As you might expect, this begins as a ballad with Detweiler summoning gorgeous tone and sensitive lines, followed by Kasha who uses both his bow and plucking to great effect. When Detweiler blows more freely and exuberantly, prodded on by the rhythm tandem before reprising his introductory motif as he exits, a full nine and a half minutes later. Anderson sets a thunderous pace for the closing "Route," which proves a showcase for him as the trio plays in unleashed fashion. Dig in; these cats carry off a most enlivened session throughout.
More on the Artist and Label
David Detweiler is a tenor saxophonist, composer, and educator, and Vandoren Artist. He earned his BM from William Paterson University, MM from Florida State University (2010), and DMA from the Eastman School of Music (2015). In 2016, David joined the Florida State University faculty as Assistant Professor of Jazz Saxophone after serving as Director of Jazz Studies at Nazareth College in Rochester, NY. David has released two albums as a leader, New York Stories and The David Detweiler Trio Featuring Fumi Tomita and Alex Patrick.
NEXTLEVEL is an imprint of Outside in Music, dedicated to early career and first-time bandleaders seeking to make an impact on the music. OUTSIDE IN MUSIC is a record label and media company that exists to serve.
Help Support Making a Scene
Your Support helps us pay for our server and allows us to continue to bring you the best coverage for the Indie Artists and the fans that Love them!
Make a one-time donation
Make a monthly donation
Make a yearly donation
Choose an amount
Or enter a custom amount
$
---
Your contribution is appreciated.
Your contribution is appreciated.
Your contribution is appreciated.
Donate
Donate monthly
Donate yearly
Subscribe to Our Newsletter