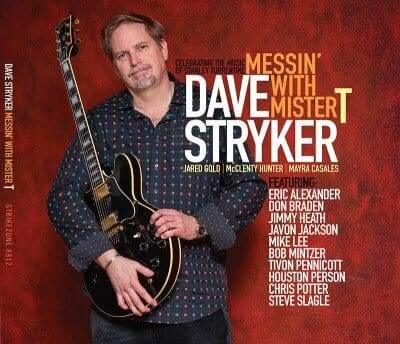 Dave Stryker
Messin With Mister T
Strikezone Records
In 1980 guitarist Dave Stryker left Nebraska and moved to New York City. He joined Jack McDuff's band and toured with him from 1984 to 1985. From 1986 thru 1995 and again from 1998 thru 2000 Stryker toured with tenor saxophonist Stanley Turrentine. Today bandleader Stryker leads The Dave Stryker Organ Trio and also co-leads The Stryker/Slagle Band with sax player Steve Slagle.
This album is a tribute as it is based on a typical Turrentine set list. Stryker pairs himself with ten of our best tenor saxophone players. The core band is Stryker, guitar; Jared Gold, Hammond B-3; McClenty Hunter, drums; and Mayra Casales, percussion.
Stryker states that playing for Turrentine was a validation that he was good enough to play with the very best. He states that Turrentine always played with a "deep blues feeling" and what came out of his horn "was his life's story, which is another way of saying soul".
The set list opens with the first of three Turrentine originals. On "La Place Street" the guest saxophonist is none other than Houston Person, an octogenarian, who is one of the last of his generation. The composition is named for the block where Turrentine was raised in Pittsburgh. It was also the last song he played before he died three days later.
On "Sugar" guitarist Stryker is accompanied by saxophonist Javon Jackson. Jackson states Turrentine offered him "frequent advice, especially his thoughts on sound and the blues". "Let It Go" is the last of the originals and the sax honor goes to 29 year old Tivon Pennicott who is the youngest of the tenor players on this session.
"Don't Mess with Mister T", became a signature song of Turrentine's. It was written by Marvin Gaye and adapted from the movie soundtrack of "Trouble Man". Here it's saxophonist Don Braden. Braden talks about Turrentine and states "his sound and attitude…was authoritative and powerful, a player you'd recognize in any situation".
Saxophonist Mike Lee joins guitarist Stryker on Michael Legrand's "Pieces of Dreams". Jimmy Heath plays tenor on Duke Ellington's "Sentimental Mood". Chris Potter plays sax on John Coltrane's "Impressions". Bob Mintzer, who has played with everybody, guests on Freddie Hubbard's "Gibraltar"; and it's Eric Alexander playing sax with Stryker on Milton Nascimento's "Salt Song".
"Side Steppin'" was written by Stryker. It was original recorded by Turrentine on his 1995 album "Time" on the Nimbus Record label. This time it's Steve Slagle on the tenor saxophone.
Stryker states that he wanted to do this tribute "ever since Turrentine passed". This recording is a wonderful tribute from an ex-sideman to his mentor. Guitarist Stryker has become a significant leader in his own right as this is his 26th recording to date. Thank you Mister Stryker.
Richard Ludmerer