Indie Blues CD Review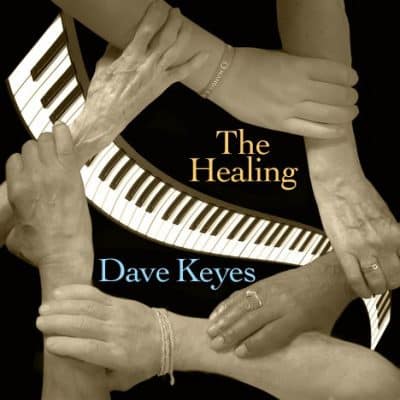 Dave Keyes
The Healing
Keyesland Music
Dave Keyes won the band competition at the 2000 International Blues Challenge held in Memphis. Keyes has established himself as a first call session musician on both piano and accordion. He performs regularly with Popa Chubby, Ronnie Spector, Slam Allen and Alexis P. Suter. He has played with Odetta, Bo Diddley, Sleepy LaBeef, David Johansen and Marie Knight. Keyes' was also conductor for "Smokey Joe's Café" a Broadway production based on the music of Leiber and Stoller.
Keyes' third album "Covered in Blue" received 3 ⅟₂ stars from Downbeat Magazine. Keyes' last recording "Right Here Right Now" resulted in him receiving a 2014 Blues Music Award nomination for Pinetop Perkins Piano Player of the Year. This is Keyes' sixth studio recording.
On this new album Keyes, plays piano, B-3, Wurlitzer, and sings lead. His band includes many musicians whom he gigs with. There is Popa or Arthur Neilson (from Shemekia Copeland's band) on guitar; David J. Keyes (unrelated), bass; and Frank Pagano or Stephen Rushton, drums. The background vocalists are Suter and her Ministers of Sound mates, Vicki Bell and Ray Grappone. Other guest artists include guitarist George Naha; vocalist Vaneese Thomas; saxophonist Chris Eminizer; trumpet player Tim Ouimette; background vocalist Dianne Cricchio, and a thirty member choir.
Keyes' has written nine new songs and includes two classic covers. The opener was co-written with Keyes' son Jase…"the only mistake I see is living in the past…so, Change, it's what you gotta do…" harpist Paparozzi takes a solo "can't control fate, it's out of your hands…then Change". Keyes takes a great piano solo followed by one from Neilson on guitar. Hey that's some good advice.
"Dance in The Dark" features Pagano's drums and Keyes on his B-3. "It's all right if at first you don't see the light". The horn section of Eminizer and Ouimette and the background Ministers complete the production. Pagano lays down some even bigger beats on "Not So Nice Anymore".
"Ain't Looking For Love" features Popa on guitar and the lyric "she has to learn to understand this is probably a one night stand…some folks looking for love, some folks looking for sex, some don't know the difference…that's when the whole thing turns into one big mess". Paparozzi solos on his harp again before chanteuse Thomas takes her verse "make no mistake I'm not looking for love".
Keyes played for gospel singer Knight who previously sang duets with Sister Rosetta Tharpe and he includes one of Tharpe's songs on each of his albums. This time it's "Strange Things Happening". The call and response between Keyes and The Ministers of Sound will rock the walls as will the solos by Keyes and Neilson. "There are strange things happening every day".
The other cover is Robert Johnson's "Traveling Riverside Blues". "You can squeeze my lemon until the juice runs down my leg". Keyes' fabulous piano solo is followed by a guitar solo from Popa.
"Come To Me" is co-written with Popa who takes a terrific guitar solo while Keyes is on the B-3. "Try to find shelter in the rain, looking for comfort and you only find pain…come to me".
"Faith, Grace, Love and Forgiveness" is Keyes' original gospel tune. The Brooklyn Interdenominational Choir led by Pastor Frank Hayes completes this extraordinary production.
"Box of Blues", "instead of you", is Keyes' original Christmas tune featuring a great horn arrangement and Paparozzi's harmonica decorations.
Keyes dedicates this album to two men. Leon Russell was Keyes' musical inspiration. The other was a young bartender with a big personality; Stefan Connelly worked the bar at The Turning Point Café in Piermont, N.Y. He was loved by all who knew him and he left us way too soon. Keyes includes his original "Boogie For Stefan" a five minute barrelhouse piano instrumental showcase which is absolutely heavenly.
Keyes' calls this album "The Healing". The music completes him. Listening to Keyes' can complete you too.
Richard Ludnerer
[amazon_link asins='B00FCCIGUM,B0031DS4TC,B000BGSCEE' template='ProductCarousel' store='maasc-20′ marketplace='US' link_id='3fd8b3d6-bdc6-11e7-a7bc-dd2c13abf62d']