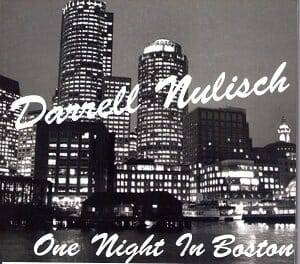 Darrell Nulisch
One Night in Boston
Independent
Darrell Nulisch is the singer currently on tour with The James Cotton Blues Band. Nulisch is featured on Cotton's 2014 Blues Music Award winning and Grammy nominated "Cotton Mouth" album.
Nulisch, harp and vocals, was the original singer with Anson Funderburgh and The Rockets and he first recorded with them in 1981 for Blacktop Records. He has since worked with Ronnie Earl and Broadcasters and also fronted his own band Darrell Nulisch and Texas Heat. After recording two albums with Texas Heat, Nulisch signed with Severn Records. Nulisch released five studio recordings on Severn the last being 2009's "Just For You".
In between touring with Cotton, Nulisch recorded this live album at a small Boston nightclub. This is Nulisch's eighth album and first live album. The band on this night was Nulisch, harp and vocals; Monster Mike Welch from Sugar Ray and The Bluetones, guitar; Dave Limina from Ronnie Earl and The Broadcasters, Hammond B-3; Mark Texiara from The Duke Robillard Band, drums; and Marty Ballou from The Bruce Katz Band, bass.
The presence of Limina on the Hammond organ gave them a new dimension and they kicked off this fabulous set with something on the track listing they called "The Warm Up"; in actuality it is a Jimmy Smith tune "Blues for J." They then went into a blues standard "Hum Bugg'n Me" written by the now legendary New Orleans producer Jay D. Miller and Rodney Morgan.
What followed was a sort of "best of Nulisch" as the band recreated some of his older material including "Love Attack" featured on Texas Heat's 1991 Blacktop recording "Business as Usual" and "What Have I Done Wrong" from Texas Heat's 1996 "Bluesoul" recording which is long out of print. Other songs included from his Severn catalogue were "Morning Train" from 1998's "The Whole Truth" and "After All" from his "I Like It That Way" album released in 2000.
Also included is Nulisch's version of Earl Randle's "Tear Your Playhouse Down". This version was adapted by Nulisch and bassist Steve Gomes and called "You Tore My Playhouse Down" when it was first recorded. Gomes is now bassist and co-writer in the Tad Robinson Band.
This album may be the live album of the year as Nulisch's voice is absolutely beautiful. It just doesn't get better than this. This is highly recommended listening.
Richard Ludmerer