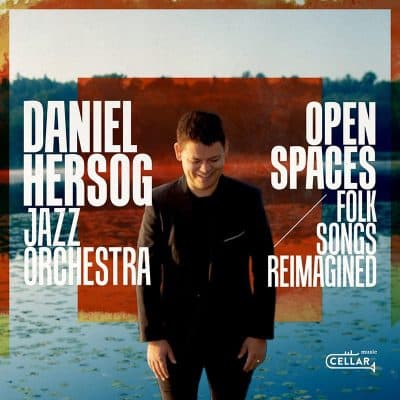 Daniel Hersog
Open Spaces (Folk Songs Reimagined)
Cellar Music
When Cory Weeds and his Vancouver-based Cellar Music is issuing an artist, it behooves this writer to take notice. Conductor, arranger, trumpeter, and composer Daniel Hersog is releasing his second album, Open Spaces (Folk Songs Reimagined) and the idea of taking familiar songs and transforming them into something vastly different is an appealing concept. Hersog, conducting a large ensemble of 17, presents highly layered and textured interpretations of such folk gems as Gordon Lightfoot's "Wreck of the Edmund Fitzgerald," "Shenandoah," and "Red River Valley," mixing them with six of his own compositions as well as another. One of these is Bob Dylan's "Blowin' in the Wind" re-composed as "How Many Roads." Many of these, besides Lightfoot's have their origin in Canada including his take on the Tragically Hip's 1996 rock hit "Ahead By a Century." Even more importantly his orchestra features such leading lights as guitarist Kurt Rosenwinkel, tenorist Noah Preminger, pianist Frank Carlberg, and member of Maria Schneider's Jazz Orchestra, The Mingus Big Band, and the avant-garde quartet East Axis (covered on these pages), multi-reedist Scott Robinson.
In the opening Lightfoot chestnut, we hear Preminger's stormy solo signaling the turbulent lake followed by Dan Weiss' thunderous drums, Rosenwinkel's screaming guitar and Carlberg's dissonant piano that reflect the sinking of the ship with a calm, orchestral movement that follows, created by Hersog. Carlberg and the gorgeously toned Rosenwinkel remain beautifully in sync in the melodic treatment of "How Many Roads." Ben Kono and soprano saxophone and Brad Turner on trumpet are the stars of "Ahead By a Century." Robinson takes the spotlight along with bassist Kim Cass in the sweeping rendition of "Shenandoah," with the former delivering an especially evocative baritone sax solo. Kono's oboe, Carlberg's piano and Rosenwinkel's guitar add additional colors.
Hersog's upbeat "I Hear" (based on the French-Canadian folk tune "J'entends le Moulin," features a poignant tenor solo from Preminger, plus key contributions from Kono on spiraling soprano saxophone and a fervent, insistent trumpet from Turner. "Jib Set" is a nostalgic homage for Hersog's parents, where Rosenwinkel and Preminger again shine while Cass takes a long bass intro to "Rentrer," later ceding the stage to Robinson and Carlberg. We travel to Canada's east coast for "Sarracenia Purpurea," named for a flower native to Newfoundland with Turner, Robinson, and Weiss exhibiting massive chops. Interestingly, one of the most folk-like compositions is a Hersog original, simply entitled "Canadian Folk Song" which begins with a rich Rosenwinkel solo, followed by a riveting turn from Preminger, and a free ranging improvisation by Carlberg while the ensemble ebbs and swells lightly, evoking an evening campfire and convivial conversation.
Considering that "Red River Valley" is among the most recognizable here, it may be pertinent to share Hersog's own highly visual description of his treatment as stated in the liners – "Beginning with a macabre delivery of this famous Canadian song, Kurt's guitar signals a break in the clouds and his delivery of this melody exudes warmth. The instrumentalists take up voice and become a choir, and Kurt's comping brings us back to the campfire with his earthy guitar. We then return to the theme, concluding the record with a melody indelible to the minds of Canadians."
We Americans, and presumably Canadians too, will cast votes for this one as one of the top large ensemble recordings of 2023.
Help Support Making a Scene
Your Support helps us pay for our server and allows us to continue to bring you the best coverage for the Indie Artists and the fans that Love them!
Make a one-time donation
Make a monthly donation
Make a yearly donation
Choose an amount
Or enter a custom amount
$
---
Your contribution is appreciated.
Your contribution is appreciated.
Your contribution is appreciated.
Donate
Donate monthly
Donate yearly
You can donate directly through Paypal!
Subscribe to Our Newsletter