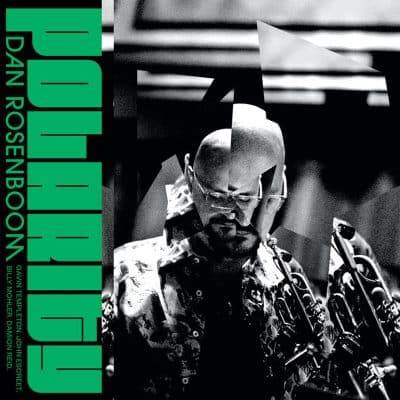 Dan Rosenboom
Polarity
Orenda
Trumpeter and composer Dan Rosenboom has been a pivotal catalyst for the creative music scene in Los Angeles over the past decade and a half. Polarity, originally envisioned as a most improvisational album became one of mostly through-composed compositions at the behest of drummer Damion Reid, which is not to say there a plethora of solos and inspired interplay on these eight Rosenboom originals. Joining him in the quintet, like Reid, another transplant from New York, is the inventive pianist/keyboardist John Escreet. L.A. mainstays, the forward-minded Gavin Templeton (alto and baritone saxophones) and bassist Billy Mohler round out this hand-picked, mostly acoustic quintet. Rosenboom plays trumpet, flugelhorn, and quarter-tone trumpet. Producer Justin Stanley, who has helmed projects for Prince, Beck, and many more collaborated with Rosenboom on this largely live-in-studio effort, adding some postproduction flourishes in just a few places.
Interestingly, in the week preceding the recording, Rosenboom was involved in Wayne Shorter's music, playing in the pit for Shorter's opera Iphigenia and later inspired by words of encouragement, urging him to be playful with a child-like sense of discovery in the session. Musicians of this caliber need no such urging, but Shorter's words may have well led to a more open communicative vibe in the sessions. To corroborate Rosenboom's propensity and talent for aggregating creative players consider that "Polarity" is the 101st release on Rosenboom's Orenda Records, which boasts more than sixty artists from three continents and a wildly eclectic lineup.
The almost twenty minute "The Age of Snakes" opens with Rosenboom' horn floating over an ethereal backdrop, punctuated by bursts of piano chords and intermittent clashes and flashes from Reid before a swaying groove develops over which the leader plays a series of sustained, slithering (sorry!) notes to Reid's steady rhythms. Even though it may not be what Rosenboom imagined, the listener can envision this as a soundtrack for a dreamy, heated journey across a desert. The trumpeter alternates from the exploratory to the ferocious to the percolating rhythmic bed to which Escreet adds bubbling electronic keys in the last sequence. Templeton on alto becomes Rosenboom's rapid fire sparring partner on the angular, combustible "Paper Tiger," which also features kinetic turns from all three in the rhythm section.
"Walking Shadows" turns more lyrical and melodic with strong unison playing from the front line while Escreet, Templeton, and the leader weigh in with energetic solos. "On Summoning the Will" goes even further, into downright tender territory, appropriate in that it's a tribute to Rosenboom's stoicism in overcoming Stage 2 Breast Cancer.
The frenetic "War Money" and "Minotaur" feature Templeton on baritone sax, creating darker, foreboding harmonics while providing a gruff contrast to Rosenboom's high-pitched cries while demonstrating that he swings equally at ease on the larger horn, especially in the latter which also has Escreet careening at high speeds and barely contained abandon. The piece reaches climaxes with the band sounding much like a NOLA brass ensemble on steroids. "Ikagai" features brilliant kit work from Reid and a robust bass line from Mohler is support of Escreet's wide reaching, aggressive piano solo which seems to energize Rosenboom and Templeton in their inspired statements. In contrast, "Tidal Mirror" oozes in ever so slowly, awash in ethereal tones from Escreet's keys, and wave-like effects from Reid's cymbals to elongated lower register, almost trombone-like tones from Rosenboom that rise up to trumpet-pitch as the rhythms continue to undulate in dizzying effects. It feels like a soundtrack to outer space exploration.
With a mix of ferocity and intrigue, Rosenboom and his ensemble deliver scintillating creative music where each one of these musicians shines.
Help Support Making a Scene
Your Support helps us pay for our server and allows us to continue to bring you the best coverage for the Indie Artists and the fans that Love them!
Make a one-time donation
Make a monthly donation
Make a yearly donation
Choose an amount
Or enter a custom amount
$
---
Your contribution is appreciated.
Your contribution is appreciated.
Your contribution is appreciated.
Donate
Donate monthly
Donate yearly
Subscribe to Our Newsletter