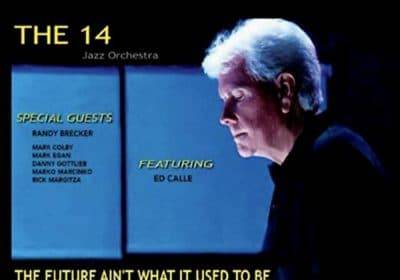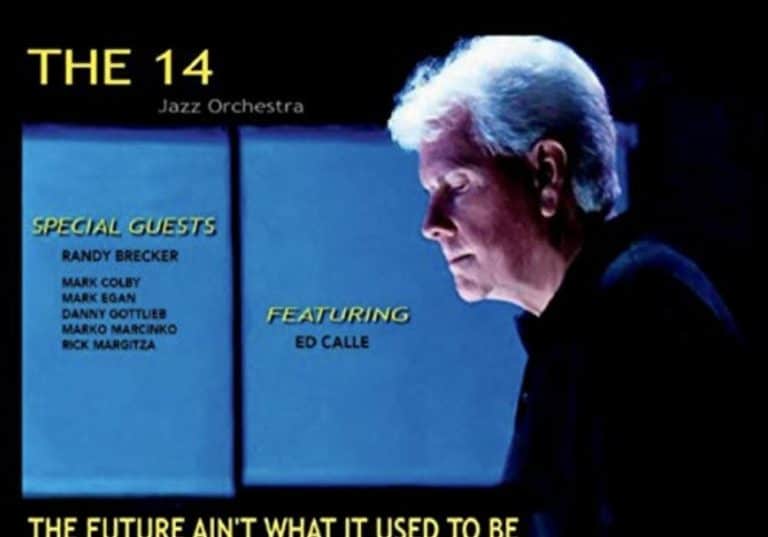 Dan Bonsanti & The 14 Jazz Orchestra
The Future Ain't What It Used to Be
Dabon Music
Arranger Dan Bonsanti is back with The 14 Jazz Orchestra following up the previously issued successful Nothing Hard Is Ever Easy. The big band is contemporary and creative with four reeds, three trumpets, two trombones, piano, guitar, bass, and drums. It's comprised of alumni from the University of Miami's Frost School of Music, touching seven decades. Each member is active in South Florida as jazz and versatile studio musicians and some are also educators.
Grammy nominated saxophonist and flutist Dr. Ed Calle is the featured soloist and he's joined by these special guests: Randy Brecker, Mark Colby, Mark Egan, Danny Gottlieb, Marko Marcinko, Rick Margitza, Lee Levin, and Richard Bravo. Solos come from both guests and band members. They all bear impressive pedigrees, as does Bonsanti who earned his Bachelors and Master's degrees from the University of Miami. He has performed as a saxophonist and arranger with quite a few bands, most notably Jaco Pastorius' Word of Mouth Orchestra, Doc Severinsen and Stan Kenton. He has composed and arranged for the Jaco Pastorius Big Band and founded The 14 Jazz Orchestra in 2013.
As you may have gleaned from Bonsanti's background, his is a contemporary bent as Chick Corea, Wayne Shorter, and Jaco Pastorius compositions are among those featured. They kick off this generous set of 11 selections with Chick Corea's "Armando's Rhumba" in which Ed Maina solos on piccolo and Calle on soprano. Buster Williams' "Firewater" has Mark Colby blowing a fiery tenor with additional solos from Cisco Dimas on trumpet and Dante Luciani on trombone. Corea's rather obscure "Blue Miles" weaves funk with straight-ahead ensemble work as Jim Gasior is featured on piano , Maina on alto and Calle on tenor. Antonio Carlos Jobim's "Triste" is primarily an ensemble piece with short solos from Maina on flute, Ray Chicalo on flugelhorn and Rick Margitza on tenor. Wayne Shorter's "Dance Cadaverous" has Gasior on piano and Luciani on trombone, accenting another mostly ensemble piece.
There's plenty of variety in both the arrangements and solo spots. "Pandamandium" has a blazing Randy Brecker trumpet solo, and perhaps the most unexpected tune here, Merle Travis' "16 Tons (Give or Take)"works surprisingly well with solos from guitarist Tom Lippincott, Chicalo on trumpet and Peter Brewer on baritone sax. Calle's soprano and Gasior's electric piano punctuate the free flowing, mid-tempo "Seventh Sign."
The band does a rollicking rendition of Pastorius' "Rice Pudding" with Lippincott's bluesy guitar solo and Brecker's animated electrified trumpet as Calle's tenor also joins in the fray. The original "Ruth" is one of the few sophisticated ballad tunes and it again spotlights Calle on tenor and Gasior this time on the acoustic piano. "I'll Be Seeing You," the program closer, is in a similar mode with flute, English horn, and Margitza's tenor prominent.
Bonsanti and The 14 Jazz Orchestra bring tasty modern big band music with fresh, compelling arrangements and top shelf musicianship.
[amazon_link asins='B07K3YN92D' template='ProductCarousel' store='maasc-20′ marketplace='US' link_id='c3a04195-0f5f-11e9-8cf6-d3035c35f3fe']