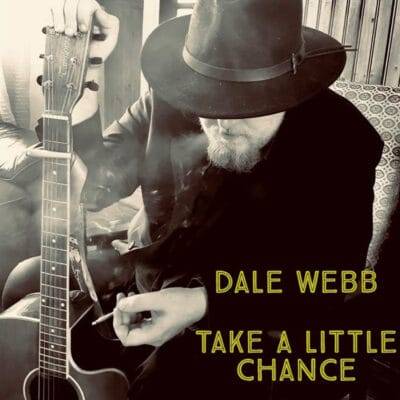 Dale Webb
Take a Little Chance
Today I want to introduce you to Dale Webb, singer / songwriter who was born in Wales and raised in Ireland.
Dale didn't have an easy life and started playing guitar after a stroke he suffered as a child when he was just 12 years old. He knew that he couldn't do sports like other children and so the guitar became his balance. He says that he went through hell and back and that music was the only constant in life that helped him get through the hard times.
At the age of 19 he formed a band as lead singer and rhythm guitarist, winning a battle of the bands competition and playing in local bars.
Shortly thereafter, his past caught up with him, went through bad times again and stopped making music for almost a decade.
But he got himself up again, picked up the guitar again and is back … stronger than ever and to the delight of his fans and those who will be after they have heard Dale's music!
His music is influenced by Johnny Cash, Tom Waits, AC / DC and Townes Van Zandt that is clearly audible. And yet it is his voice that puts its very own stamp on his music, unmistakable, very unique, rough and hoarse, simply brilliant!
The EP:
"From the Path I Have Strayed", first song and whoever didn't know Dale Webb will notice now at the latest. What a great start with a song that makes you want more.
"28 Years", rock mixed with a little country style, outstanding lyrics and I've already said everything about the voice that is really fascinating.
"Take a Little Chance" is a very rock influenced song, everything fits together perfectly and you can literally feel that Dale means everything he sings and that he not only strings words together but lives what he sings … or sings what he lives.
"Spend the Night" is pure Rock'N'Roll, the melody is reminiscent of Jailhouse Rock by Elvis, impossible to sit still and a pleasure for all friends of classic rock.
"One More Day" 'is a bit dark, almost a little metal likel with a voice that gives you goosebumps … but in a very pleasant way.
"Take a Little Chance" is a wonderful EP, entertaining … and too short for me because I would have liked to have heard more … varied and at the same time haunting, fresh and honest, suitable for every mood and I hope that we will hear a lot more of the fabulous music of Dale.