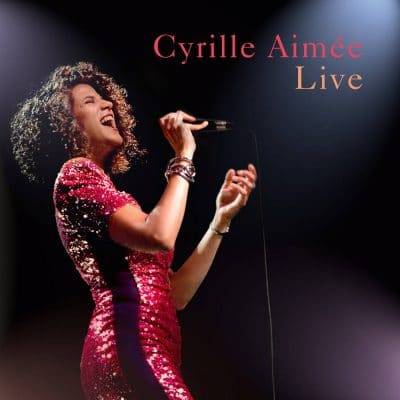 Cyrille Aimee
Live
Mack Avenue Records
This new live recording from Cyrille Aimee marks the end of an era. The performance was the last from her with this great band. "I want to find new inspirations and a new energy, I feel like you always have to search further, and that's what I constantly try to do".
Aimee grew up in the French village of Samois-sur-Seine, the same village where gypsy guitarist Django Reinhardt lived. Every June the village would host the Django Reinhardt Festival and a young Aimee would sneak out of bed to sing by the fire with Reinhardt's descendents. She fell in love with gypsy music.
Aimee, who also lived in Brooklyn, attended The State University of New York in Purchase, a Manhattan suburb. After she discovered the city's booming Jazz scene she traveled Europe and busked the street corners. After returning to the states she entered the Montreux Jazz Voice Competition. She won and the prize included the financing of her first album 2013's "Cyrille Aimee and The Surreal Band". Her voice has been described as "a soft girlish buzz with a touch of an Edith Piaf-like quaver". "Beautiful, talented precocious, funny, cultured, with the kind of instantly recognizable voice that has no known precedent." Aimee released her first recording for Mack Avenue Records in August, 2014. This is her third album for Mack Avenue.
The band includes Adrien Moignard, acoustic guitar; Michael Valeanu, electric guitar; Dylan Shamat, acoustic bass; and Dani Danor, drums. The album produced by Aimee was recorded at New York City's (Le) Poisson Rouge.
Aimee opens with two songs reprised from her Mack Avenue debut; the album's title track "It's A Good Day" written and recorded by Peggy Lee in 1962, and "Nuit Blanche" an Aimee original.
"Live Alone And Like It" is a song by Steven Sondheim learned in late 2013 when Sondheim cast Aimee in an Encores Special Presentation at New York's City Center alongside Bernadette Peters.
"Si Tu Vois Ma Mere" which means "Midnight in Paris" is from Sidney Bechet. "It's Over Now (Well, You Needn't)" is a jazz standard composed by Thelonius Monk in 1944.
"Day By Day", written by Axel Stordahl and Paul Weston, features lyrics from Sammy Cahn; it was recorded by Frank Sinatra in 1946. "Three Little Words" was a hit for The Rhythm Boys in 1930, included in the "Boys" was Bing Crosby.
Two songs are from Michael Jackson. "Off The Wall" written by Rod Temperton was the title track to Jackson's 1979 album. While "Wanna Be Startin' Somethin'" written by Jackson, was the fourth single released off his 1982 "Thriller" album.
The closer "Each Day" co-written by Aimee with Valeanu is from her last Mack Avenue Records album "Let's Get Lost".
What's in the future for Aimee? A new chapter begins as she just relocated to New Orleans. Stay tuned.
Richard Ludmerer
[amazon_link asins='B07C53ZZGD,B00JOXXP0Q,B0188EOGU4,B0035XJ84I,B00D5N1JKE,B004NWHVT4,B00TT8RO6C,B005GJBNGU,B00BU8C3N8′ template='ProductCarousel' store='maasc-20′ marketplace='US' link_id='11db33c3-8866-11e8-baca-5f396bb02c5e']