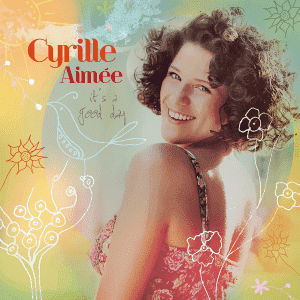 Cyrille Aimee
It's A Good Day
Mack Avenue Records
This is the major label debut of jazz vocalist Cyrille Aimee. Vocally Aimee is a bit like Madeleine Peyroux but Aimee's music is rooted in the gypsy guitar of Django Reinhardt. She also has affection for Brazilian guitar, and thus an understanding of bossa nova and samba. In general she has an appreciation for jazz guitar; which is why the band includes three guitarists.
The band is: Aimee, vocals; Michael Valeanu, electric guitar; Adrien Moignard, steel string guitar; Guilherme Monteiro, nylon string guitar; Sam Anning, bass; and Rajiv Jayaweera, drums.
The album opens with "Where or When" written by Rodgers and Hart. There are many versions of this American standard. This one was arranged by Valeanu.
"Young At Heart" is another standard, this one written by Johnny Richards and Carolyn Leigh; it was a big hit for Frank Sinatra in 1953.
"It's a Good Day" was written and sung by Peggy Lee in 1947. "Love Me or Leave Me" was composed by Walter Donaldson and Gus Kahn. It was recorded by both Nina Simone and Billie Holiday. "Caravan" is from Duke Ellington. These three songs were arranged by Valeanu and Aimee.
Michael Jackson's "Off The Wall" was arranged by Aimee, Valeanu, and Jayaweera. "Pourtant" was a French pop song that became a hit for Vanessa Paradis. "All Love" was an instrumental written by Babik Reinhardt, son of Django Reinhardt, and Aimee was allowed to add the lyric.
Bassist Sam Anning contributes "Bamboo Shoots". Aimee has also authored three songs on her own "Twenty-Eight", "Nuil Blanche" and "One Way Ticket". "Tricolism" which closes out the album is from another jazz bassist, the influential Oscar Pettiford.
Aimee's music is beautiful, fun and uplifting. She is at the very beginning of what should be a long and bright career.
Richard Ludmerer