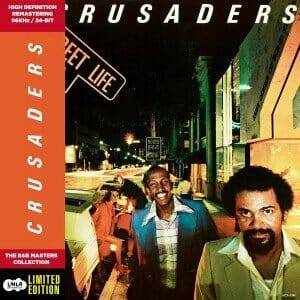 The Crusaders "Street Life" Limited Edition 24-Bit Re-master CD www.CultureFactory.Fr
If you were listening to any radio format around 1979 you couldn't have avoided "Street Life." There were good reasons for the repeated airplay, not only was it a smash hit, it also was a forever memorable tune that connected musically and lyrically with virtually everyone. With this recent reissue we get a vivid and sparkling mix of Randy Crawford's exquisite vocals leaping out of your speakers where each instrument is superbly reproduced like never before.
In total six tunes were/are included, the opening title track alone exceeds eleven minutes or approximately thirty percent of the entire album. That being said let's explore the lesser known instrumentals. Wilton Felder's "My Lady" follows "Street Life" shows its age with generational background vocals, though there are no front and center lyrics, yet Joe Sample delivers a short but keen keyboard solo with more background choruses, followed by several Felder sax solos with additional vocal harmonies and so on. The usually tight Crusaders band plods throughout; drummer "Stix" Hooper is particularly uninspired. What is clearly identified as the opening tune on side two of the original LP is Joe Sample's "Rodeo Drive (High Steppin')" aptly titled for its upbeat demeanor especially when guitarist Barry Finnerty delivers his first catchy solo that embellishes the mood. Felder's "Carnival of the Night" showcases Motown's James Jamerson Jr.'s bass laying down a delicious groove that meshes snuggly with Hooper's syncopations, Finnerty jumps back in for a hot guitar romp, and the bands' in a concrete and playful zone. The only contribution by Hooper is his "The Hustler" where the only saving graces are (too short) solos by Finnerty and Felder; otherwise this tune won't be replaying in your head anytime soon. The album closes with Sample's light and airy "Night Faces" Felder intros a pretty sax solo followed by Sample's distinctive keyboard wizardly flurry of notes, but bassist (Alphonso Johnson) seems uncomfortably lost at a different studio session.
In summary "Street Life" is very accessible music but (at times) is commercial sounding, especially comparing this with their early seventies "Crusaders 1" and "The 2nd Crusade." Plus long gone was Wayne Henderson's glorious trombone who when paired with Felder's sax shaped the "Crusaders" (immediately identifiable) signature sound. So it was no surprise and unfortunate that "Street Life" was one of the Crusaders final triumphs, and certainly the last album they completed that produced a hit that charted.
*Note: Vinyl replicas by Culture Factory are limited edition CD pressings, so when Culture Factory runs out of stock they're out of print and gone forever. These are high quality reissued discs that reproduce the dynamics of the original masters. Additionally they are also near-exact replica LP's, each disc has a black (vinyl like) look and finish, with the original label LP artwork. So they are very cool looking and will (likely) become highly collectable.
**Note: In 2014 we lost two founding Crusaders: Trombonist Wayne Henderson and more recently pianist Joe Sample. Two original members are alive today: Sax and bassist Wilton Lewis Felder, and drummer Nesbert, sometimes Norbert, but now just "Stix" Hooper who (for over three decades) hasn't associated with any later versions of the Crusaders.
For fifteen years Bob Putignano has been pivotal at WFDU with his Sounds of Blue radio show (Mon. & Wed. 9am-1pm) www.SoundsofBlue.com – Previously a senior contributing editor at Blues Revue, Blueswax, and Goldmine magazines, currently the Music Editor for the Yonkers Tribune www.YonkersTribune.com – www.MakingAScene.org & www.wfdu.fm/Whats-Happening/Bob's Music Reviews/bobs music reviews/ Bob was the 2003 recipient of the "Keeping the Blues Alive" award (given by the Blues Foundation in Memphis) for his achievements in radio broadcasting.
Putignano can be contacted at: bob8003@yahoo.com
Bob Putignano: www.SoundsofBlue.com Wed. & Fri. 9am-1pm: https://WFDU.fm Now celebrating 15 + years on the air in the NYC area Music Editor: www.yonkerstribune.com, www.makingascene.org & wfdu.fm/Whats-Happening/Bob's Music Reviews/bobs music reviews/