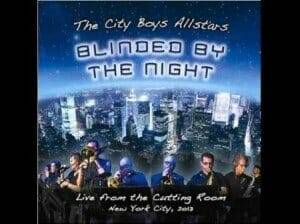 The City Boys Allstars
Blinded By The Night
City Boys Mike Productions LLC
The City Boys Allstars' first album "Look Out Here We Come" was recorded in 1994 but not released until 2011. "When You Needed Me" their follow up studio recording was released in 2012. After a seventeen year hiatus the band had re-united and they decided to take a gig at The Cutting Room. This new cd was recorded live in New York on August 28th, 2013 and released earlier this year.
The band mixes blues, jazz, soul, r & b, and rock. The City Boys Allstars are bandleader Mike Merola, guitar; Rob Clores, keyboards; Al MacDowell, bass; Nick Saya, drums; and Daniel Sodownick, percussion. Vocalists include, Bil Kurz, Angel Rissoff, and Horace Scott II. The horn section includes trumpeters Tony Kadleck and Lew Soloff. The saxes include Andy Snitzer, "Blue Lou" Marini and Tom "Bones" Malone.
Kadleck, MacDowell, Snitzer, and Soloff are Jazz players with numerous credentials. Soloff also spent six years as part of Blood, Sweat and Tears. Marini and Malone were members of the original Blues Brothers and are also with the Saturday Night Live Band. Clores has been with The Black Crowes. Sadownick has played with Steely Dan.
The set list includes "Testimony" written by Robbie Robertson, formerly with The Band. Two songs come from David Bennet Cohen, pianist with Country Joe and Fish; the New Orleans influenced "City Boy Blues" and "Funky Peaches". On the later Merola lights it up on guitar. Billie Holiday's "God Bless the Child" features Soloff on trumpet and he just wails. Angel Risoff sings lead on two of his own songs "More Where That Came From" and "Where have You Been", the latter co-written with Richard Borken. Singer Horace Scott co-wrote both "The Vow" with Bennett Paster; and "When You Needed Me" with Connie Alexander and Antonio Jacobs. "Strung Out" was written by the late Frankie Paris, a former member, along with Harry Holt.
The rhythm section of MacDowell and Saya provide the strong foundation that enables the soloists. The fabulous horn arrangements are provided by Kadleck, Malone and Marini with additional arrangements from Jim Pugh, Fred Lipsius and Pete Levin.
When onstage the bands ability to communicate after a seventeen year lapse is testimony in itself. These are New York City's finest. This is highly recommended listening.
Richard Ludmerer