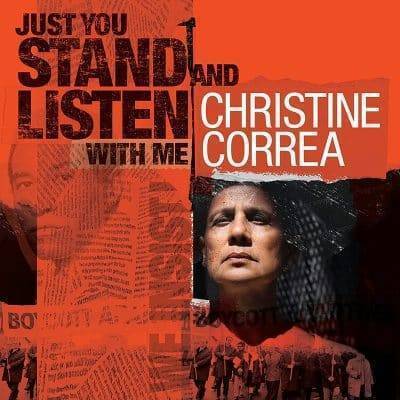 Christine Correa
Just You Stand and Listen with Me
Sunnyside
Vocalist Christine Correa and her hand-picked quartet do an admirable job recasting the iconic We Insist! Freedom Now Suite from Max Roach, Oscar Brown Jr., and Abbey Lincoln in their version, Just You Stand and Listen with Me. The prevailing notion of course, is that sadly, one of the most important artistic statements of the Civil Rights Movement is still every bit as relevant in our divisive state of politics and increased racial tensions of today. That's what inspired the India-born, Boston-based vocalist to take up the cause. She wants to deepen awareness from the searing statement made in 1961 that is one of the most groundbreaking jazz albums of all time. In fact, last Spring the Library of Congress announced that the recording was selected for preservation in the National Recording Registry, which reflects the diverse music and voices that have shaped our nation's history and culture through recorded sound. And, if Correa's recording gets your attention, you owe it to yourself to hear the original which was remastered and reissued by Candid last April.
Needless to say, the original is a canon in the African American music tradition and Correa steps forward with musicians who embrace that historical context with longtime collaborator, drummer and Max Roach acolyte Michael Sarin, soprano saxophonist Sam Newsome, pianist Andrew Boudreau, and bassist Kim Cass, a much smaller ensemble than the nine that backed Lincoln on the original. The recording was done in a single session in Brooklyn in November 2021. To be fair Correa and cast recorded all the material that originally appeared on iconic We Insist! Freedom Now Suite as well as "Mendacity" and "Garvey's Ghost" from Roach's Percussion Bitter Sweet, "When Malindy Sings" and "Straight Ahead" from Abbey Lincoln's album of same name as the latter, and "Who Will Buy" from Max Roach and Friends (1961). An adaptation of Maya Angelou's poem "Caged Bird" also appears. The lyrics and verses for most of these appear in the inside jacket.
If you are by chance new to this material, some background is in order. The leadoff track, "Driva' Man," about the inhumanity of slavery may be the most searing track of all, read by Correa over a driving tambourine with angry fills coming later from Newsome's soprano. ("Runaway and you'll be found/ By his big old red bone hound/Patty Roller bring ya back/Make ya sorry you is black.") "When Malindy Sings" contains the title of album within the lyrics inspired by the poetry of Paul Dunbar but written by Oscar Brown, Jr. It is one of Abbey Lincoln's signature songs, conveyed well by Correa with stunning soprano from Newsome and forceful turns from the rhythm section. "Mendacity," from Roach and Chips Bayen's with lyrics from Lincoln, decries lying politicians. Little did they know that sixty years later that would be the driving MO for the GOP.
Correa sings and recites Angelou's "Caged Bird" over a minimalist backdrop ("But a bird that stalks down his narrow cage/Can seldom see through his bars of rage") and retains the spare accompaniment and deliberate piano from Boudreau through Lincoln's stark assessment of lack of progress in Mal Waldron's "Straight Ahead" ("Getting where you want to go/Speed limits almost down to nothing/Straight ahead by oh so slow.") Roach's "All Africa" encompasses the evolution and various tribes of Africa with Sarin's drums aptly in the forefront while Newsome and Correa engage in a form of call and response. "Triptych: Prayer, Protest, Peace," like the former is from We Insist! presented as three wordless duos with Sarin, and features Correa, Newsome (who is positively stunning in his "Protest" segment, and Cass in that order mirroring Lincoln's original. Correa expresses more anguish in her wordless vocals in the mournful "Tears for Johannesburg," written for the victims of the Sharpeville massacre in South Africa. The closing piece from We Insist! is perhaps its most covered, the anthem "Freedom Day" which examines and casts doubt on the concept of freedom ("Slave no longer, Slave no longer…Free to vote and earn my pay…Dim my path and hide the way/But we'll make it Freedom Day.")
"Who Will Buy" was written by Lionel Bart originally for the musical Oliver and later arranged by Max Roach for his aforementioned album. Here both Boudreau and Newsome are dazzling in their support of Correa's vocal. By far the most exuberant track is "Garvey's Ghost," another wordless vocal and inspired blowing from Newsome in tribute to the iconic political activist.
Correa and bandmates bring the requisite passion to these important statements. Perhaps the best endorsement comes from Max Roach's daughter, Maxine – "I really enjoyed the mastery and grace Christine and her ensemble brought to my father's Freedom Now Suite. The struggle is real but the music will set you free. Max is smiling." We need say no more.
Help Support Making a Scene
Your Support helps us pay for our server and allows us to continue to bring you the best coverage for the Indie Artists and the fans that Love them!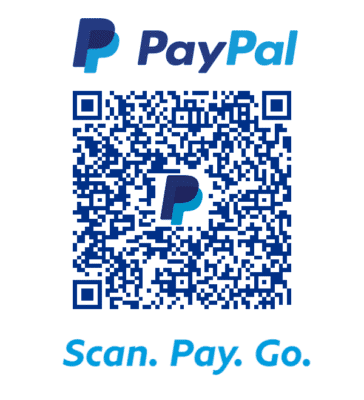 FOLLOW US ON INSTAGRAM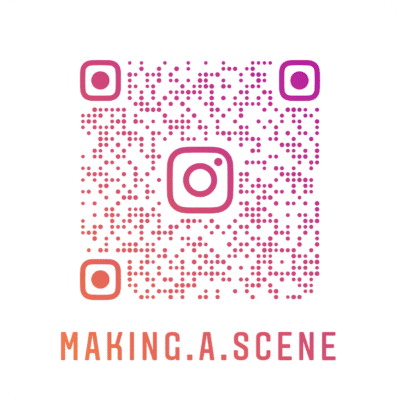 Subscribe to Our Newsletter