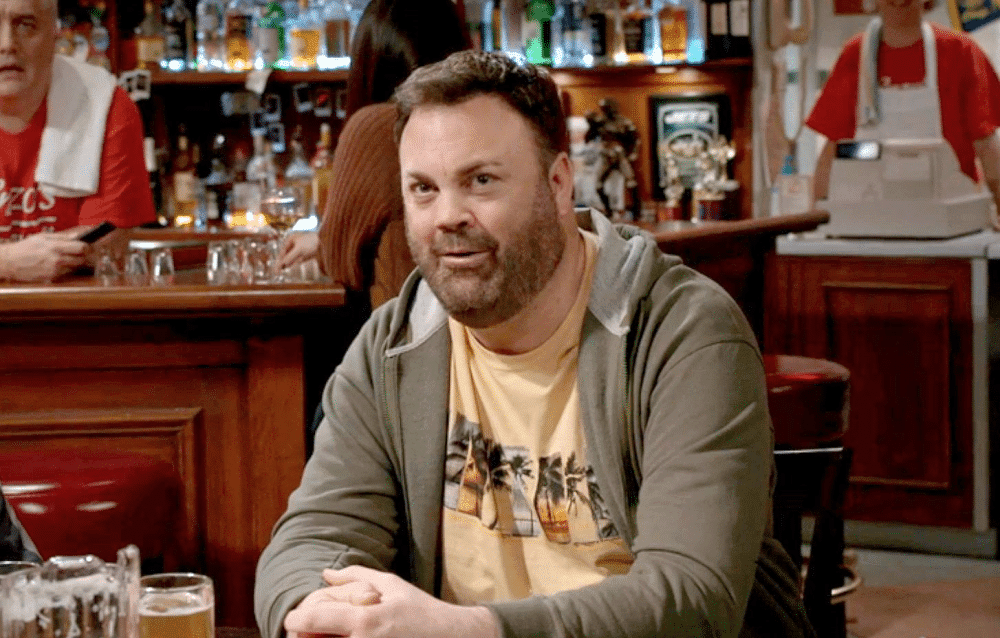 Comedian and Actor Chris Roach From CBS's "Kevin Can Wait" Brings His Hard Rock Band "RIDGEHAVEN" To Patchogue's 89 North Saturday, December 9th. Following Their Debut Performance This Past August, Roach's Music Venture Is Ready to Bring Their Hard-Hitting Intensity to Patchogue Along with a New Singer.
Chris Roach with His Guitar Before Ridgehaven's Debut Show at Revolution Music Hall in Amityville Earlier This Year November, 2017 (Long Island, NY) — Some may know Chris Roach for bringing laughs to the stage at comedy clubs and theatres throughout the U.S., sometimes opening for his "Kevin Can Wait" co-star Kevin James or solo, but the comic/actor/writer has recently taken on yet another role bringing the jams as guitarist of rock/metal outfit RIDGEHAVEN, who will be performing once again in 2017! The band is set to take the stage at 89 North Music Venue (
89 N Ocean Ave, Patchogue, NY 11772
) on
Saturday, December 9th
along with Panic and 45 RPM!
Consisting of Chris Roach on guitar, the band is filled out by Matt McKeon (Vocals), Rob Maresca (Drums), and Mike Warnken (Bass). With a hard-hitting in-your-face sound that brings the best elements of heavy metal to the forefront, each member's incredible musicianship is immediately evident in their debut self-titled EP due out in the coming months. The friends and fellow long islanders bring the raucous tones and dark lyrics to near hallucinatory imagery, with their live show sure to impress even the most die-hard rockers. With Roaches driving, meaty, and dark guitar chops at the forefront- it certainly shows a new side to the funnyman everyone's grown to love and shines a lot on his versatility as a performer both on screen and the music stage.
Christopher Brian Roach is a Ronkonkoma, NY native who has also appeared in film and television from Comedy Central to The Michael J. Fox Show, Limitless, The Onion Sports Network, and had a recurring role as Rodney the loveable mental patient on ABC's One Life to Live. He regularly performs stand-up at some of the biggest and best known stages in the tri-state area and throughout the U.S. such as The Borgata in Atlantic City, Gotham Comedy Club in New York City, Governor's Comedy Clubs on Long Island, and many more!
With recent interviews on United Stations Radio, SiriusXM with Jim Breuer and his fellow castmates, The Anthony Cumia Show discussing his former NYPD career, with Jeffrey Gurian on how KCW came about, The Laugh Button where he talked about everything from his love for hockey to the trials and tribulations of being 6'6, WTNH's "CT Style" explaining how he got his big break, on his comedy writing with ABC Tampa Bay's "Morning Blend", and hamming it up on the jumbotron at a recent NY Rangers game at Madison Square Garden; Roach has been on roll bringing side-splitting comedy to the masses. He even chatted it up with Katie Couric and fellow Long Islander Billy Joel at the Piano Man's recent Madison Square Garden performance!
Chris enjoys coaching youth hockey as well as spending time with family and friends. A big believer in giving back, he often spends time doing charity events and sharing his comedy. For the past several years, he's worked with Angela Gulizio of G & G Talent Management.
Now, as he and his band RIDGEHAVEN get ready to rock the stage once again, this time at 89 North in Patchogue, you'll have yet another chance to catch them LIVE!
FOR TICKETS, VISIT:
For More On Ridgehaven, VISIT: www.RidgehavenBand.com
For More on Chris Roach, VISIT: www.ChrisRoachComedy.com
OR
Twitter: @RoachComic
Instagram.com/RoachComic
Chris Roach YouTube Channel