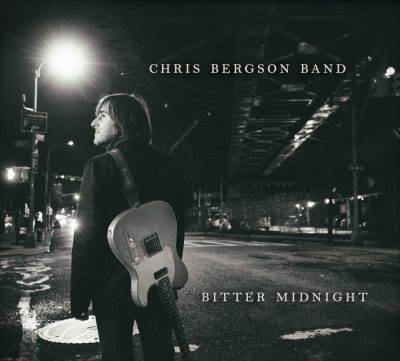 Chris Bergson Band
Bitter Midnight
2 Shirts Records
Chris Bergson grew up in a Boston suburb. He began taking guitar lessons at a very young age and developed an appreciation for jazz and blues. He listened to everything from Muddy Waters to Miles Davis. Bergson moved to New York City and began to sit in on jam sessions at Small's Jazz Club. From 1996 until 1999 Bergson studied at The Manhattan School of Music with guitarist Rodney Jones. By the time he graduated he had recorded with vocalist Annie Ross. In 1997 Bergson recorded his first, now out of print, album "Blues for Some Friends of Mine".
Then one day Bergson began to sing. In 2003 he released a five song EP called "Blues". Then in 2005 Bergson released the follow-up "Another Day". These albums established Bergson as a songwriter. His music drew from blues and jazz but also from country, folk and soul. Featured on both of these albums was New York City's keyboard wizard Brian Charette.
In 2007 Bergson scored with the highly acclaimed "Fall Changes" recorded at the Levon Helm Studios in Woodstock, N.Y.  Although the songs were mostly originals, Bergson also covered Bob Dylan's "When I Paint My Masterpiece"; Jimi Hendrix's "Are You Experienced"; and Henry Glover's "Drown in My Own Tears". The latter recorded by Ray Charles, Aretha Franklin, Etta James, and Dinah Washington. "Imitate The Sun" Bergson's 2011 release contained more great songwriting and covers of songs by Dylan, Elmore James, and Willie Dixon. In 2014 Bergson released "Live At The Jazz Standard" which also served as a career retrospective.
This is Bergson's eighth album overall and first studio recording since 2011. The Chris Bergson Band includes Bergson, guitars and vocals; Matt Clohesy, Richard Hammond or Andy Hess, bass; Tony Mason or Aaron Comess, drums; and Craig Dreyer, keyboards, and tenor sax. The horn section is rounded out by Levon Helm band members Steven Bernstein, trumpet, and Jay Collins, baritone sax and horn arrangements.
All of the songs are originals most written with Ross except where noted. This is also Bergson's first studio recording since the passing of Helm in 2012; perhaps that is why "Pedal Tones" opens with Comess' snare drum and Bergson's swampy guitar groove.
"5.20" is a country-ish song inspired by all of the train songs Bergson ever heard.
Bergson plays slide guitar on "Blues for Dave" and again on my favorite "Explode or Contain".
"61st & 1st" contains the lyric "in the shadows of the bridge this is where you need to start" includes a great guitar solo from Bergson and some nice keyboard work from Dreyer. "Another Day" is reprised from Bergson's 2005 album of the same name.
 "Just Before the Storm" written by Bergson, Dreyer and Ellis Hooks is also a great vocal from Bergson.
A nice horn arrangement accentuates "Knuckles and Bones" written by Bergson and Hooks, and on which Hooks also sings. "Bitter Midnight" also written by them just might be the albums best song, it is a vocal duet, with a great horn arrangement from Collins. When Bergson solos on the latter he channels both Hubert Sumlin and Freddie King.
This album may not be as artsy as "Fall Changes" but Bergson has got his own groove goin' on. This is a thoroughly enjoyable recording that should receive a considerable amount of airplay.
Richard Ludmerer
Products from Amazon.com
‹
›