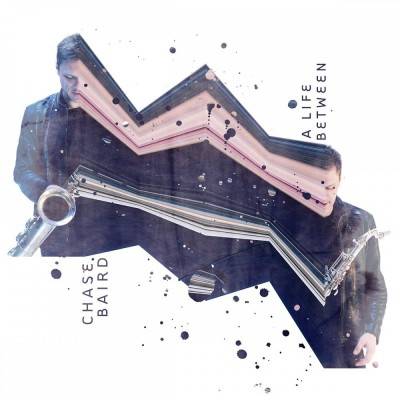 Chase Baird
A Life Between
Soundsabound
A Life Between, coming eight years after his debut Crosscurrents. The album follows Baird's graduation from Julliard and a chance meeting with master pianist Brad Mehldau in New York City where Baird now resides and works, (at least when he can). Baird is one of too many young artists facing the challenges of working in New York – too many talented musicians and not enough outlets. A pivotal moment in the making of this record was Baird serendipitously recognizing Mehldau who was riding his bike in the city. Eventually Baird summoned the courage to ask Mehldau to participate in the recording and that sealed it. This project was born.
"I really want to be in Radiohead," Baird jokes. "But how can I be a saxophonist and do that?" Baird fuses his various selves, part rocker, part Coltrane-devotee, part classical romantic into a fresh, exciting sound that lies somewhere between the experimental fusion and post-bop mainstream, in the company of this quintet where he trades lines with the marvelous Mehldau and guitarist Nir Felder, backed by a rhythm section of drummer Antonio Sanchez, his band leader in the group Migration, and trusted friend and producer, bassist Dan Chmielinski. The pairing of the elegant Mehldau and the rock-oriented Felder provides a compelling dynamic which Baird aggressively joins, pushes, or dissolves. The group apparently rehearsed just once, a day prior to the session, so this is indeed improvisational fare.
Rumbling guitar chords and piano notes find Baird first blowing warmly on his tenor in "Ripcord," a dark sounding piece that Mehldau lifts up with a tasty solo before it dissolves again into haunting tones. Baird blows warm and yearning phrases that reverberate with dark hues and passion. Pianist Brad Mehldau takes an imaginative and elegant solo before the ensemble closes in haunting fashion. Felder's dark power chords and Mehldau's polished playing form the backdrop for Baird's expressive soloing. "Wait and See," a blues-based piece with some combustible passages, beginning with a lively conversation between Baird's tenor and Sánchez's thunder. Felder and bassist Chmielinski get their say to, the former with fiery lines and the latter providing the deft touches. The quintet reaches perhaps its most explosive moments on "Reactor" that, in addition to post-bop, has some element s of indie pop and funk too.
The project has quieter, more contemplative fare too. The title track features a playful dialogue between Mehldau and Baird with the rhythm section rather sparsely but effectively. Mehldau consistently deliver sophistication, agility, and beautiful piano tones. "As you Are" is a gentle waltz with sax-guitar interplay while "Dream Knows no End" gives Baird his best opportunity for Coltrane-like exploration before the ensemble again takes it into ethereal realms toward the end.
Perhaps the most intriguing piece is the disc's lengthiest track at twelve minutes, "In the Wake (of Urban Overdrive)." It too is fluid and dreamy with melodic lines from the soloists across soft undercurrents of bass and drums. Baird is brilliant, threatening to explode at times but demonstrating restraint while Felder delivers passionate lines and Mehldau surprisingly injects a bit of blues into his improvisations. The disc ends romantically in a classical vein with Robert Schumann's hymn "Im Wunderschonen Monat Mai" (In the Beautiful Month of May), improvised around the original classical score Baird handed the musicians that day. Of course, Mehldau shines here.
This is a singular sound, ranging from raucous fury to elegance and melancholy. Mostly, it's simply beautiful. Let's hope Baird gathers some newfound momentum and delivers another recording in far less time.