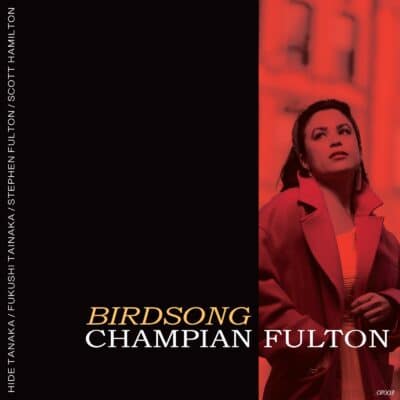 Champian Fulton
Birdsong
Self-released
New York-based pianist and vocalist Champian Fulton celebrates Charlie Parker's centennial with her latest, Birdsong., featuring her friend and saxophone luminary Scott Hamilton (who of course plays tenor, not alto liker Parker did). Hamilton appears along with Fulton's long-standing quartet made up of bassist Hide Tanaka, drummer Fukushi Tainaka and her father, Stephen Fulton on flugelhorn. The release date of August 28th occurs the day before Charlie Parker's 100th birthday. This writer shares an affinity with Fulton for Bird as one of my college English professors was constantly playing Bird at the monthly meal he'd throw for students at his home. As such, those Bird recordings, especially the lyrical Charlie Parker with Strings from which a couple of these selections are drawn, became one of the seminal albums that attracted me to jazz.
Champian Fulton's story is somewhat similar although she was influenced at an even earlier age. Before she was born, her father Stephen wanted to ensure she came into the world accompanied by "the most beautiful music there ever was." For him, that too was Charlie Parker with Strings, the sessions on which producer Norman Granz granted Bird's longtime wish to record with an orchestra. Stephen made a cassette tape of the recording and played it consistently throughout his wife Susan's pregnancy. That tape played when Champian was first brought into the world, and it was the first sound the future musician heard. Now she and her father are performing Bird's music – full circle, indeed.
As Champian grew as a musician and performer, so did her affinity for Bird and his music. She particularly felt a kinship with Parker due to their shared regional backgrounds (Champian hails from the southwest region of the United States: Norman, Oklahoma). "Jazz was once a regional music," she says, "and I feel very connected to that southwest jazz tradition. That intangible something that has to do with a commitment to swing and an approach to the music that's joyful, instinctual and at the same time intellectual." For the unaware, even though Parker is most identified with New York City, he originally hailed from Kansas City, MO.
This is Champian's second collaboration with Scott Hamilton, and their first studio recording together. The duo first connected in 2017 for a live concert in Spain, which was recorded and released as The Things We Did Last Summer by Blau Records. During the summer of 2019, Champian worked with Scott in the medieval Tuscan village of Certaldo, where the saxophonist has lived for over a decade, and made concrete plans to get Birdsong off the ground, eventually delving into the songbook and settling on eleven carefully chosen compositions written by and/or made famous by Bird.
Album opener "Just Friends," which coincidentally opens Charlie Parker with Strings too, serves as a brilliant introduction to Hamilton and the steadfast rhythm section, and is, according to Champian, one of their favorite songs to play. His best-selling single, Bird often said that his recording of "Just Friends" was among his personal favorites. Other highlights include the melodic favorite "Yardbird Suite", the trio treatment of "Quasimodo" (a contrafact of "Embraceable You" and Champian's favorite Bird head), and a beautiful rendition of "This Is Always." The other from the seminal influential Bird album we've mentioned is an extended version of "If I Should Lose You," like most of these, except three, a tune that Parker didn't write but put his stamp on.
Because Champian sings many of the tunes and because of the emphasis on the lyrical side of Bird, the album is not heavily weighted toward bebop (excepting the Parker compositions), the form for which Bird was a key driver. However, those same furious tempos and tricky rhythms can be found in a few places, certainly on "All God's Chillun Got Rhythm" where Champian's stellar piano playing is showcased in a trio format. Mercer and Kern's "Dearly Beloved," a ballad that Coltrane also covered, also shines bright with Hamilton's melodic tenor soloing and Champian's cool vocal phrasing. "Out of Nowhere" and "My Old Flame" are rendered tenderly and reinforce her excellent choice of the ever lyrical Hamilton for the saxophone role while "If I Should Lose You" swings with her terrific piano playing and sparkling front line spots from Hamilton and Stephen.
The album closes with the extended Bird penned "Bluebird," another blues-based swinger and, like "Yardbird Suite" and "Quasimodo," ventures into bebop territory. This is Stephen's best flugelhorn solo and Champian and Hamilton follow in spirt. Bird's music is indeed timeless and although it's unusual to hear a vocal album of his material, this is well conceived and delivered in that same spirit that her dad coined as "the most beautiful music there ever was.'
More on Champian Fulton
Birdsong is a career milestone for Champian Fulton, who is deemed one of the brightest rising stars on the contemporary jazz scene. This is her twelfth release and follows last year's critically acclaimed duo album with Canadian saxophonist Cory Weeds, Dream A Little (Cellar Live). She was recognized as a Rising Jazz Star Vocalist in the 67th Downbeat Magazine Critics Poll and was awarded the 2019 Hot House Magazine & Jazzmobile NYC Readers Jazz Award for Vocalist and Pianist of the year.