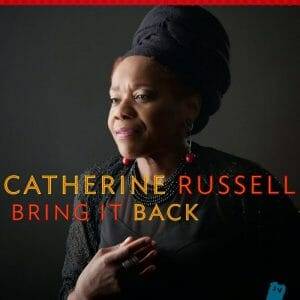 Catherine Russell
Bring It Back
Jazz Village
Catherine Russell is a Jazz singer who will appeal to Blues aficionados. It has been a long time since Jazz has had a singer like Russell. Russell is the daughter of Luis Russell the former musical director for Louis Armstrong. Her father died when she was very young and she was raised by her mom Carline Ray who played bass with Wynton Marsalis. Catherine studied music and has worked as a background vocalist for everyone including Paul Simon, Cyndi Lauper and Steely Dan. She can also be heard singing in the soundtrack to HBO's "Boardwalk Empire".
Catherine Russell is a late bloomer. Russell is influenced by "by old-time blues and jazz singers like Bessie Smith, Ruth Brown, and Etta James as well as …Nancy Wilson and Abby Lincoln …" Russell's voice has the power and complexity that enables her to be uniquely expressive as she has been compared to the very best. "Her singing is drenched in emotion, drama, experience and pure swing."
This is Russell's fifth album and first for Jazz Village. Accompanying musicians include her own musical director/guitarist Matt Munisteri; Mark Shane, piano; Lee Hudson, bass; and Mark McLean, drums. The horn section includes Andy Farber, tenor sax; Jon-Erik Kelso, trumpet; Brian Pareschi, trumpet; Dan Block, clarinet, alto and tenor saxes; John Allred, trombone; Mark Lopeman, baritone sax; Nicki Parrott, bass; and Glenn Patscha, Hammond B-3 organ.
The album opens with the title track "Bring It Back" credited to Harrison Nelson. This sets the stage thematically for the remainder of the album as Russell's songs date back to the era between the 1920's through 1950's. Russell states her songs are about "love, romance, and fun." Investigating the lineage of her material is also a lot of fun.
"I'm Shooting High" is a fabulous song written by Jimmy McHugh. In 1937 it was sung by movie star and jazz singer Alice Faye. An instrumental version was recorded by trombonist Kai Winding in 1951. I'm sure other versions exist.
"I Let a Song Go Out of My Heart" is from Duke Ellington. "You Got to Swing and Sway" is from Ida Cox a vaudeville performer billed as "The Uncrowned Queen of The Blues".
"Aged and Mellow" is another song treasure. It was written by Johnny Otis and became a hit for Little Esther. "I like my men like I like my whiskey, aged and mellow". "Strange As It Seems" is from Fats Waller.
"The Darktown Strutter's Ball" was wriiten by Shelton Brooks and recorded by The Original Dixieland Jazz Band in 1917. It was also sung by Hoagy Carmichael and recorded by Ella Fitzgerald in 1936.
"I Cover The Waterfront" was written by Johnny Green and the theme from the 1933 movie of the same name starring Claudette Colbert. It was recorded by Billie Holiday in 1979.
"Lucille" was written by Catherine's father Luis Russell. A demo of this song was recently discovered in the Louis Armstrong archives. On each of her albums Russell has recorded one of her fathers songs as she discovers more of his music. Four more songs are included.
Each of Russell's previous four albums have been widely acclaimed and among the top recordings of their respective release years. "Bring It Back" is one of the best recordings of 2014 and can be enjoyed by both Blues and Jazz fans alike.
Richard Ludmerer