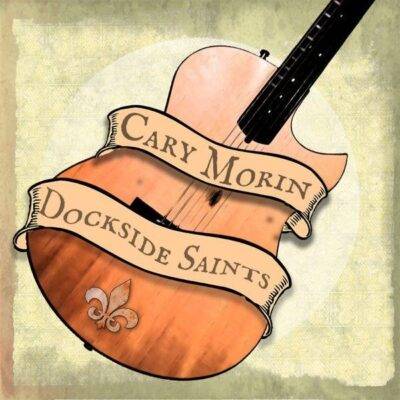 Cary Morin
Dockside Saints
Dockside Saints released August 7, 2020 and features an all-star cast of soulful players. Cary Morin releases the best album of his career at a time when promoting new music will take a higher power. There is something special at play here, perhaps something ancestral was captured, some ancient Native culture of the South. The Crow Akbaatatdia, and the Cajun and Creole voodoo traiteurs, (spiritual healers), cannot help but be pleased with the fusing of Cary Morin's award winning and dynamic finger-style guitar, his Native Americana songwriting and melodies, and pure Louisiana soul. Dockside Saints is as diverse as the all-star musicians playing on the album. It is also incredibly in the pocket. Cary said it was 'sheer talent coming together in the moment', and he had full trust in the artists to be able to show up with a handful of songs and let the players have at it. If you've ever seen Cary Morin perform live, you know he excels at this style of collaboration. Producer Tony Daigle knows it too and the result is the twelve songs on Dockside Saints.
Cary Morin is a Crow tribal member who grew up in Great Falls, MT, the son of an air force officer. His parents' record collection, and the radio were his musical mentors during his formative years. You can hear echoes of his teachers like John Prine, Leo Kottke, Chet Atkins, Neil Young, and a long and diverse list that includes David Bromberg, in his songs. At some point he picked up his brother's old guitar and found it to be a natural extension of himself, and dove in absorbing everything he could. Cary now travels the country in his RV with his wife Celeste, their trusty sidekick Zeus riding shotgun. This slower paced travel allows one to absorb the smells and sounds and the feel of the land. Like his ancestors before him, Cary is aware of stories waiting ripe for an astute songwriter to put them to music. Carys smooth and confident vocals free the songs to become sustaining, much like the wind and the rain.
Cary Morin is an award-winning artist, most recently for his 2017 release, Cradle to the Grave and the 2018 release, When I Rise. Cary is the recipient of the 2019 Indigenous Music Award for Best Blues CD, and the 2018 Independent Music Award for Best Blues CD. Morin has also earned a host of other awards for his artistry. Renowned folk musician and guitarist David Bromberg is quoted as stating, 'Cary Morin is a unique and brilliant guitar player, songwriter and singer, I have huge respect for Cary's style and technique on the guitar. If you haven't heard him yet, you should. Try to remember that it's only one guitar.' DB
Yes, Cary Morin is an accomplished songwriter and an award-winning guitarist. What sets Dockside Saints apart are the collaborators. Tony Daigle produced, mixed, engineered, and is responsible for the vision that became Dockside Saints. Tony saw Cary performing and his production juices began salivating. Louisiana and the gulf coast has that certain magical allure that kept Cary, Celeste, and Zeus returning each year, so of course Cary jumped at the chance to incorporate some of the Cajun zydeco mojo into his Native Americana groove. Dockside Studio In Maurice, LA captured what no other Cary Morin recording had yet to obtain. It captured the magic. In my opinion, this album has become the benchmark. It has raised the bar for future releases. Perhaps as he states in "Prisoner", 'it's time he got to be somebody too'. Cary Morin wrote and composed every song on Dockside Saints, and played acoustic and electric guitars, pedal steel, and sang. Lee Allen Zeno played bass. Brian Brignac played drums. Corey Ledet provides accordion. Eric Adcock tickled the piano, Hammond B3, and keyboards. Fiddling was Beau Thomas. John Fohl and Keith Blair both played electric guitar. That's Celeste Di lorio singing harmony vocals. Master engineer is Jim Demain at Yes Master in Nashville, TN.
Dockside Saints opens with "Nobody Gotta Know" with its funky zydeco groove that shows its hand at the fist, 'Knock Knock Knock' at the door. This is pure Cajun slammed up against rockin' friggin' blues. The album then eases into the love ballad, "Exception to the rule". The aforementioned, "Prisoner" begins with the familiar piedmont blues style that we've come to know as Cary Morin. Then that Hammond and bass kick it into an entirely different vibe that you never want to stop. The album hangs here comfortably for a bit and then recalling the gods looking favorably on the session, "Because He Told Me So" nurtures your soul, paying homage to the church music that plays strongly in the South. It has one hell of a harmonious choir. "Tonight" with its elevating violin and keyboards takes you back out on the road where the party rolls on, and "Jamie Rae" is your raucous dance partner. Guitar and accordion solos are held aloft with a driving back beat that crescendos with the addition of fiddle in pure Louisiana fashion. One of the songs that grabbed hold for me is "Bare Trees". It is as pure as a Western landscape, and a stunningly beautiful instrumental with acoustic guitar, violin, and accordion. It speaks to my wanderlust spirit. "Valley Of The Chiefs" is a true story told to Cary by his great-grandmother at his Crow naming ceremony, a story about overcoming odds.
'We are the children of the long-beaked bird

traveling as captives into the night

taken far from the valley,

no tears were cried,

toward the Eastern light.'
The haunting "Chosen Road" about the choices, though hard, are who we're destined to be, and are not a regret. Next, Cary picks us all up by our bootstraps and lays into the funky, larger than life "Cary's Groove". Yes, you'll wear this one out. The pleading and heartfelt, "Blue Delta Home" lovingly cajoles with accordion and fiddle. "Come The Rain" is a feel-good rocker with Cary playing pedal steel, acoustic and electric guitars. Written a few days before going into the studio, it captures the feel-good vibe of the sessions.
Dockside Saints is a collection of songs that will stand the test of time. They refreshingly are not a commentary of these times, but rather a commentary of all times, and they set the bar. They leave you feeling really fine. These are songs that make a difference. Get yourself an album. Get two! You're going to want to share the grove.