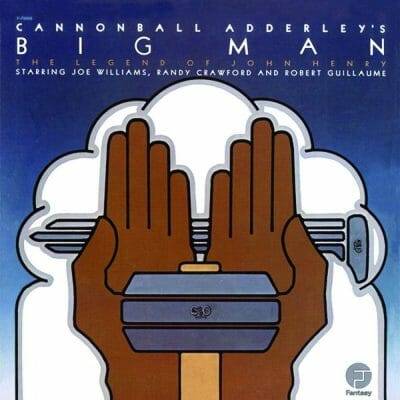 Cannonball Adderley's "Big Man: The Legend of John Henry" www.RealGoneMusic.com
1975's "Big Man: The Legend of John Henry" was the last album Cannonball Adderley recorded, and was released near the time of his stroke and death at just forty-six years of age. It's also his most unique musical project composed by the great altoist and his brother Nat. For the original double LP the Adderley's employed vocalists, a full orchestra, chorus, strings, and a rhythm section. The legend' (John Henry) is sung by the great blues and jazz vocalist Joe Williams, and also features vocalist Randy Crawford. The jazz band features Cannonball's quintet with George Duke using the moniker; Dawilli Gonga, and the album was co-produced by David Axelrod along with brothers Julian and Nat. Additionally the orchestra boasts heavyweight soloists; Don Menza, Oscar Brashear, and George Bohannon. The music on this eclectic album melds jazz, soul, and funk, blues, gospel with vocals and spoken word.
Thirty-two tracks comprise this ambitious album starting with the short opening instrumental "Overture" that throws a kitchen-sink arsenal of strings, horns, electronic pianos and synthesizers at the listener, sounding a lot like a 70's Broadway musical. There's also ample amounts of theatrical dialogue that unfortunately wears thin after one or two listens, though the complete tunes that are where it's at on "Gonna Give Lovin' a Try," and the soul-funk propulsive grooves of parts of "Anybody Need a Big Man." But there's too much interleaved talking and perplexing instrumental changes that upset the creative flow. The music often unravels into clusters of annoyance amidst fresh melodic instrumental segments – because the compositions never settle in any groove that is lengthy enough to enjoy. I would be remiss if I didn't mention the stellar first time recorded vocal appearance by the (than) twenty-one year old Randy Crawford (remember her vocals on the Crusaders classic "Street Life"?) Lastly; the album closes righteously with "On His Bones (finale)" but it's frustratingly too short at just over one minute in length.
Cannonball fans will probably be disappointed because his alto is rarely heard, and his brother's trumpet and coronet are not mentioned in the liners. That being said this is a concept recording that is better suited for actors and musicians on a theatrical stage. It's not a jazz outing that you would typically catch performed in a club or concert hall. Bottom line; there are brief moments of brilliance on "Big Man: The Legend of John Henry," but for the most part it fails to hold the listeners attention. Recorded forty years ago – it also now feels and sounds passé. Closing note: "Big Man: The Legend of John Henry" makes its debut on CD, and other than its initial LP release on Fantasy Records it was never reissued on vinyl as well.
For 16 years Bob Putignano has been pivotal at WFDU with his Sounds of Blue radio show (Wed. & Fri. 9am-1pm) www.SoundsofBlue.com – 2015's most pledged to ($21,000+) radio program at http://wfdu.fm Previously a contributing editor at Blues Revue, Blueswax, and Goldmine magazines, currently the Music Editor for the Yonkers Tribune www.YonkersTribune.com – www.MakingAScene.org & www.wfdu.fm/Whats-Happening/Bob's Music Reviews/bobs music reviews/ Bob was the 2003 recipient of the "Keeping the Blues Alive" award (given by the Blues Foundation in Memphis) for his achievements in radio broadcasting. Putignano can be contacted at: [email protected]