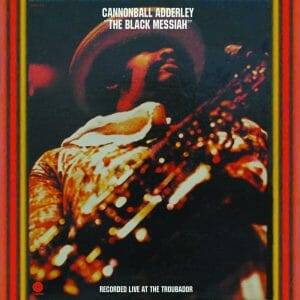 Cannonball Adderley "The Black Messiah" Live at the Troubador – 1972 – 2 CD's www.RealGoneMusic.com
The year was 1972 when Cannonball Adderley's quintet (there were more than five musicians) took the stage with Cannonball's alto and soprano saxes, brother Nat's cornet, a rhythm section of Roy McCurdy's drums, Walter Booker's bass, and direct from a stint with Frank Zappa – George Duke's piano. Throughout the evening special guests were added; percussionist Airto who was previously employed by Miles Davis, the superb tenor sax player Ernie Watts, Buck Clark on what is described as playing African drums, clarinetist Alvin Batiste, and blues-rock guitarist Mike Deasy. Adderley steps to the microphone and proclaims "Now I don't give a damn whether you can count or not, we still are the Cannonball Adderley Quintet!" Cannonball's previous keyboardist Joe Zawinul left to form Weather Report as a young George Duke added his own unique style to the quintet. The quintet is as potent with the sharp sounding George Duke who more than adequately (adding fusion styled echoplex tape delay, and a ring modulator signal processor for frequency mixing) updating the sound as he takes the reigns from Zawinul.
Highlights include the opening and lengthy title track written by George Duke who intros the creative vamp as Cannonball rolls in with an explosive sax solo. Guitarist Mike Deasy authored and plays guitar and sings on his "Little Benny Hen" with Ernie Watts also sitting in on tenor, it's a straight blues tune though I wasn't crazy about Deasy's vocal and his chicken scratch guitar playing. Another Deasy composition "Zanek" has no vocals, but this one burns, especially when George Duke lays down the groove and when Cannonball and Ernie Watts kick in, but it does get a bit freaked out and dissolves into tranquility during a sweet guitar passage from Deasy that ends the song. As previously mentioned Joe Zawinul was no longer in the quintet but that doesn't stop them from covering his tribute to Herbie Hancock "Dr. Honouris Cousa" a haunting instrumental and at times a bizarre composition (similar to what Miles was doing in the early seventies) that utilizes every on-stage musician for nearly fifteen minutes. Most noteworthy is George Duke's electric piano excursion that concludes the track.
Disc two opens with Roy McCurdy's and Nat Adderley's "The Chocolate Nuisance" that also has a repetitive theme (again similar to Miles' seventies electronic offerings,) Nat somewhat mimics Miles via his cornet, but it's a quirky theme that meanders along with odd signatures for over eight minutes. Airto Moreira wrote and joins on percussion and vocals on a track titled "Untitled" that's ho-hum with Ernie Watts' flute and Walter Booker's bass as a trio ensemble, but it doesn't fit this set, next. Ernie Watts' "Eyes of the Cosmos" features Watts' tenor as guitarist Deasy returns, Watts' sax intro is provocative and quickly turns wild, but this tune has no groove. Alvin Battiste wrote "Episode from the Music Came" and with his clarinet; it's short and mostly uneventful, even though the rhythm section gleams. Duke Ellington's "Heritage" has Cannonball singing and it's time to fast forward to the next track.
"Circumference" by George Duke opens with a duo with Duke's piano and bassist Booker before the entire quintet kicks out, yes out as they explore the perimeters of the universe, Duke dazzles here and receives attentive support from the entire ensemble. "Circumference: segues to Cannonball's "Pretty Paul" with a gorgeous intro sax solo that I thought could have been longer as it clocks in at just 2:48. The finale is a swinging Joe Zawinul and Nat Adderley tune that's bounces in a blues vein, but this too is short (2:16) as Cannonball quickly announces the band and says goodnight to the audience.
This dual CD release was previously issued as a double vinyl album on Capitol Records and sold at full price, most double LP's from this era usually sold at some sort of a discount but not this one probably limiting "The Black Messiah's" sales potential and exposure. But with its jazz fusion flare inflections it should inspire fans of this somewhat short-lived mixed genre a chance to have a (first or second chance) opportunity to appreciate what this ambitious quartet was attempting to leap towards and achieve. Especially considering the high level of talent assembled on this very interesting (but at times) unfocused live recording.
For fifteen years Bob Putignano has been pivotal at WFDU with his Sounds of Blue radio show: www.SoundsofBlue.com – Previously a senior contributing editor at Blues Revue, Blueswax, and Goldmine magazines, and currently the Music Editor for the Westchester Guardian Newspaper www.WestchesterGuardian.com and now at: www.MakingAScene.org Putignano can be directly contacted at: bob8003@yahoo.com