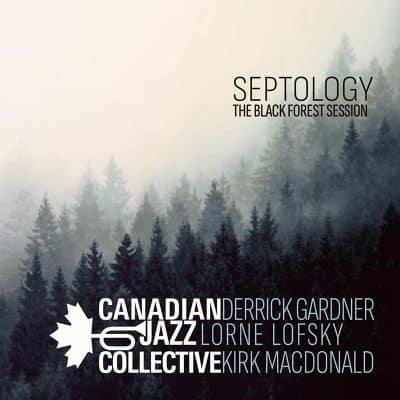 Canadian Jazz Collective
Septology – The Black Forest Session
HGBS Blue
The Canadian Jazz Collective (CJC) is fronted by three of Canada's most acclaimed and accomplished jazz treasures and familiar names to readers of these pages, especially trumpeter Derrick Gardner alongside saxophonist Kirk MacDonald, guitarist Lorne Lofsky. We introduced clarinetist Virginia MacDonald (Kirk's daughter) on Michael Dease's recently issued The Other Shoe. The rhythm section feature pianist Brian Dickinson, bassist Neil Swainson whose Fire in the West was one of our 2022 Top 30 Jazz Albums) and drummer Bernd Reiter. This innovative septet delivers a set of originals, three each composed by Gardner and Lofsky with Kirk MacDonald contributing two.
Canada boasts a storied history of jazz greats that includes Oscar Peterson, Maynard Ferguson and Gil Evans and today's great players such as Renee Rosnes, Cory Weeds, the Doxas brothers and many others. The most familiar name to readers of these pages is Chicago-native Derrick Gardner, who has performed with a who's-who of jazz greats and has been an Associate Professor at the University of Manitoba for over a decade. We covered his two most recent works, Still I Rise (2019), with the Big dig! Band, and Pan Africa (2023), with the Jazz Prophets. Of even more notoriety in Canada is Kirk MacDonald, a 2x Juno Award winner and recipient of the Toronto Music Association's Lifetime Achievement Award. Having appeared on over 50 albums as either leader or sideman, and with over 100 compositions to his credit, MacDonald is an iconic jazz figure in Canada. Lorne Lofsky, a veteran of 40+ years, is a master guitarist known for his pianistic voicings and virtuosic skill. He was once a member of the Oscar Peterson Quartet, among many notable stints in his lineage.
So, this is a supergroup in the vein of such combos as Artemis, The Cookers, and The Heavyweights although the inspiration didn't appear to necessarily stem from those ensembles like. Instead, the CJC is the pre-Covid brainchild of artist manager Judith Humenick, who had a hunch that putting MacDonald, Lofsky and Gardner together would result in something truly special. In May 2022, the septet embarked on a string of dates in Europe, which culminated at London's famous Ronnie Scott's in front of a sold-out house. The recording of Septology occurred during this tour at the iconic MPS Studios (Most Perfect Sound) in Villingen, Germany, located on the Eastern edge of the Black Forest, hence the reference in the title. MPS is dear to Canadians as it was one of Oscar Peterson's favorite places to record. Some of Peterson's most notable recordings were born there, including the Exclusively For My Friends series (1963-1968).
Gardner's "Dig That!," opens with the trumpeter leading a series of blistering solos which also includes each of the two MacDonalds. If you missed the clarinetist on Dease's album, you'll be struck with the fervor she brings to her instrument. Her dad's reflective "Silent Voices," a nod to those lost during the pandemic years, is a showcase for the two of them. Kirk's second contribution, "Shadows" is a lush, orchestrated piece displaying the colorful blended harmonies of the septet and one of his most declarative solos as a poignant spot from bassist Swainson.
As stated, Lofsky offers three, the first of which is "The Time Being," with its harmonious horn parts serving as a backdrop for an emphatic solo from pianist Brian Dickinson. Lofsky nods to Thelonious Monk's "Well You Needn't" with "Waltz You Needn't," which first appeared on Lofsky's landmark 1992 self-titled solo album. His "Highway 9" reflects a relaxing, scenic cruise as he leads the melody with strong ensemble work from the front line before Dickinson's bright piano and MacDonald's fluid tenor clusters suggest a more eventful, rollicking experience.
Gardner's two compositions close out the set, with "Terre de DuSable" an homage to his Chicago roots, with ample opportunities for several members to stretch out. It begins as a heavy strut with musicians issuing brief point/counterpoint bursts as if in vigorous conversation before Gardner takes flight followed by Lofsky, V. MacDonald, Dickinson, all in animated fashion building to a dynamic climax. The mid-tempo, gently flowing "One Thing Led to Another" puts a cap on the session with more deft ensemble work and especially glistening turns from the guitarist and pianist.
CDC is a gift from our friends in the Great North – colorful, mostly relaxing mainstream jazz with well-crafted and executed compositions.
Help Support Making a Scene
Your Support helps us pay for our server and allows us to continue to bring you the best coverage for the Indie Artists and the fans that Love them!
Make a one-time donation
Make a monthly donation
Make a yearly donation
Choose an amount
Or enter a custom amount
$
---
Your contribution is appreciated.
Your contribution is appreciated.
Your contribution is appreciated.
Donate
Donate monthly
Donate yearly
You can donate directly through Paypal!
Subscribe to Our Newsletter