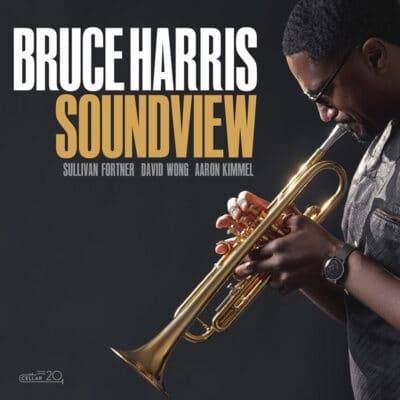 Bruce Harris
Soundview
Cellar Music Group
Trumpeter Bruce Harris is a died-in-the-wool New Yorker, having grown up in the Soundview section of the Bronx (hence the title) and living now in the Sugar Hill section of Harlem.  The album is a tribute to his community and family in both places and Black American Music. The album appears on Cory Weeds' Cellar Music Group label, one that has delivered many outstanding albums totaling over 180 since 2001.  The producer is fellow trumpeter Jeremy Pelt.  This is the first in a series of releases led by Black artists that Pelt intends to produce for the label. The album draws a remarkable balance between contemporary jazz and tradition through this elite quartet comprised of pianist Sullivan Fortner, bassist David Wong, and drummer Aaron Kimmel. Joining them on two tracks is emerging star Samara Joy, listed as Samara McClendon on the jacket.
Harris states that all but one of the nine tunes were written by Black architects of this music, who all happened to live and thrive in NYC. This is a debut for this quartet although both Wong and Kimmel are long term collaborators. Harris is working with the Fortner here for the first time. In addition to his two originals, tunes come from Gigi Gryce, Johnny Mercer, Hank Mobley, Eubie Blake, Duke Ellington, Barry Harris, and Randy Weston.
The leader describes his opening title track as a depiction of scenes from his upbringing, starting out dark, resolving conflict in the bridge and resolution in a beautiful major chord. The mambo rhythm speaks to the underlying vibe of the Bronx. He delivers a passionate, exhilarating solo while Fong and Fortner improvise energetically in their spots too. Gryce's "Satellite" has all the swagger of the original Gryce-Brown sextet with Harris, unlike Brown, playing more in lower registers.  "Maybe It's Hazy," Harris' other original, is a moving contemporary piece spiced with nice turns from both the leader and Fortner across some intricate rhythm patterns. Mercer's "If You Were mine" is pure tradition as Harris welcomes Samara Joy for the vocal after an extended intro. Joy is a fellow Bronx native and has a smooth, lovely alto.
She returns for Barry Harris' ballad "Bird of Red and Gold," appropriately since she is currently a student of the veteran pianist who also influenced Fortner's development. In between we have the hard bop of Hank Mobley's "Hank's Prank," a return to old school jazz in Eubie Blake's "You're Lucky to Me," a showcase of sensitive ballad playing by both Harris and Fortner, and an impressive quartet rendering of "Ellington Suite" which nods to Harlem with some interesting chords from Fortner in "Black Beauty," "Drop Me Off in Harlem," and "Echoes of Harlem." Harris' use of mutes and plungers is particularly skillful as he navigates his way through the more traditional material. They close with Randy Weston's "Saucer Eyes," a live performance staple for Harris, and, as such, has Harris and Fortner in full light, soaring over the changes and invoking the spirt of the late pianist and composer.
Wynton Marsalis hailed Harris as one of five important young jazz musicians you should know. So, if you got this far, you've got a start. Go ahead and listen – there's practically a century worth of jazz styles contained within these nine selections.