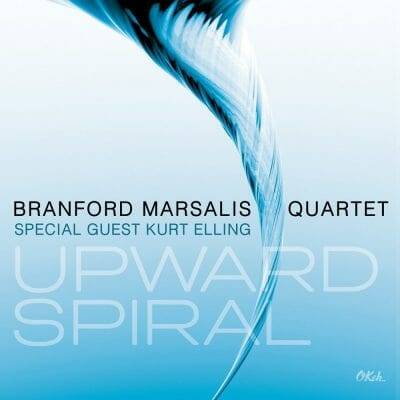 Branford Marsalis Quartet
with special guest Kurt Elling
Upward Spiral
Marsalis Music/Okeh Records
Branford Marsalis was born in Breaux Bridge, La. the son of Dolores and Ellis Marsalis. His father is a notable pianist and the leading musical educator in New Orleans. In 1995 saxophonist Branford recorded "Loved Ones" with his father Ellis. He and his brothers Wynton, Delfeayo and Jason complete America's first family of Jazz.
Today Branford is the seasoned leader of The Branford Marsalis Quartet. They include Marsalis, tenor saxophone; Joey Calderazzo, piano; Eric Revis, bass; and Justin Faulkner, drums. This is their fifteenth recording.
When the Quartet decided to record an album with a vocalist they searched for the best. They decided on Kurt Elling in order to "highlight Kurt's voice as an instrument", "he plays his voice like Marsalis plays his sax"; they're both hard hitting.
The song selection is interesting. The album opens with a song from the classic "Porgy and Bess". Elling's voice has perfect tone and pitch as he sings "There's a Boat Dat's Leavin Soon For New York". Not only does Elling use his voice like an instrument he sets up Marsalis' tenor solo. Calderazzo then solos on piano before Elling wraps it up with his vocal and exiting narrative.
Marsalis and Elling re-work the classic Frank Sinatra song "I'm a Fool to Want You" and turn it into a sparse vocal/tenor duet. "Blue Velvet" is a version of the Bobby Vinton song masterfully sung by Elling. On the standard "Blue Gardenia" Elling's voice and Marsalis' sax blend together perfectly.
The quartet takes on Sonny Rollins' "Doxy" and Elling adds some scat before Marsalis gets to solo. They cover Antonio Carlos Jobim's "So Tinha De Ser Com Voce", and Sting's "Practical Arrangement".
Marsalis contributes the music for "Cassandra's Song" with lyrics written by Elling. The closer is "The Return (Upward Spiral)" with music by Calderazzo and Elling again furnishing the lyrics.
Marsalis states "my philosophy of jazz is that it should be about strong melodies and a great beat…every song here has a melody that you can hold in your mind; that you can sing", "the only adjustment was not to play long solos". "This is the kind of music that should expand our base to include people who would like jazz if it were friendlier". This beautiful album from Marsalis has also made me a fan of Elling.
Richard Ludmerer