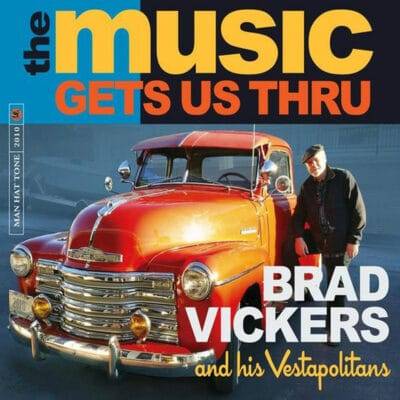 Brad Vickers and his Vestapolitans
The Music Gets Us Thru
Man Hat Tone
This is the seventh release for Brad Vickers and his Vestapolitans, a throwback sound as indicated by the 1950-ish red pickup truck on the CD cover. The core band includes Vickers on guitar, bottleneck guitar and vocals, bassist Margery Peters, drummer Bill Rankin, and clarinetist/tenor saxophonist Jim Davis. Most of the tunes were written by Vickers or Peters, with a few choice covers mixed in. In keeping with prior efforts, they invite several high-profile guests to join in the recording, which occurred prior to the pandemic shutdown. They include violinist Charles Burnham, guitarist Dave Gross, harmonicist/vocalist Mikey Junior, keyboardist Dave Keyes, guitarist Dean Shot, and the co-producer (along with Vickers and Peters) V.D. King on an array of instruments.
Most of the tunes are in the three-minute range with only one exceeding four minutes, in keeping with the vintage vibe. Vickers' original "Dumb Like a Fox" is an up-tempo tune, with an interesting blend of Davis' tenor, and King's bari sax and accordion. Mikey Junior and Dean Shot climb aboard for the cover of Jimmy Reed's "Take It Slow" with Mikey Junior and Peters sharing vocals with Vickers on the lone four-minute plus tune. "Please Don't Say," another Vickers original, pays tribute to swamp pop with King on piano and strong swaying sax from Davis (tenor) and King (baritone), a terrific dance number.
Peters' "Big Wind" enlists Burnham on violin for an oh-so-sweet solo, Gross on guitar, and King on the upright bass for an uplifting tune that seems to come straight out of the 1930s while the core quartet nods to Tampa Red on "I'll Never Let You Go," with Davis continuing the vintage sound by playing clarinets, akin in effect to Burnham's fiddle in the previous tune. The title track carries a Chuck Berry rock n' roll sound with Dave Keyes playing Johnnie Johnson's role on piano while Davis's gutbucket tenor is straight out of early R&B. The Peters/Steve Tarshis co-wrote "Now It's Time For Me to Sing the Blues" sees Keyes returning along with guitarist Gross for the only tune not featuring a horn, giving Keyes room to stretch out in a piano solo.
Vickers claims that "What in the World" lets him pay homage to Sacred Steel by playing his slide, but the essence of it echoes Fats Domino/Dave Bartholomew. Peters follows with the basic blues of "Grab My Car Keys" in an acoustic trio with the composer on slide bass, King on the upright, and Vickers on bottleneck guitar. The last sequence includes covers of "I'll Be Sittin', I'll Be Rockin'" with that combination of Davis' tenor and King's accordion and "When I Am Drinking" from J.B. Lenoir, rendered by the core quartet. Sandwiched in between is Peters' "Birds on My Family Tree," an homage to the late Annie Ross.
While neither Vickers or Peters are the most distinctive voices in the genre, they have a great feel for the vintage sounds and the album succeeds on the merits of the varying instrumental configurations that are not only fun but inventive and skillfully rendered.
Help Support Making a Scene
Your Support helps us pay for our server and allows us to continue to bring you the best coverage for the Indie Artists and the fans that Love them!
Make a one-time donation
Make a monthly donation
Make a yearly donation
Choose an amount
Or enter a custom amount
$
---
Your contribution is appreciated.
Your contribution is appreciated.
Your contribution is appreciated.
Donate
Donate monthly
Donate yearly
Subscribe to Our Newsletter
Find our Podcasts on these outlets