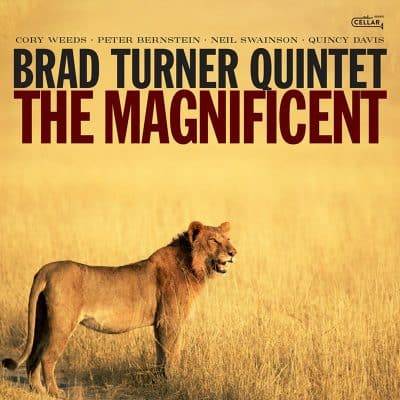 Brad Turner Quintet
The Magnificent
Cellar Music
The title seems to be hyperbolic but is not a term describing the leader of the Brad Turner Quintet. Instead, it references the great trumpeter, bandleader and composer Thad Jones, and specifically his 1956 recording The Magnificent Thad Jones.  The title track does just that. The label Cellar Music, of course, always involves saxophonist and producer Cory Weeds in some capacity, here as Executive Producer, co-producer, and vital member of the quintet, where the Juno-award winning trumpeter/pianist and composer Brad Turner had free rein to select his musicians. They are fellow Vancouver bassist Neil Swainson, Texas-based drummer Quincy Davis, and NYC guitarist Peter Bernstein. All nine compositions are by Turner with these specific musicians in mind.
The highly lyrical, oft cinematic program begins with the ballad "You're Okay" with comforting solos from Turner on trumpet, Bernstein, and Swainson. The vibe is immediately that of an intimate club where one need not utter a word, but simply relax and soak in the lush sounds. Then, we're shaken from this peaceful state with the dynamic swinger "Barney's Castle" with Weeds and Turner stretching out, trading lines to Bernstein's comping and later a rapid liquid solo of his own. Davis gets his say too with a thunderous statement that lifts the energy even higher when the front-line horns return. On "Virtue Signals" Turner is on piano with Weeds leading the melody on tenor. Again, the melody is infectious and rather surprisingly rests on a complete chromatic scale, although Turner admits to his clever disguise of such. Close listening to his piano solo and Bernstein's as well reveals the scalar treatment.  As we listen to these first three pieces, we are squarely in the mainstream with head-solo-solo-solo-head.
Readers of these pages may recall one of Top Thirty Jazz albums of 2022 as Swainson's Fire In The West, and album that Tuner also plays on.  "To Begin, Begin" features the bassist in a recurring figure and the kind of lyrical solo that stamps his style for another gorgeous peaceful track with Turner's enveloping sound backed by gentle comping and echoes from Bernstein with deft brush work by Davis. Turner returns to piano for "Bernice," playing glistening lines to Bernstein's comping before the guitarist delivers his bright statement in this quartet piece sans horns. Swainson weighs in with his walking bassline and the chordal instruments trade with Davis on the eights before joining in unison to reprise the lovely theme.
The title track and the closing "Rosemary" are both recorded live with the full quintet at Frankie's, a club in Vancouver. As mentioned, the former is for Thad Jones with Bernstein up first following the unison statement, interspersing single notes and chords before yielding to the leader's aggressive, high-pitched solo, reflecting a bit more verve than the studio tracks, as expected in a live setting. Weeds is the perfect foil, responding with resonant, mostly low register tones as the rhythm section keeps it swinging in an understated way. As strong as Turner's trumpet playing is on that track though, he ups the ante with the gorgeous, emotive ballad "Theme For Jocie," composed for his partner and fellow trumpeter Jocelyn Waugh. Swainson applies his trademark lyricism as well.  The album closes in a completely opposite vein to its peaceful beginnings as the quintet, with equal measures for all soloists, goes full throttle on the live "Rosemary," riding a blistering tempo propelled by Davis, who is most kinetic on this track.
This well-conceived and brilliantly executed album will have you returning for multiple listens. It's flawless.
Help Support Making a Scene
Your Support helps us pay for our server and allows us to continue to bring you the best coverage for the Indie Artists and the fans that Love them!
Make a one-time donation
Make a monthly donation
Make a yearly donation
Choose an amount
Or enter a custom amount
$
---
Your contribution is appreciated.
Your contribution is appreciated.
Your contribution is appreciated.
Donate
Donate monthly
Donate yearly
You can donate directly through Paypal!
Subscribe to Our Newsletter