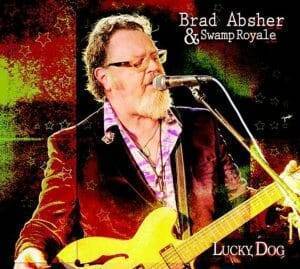 Brad Absher & Swamp Royale
Lucky Dog
Montrose Records
Brad Absher is from Lake Charles, Louisiana but now makes Houston his home. Absher has released five previous albums the most recent being 2010's "Big Shugga". He calls his band "Swamp Royale" because he was influenced by the Louisiana music he heard when he was growing up. This is his first album for Montrose Records.
The album is co-produced by Absher, along with bassist Larry Fulcher formerly of the Phantom Blues Band, and Richard Cagle head of Montrose Records. The Swamp Royale band consists of: Absher, guitars and vocals; Fulcher, bass; Barry Seelen, Hammond Organ and piano; and Mike Patton, drums. The horn section is Anthony Terry, baritone sax; and Andy Saad, tenor sax. Background vocalist Nicoya Prolar helps with the finishing touches.
The album opens with "Woman Who Loves Me" which is the first of six new originals written by Absher. One is immediately impressed with the overall sound of the band and especially with Absher's slide and Seelen's Hammond Organ. "I Need a Drink" features the horns and a sensible man's point of view "I need a drink and need some time, a quiet place where I can ease my mind, I really don't have a plan just gonna try to come out a better man." Absher has a soulful voice and he's at his best on "I Can't Wait". On "Wanna Be Your Man" he sounds like Delbert McClinton. Brian Thomas' pedal steel gives "Not Tonight" a country treatment.
Absher includes some choice covers. "Same Love" is from Bill Withers and it features the tenor sax of Kyle Turner who guests on this track. William Bell's "Miss Your Water"; Leon Russell's "Rather Be Blind" with additional percussion from Samantha Banks, and Allan Toussaint's "Lipstick Traces" are also included. The later features a great guitar solo from Absher and Fulcher's trademark bass lines.
"Jesus on The Mainline" is a traditional tune Absher may have learned from Ry Cooder. It includes Ed Starkey's bass vocal. "Trouble" was written by Fulcher and ex-band mate Tony Braunagel also from The Phantom Blues Band.
"Memphis On The Way" is the last of Absher's originals and it closes out this fine album. Absher competed in the 2014 International Blues Challenge. He should be returning to Memphis again sometime soon.
Richard Ludmerer