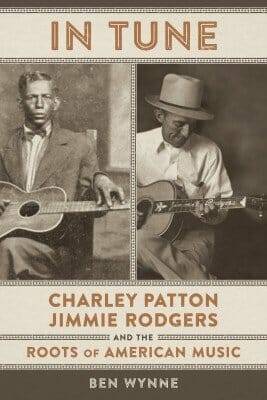 In In Tune: Charley Patton, Jimmie Rodgers and The Roots of American Music, Ben Wynne has written an important book that supplies a great deal of information about two key figures in American popular music and the blues, country and rock 'n roll music they fostered. The book is well-researched and for the most part very interesting, although it does take a bit too long to get to the actual subject of Patton, Rogers and music. The first part, "The Setting," deals mainly with the history of the South pre-Civil War and during Reconstruction and the relationship between the races at that time. That is important to the development of music, and especially blues, but it could have been dealt with in a lot fewer pages and provided the same information.
After Wynne begins to write about Patton and Rodgers, however, things get much more interesting. The book goes beyond telling the details of the lives of these music pioneers, although Wynne does that too, and discusses the similarities in theme and origin of blues and country music. Both of these forms of music come from the depths of common human experience . . . Love, death, sin, redemption, despair, hope . . . And Wynne does a pretty good job of exploring that subject.
A major issue I do have with the book is the near dearth of any mention of women who were also influenced by Patton and Rodgers. There are a few mentions .. . Clara Smith, Bessie Smith, Ma Rainey, Loretta Lynn. . . But compared to the multitude of male musicians who are mentioned there would seem to have been only a handful of women country and blues singers who sprang up from the popularity of Rodgers and Patton. This is the very reason I wrote my book (T'ain't Nobody's Business if I Do) because nearly every writer who writes about blues concentrates almost entirely on the men and the many women who also played the juke joints and honky tonks and traveled in the minstrel and medicine shows deserve credit as well.
Despite of its shortcomings, however, this is a book that deserves to be read by anyone who is interested in the history and evolution of American music.