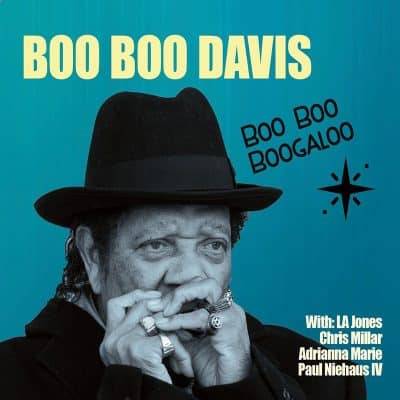 Boo Boo Davis
Boo Boo Boogaloo
At almost eighty years old, St. Louis bluesman James 'Boo Boo' Davis is still busy creating some of the most authentic blues being recorded today.  Born in Drew, Mississippi in 1943, Davis grew up being surrounded by music, playing drums in a family band.  In 1972, he landed an eighteen-year-long gig playing weekends at Tabby's Red Room in East St. Louis.  In 1999, Davis cut his debut album called East St. Louis and he's been busy making records since.  His twelfth and latest release Boo Boo Boogaloo features ten original tracks as real and raw as the blues can get.  It's the kind of blues that slow-drips and settles in the gut.  I love how it feels to hear it.  Produced by Chris Millar, LA Jones, and Paul Niehaus IV, the album features Boo Boo on lead vocals and harmonica, Jones on guitar, Adrianna Marie on bass, Millar on drums, and Niehaus on keys.
"Little House by Myself" rolls and tumbles onto the scene with a sound reminiscent of Fifties Chicago Blues.  The tight-knit rhythm section creates the perfect space for Boo Boo and Jones rip it up on harp and guitar.  Davis' voice rings out with true conviction as he sings "She Made Me Evil".  Jones' smoking guitar licks add brilliance to the unescapable rhythm of this gem.  "Once a Year" is a smoldering timeless treasure of thick, oozy Mississippi Delta blues.  The doors are swung wide open for a Saturday night get-down on title-track "Boo Boo Boogaloo".  This wonderful jam adds a danceable bounce to the album.  A soulful James Brown-inspired vocal delivery from Boo Boo brings the album to a fabulous close with "Jungle Bump".  A captivating beat from Millar keeps a driving pulse as Davis and Jones unleash a riveting, unbridled performance.
This is an album I highly recommend for the real-deal blues fans.  It does not get much better than this.
Phillip Smith
phillycheezeblues.blogspot.com