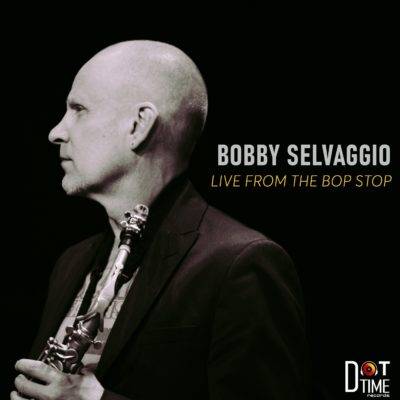 Bobby Selvaggio
Live from the Bop Stop
Dot Time
We didn't want to leave this one behind. This is alto saxophonist Bobby Selvaggio's eleventh album and first live recording, Live from the Bop Stop. Specifically the site is the Bop Stop at the Music Settlement in Cleveland, OH, a place where the bandleader has performed countless times over the past three decades as a leader and mentor to the jazz scene in Northeast Ohio. Unlike that famous basketball player, who returned and then left, Selvaggio had many opportunities to also play in bigger markets but chose to stay home.
Accompanying Selvaggio on this release is pianist Theron Brown, drummer Zaire Darden, mainstays in his regular quartet and bassist Paul Thompson from Pittsburgh. Special guest guitarist Dan Wilson is featured on the tracks "Run Away" and "Hope". Additionally, a woodwind section is added on the tracks "Times a Changin'" and "Too Soon" including Tommy Lehman on flugelhorn, Liz Carney on clarinet, Summer Cantor on bassoon, and Kent Larmee on horn in F. Those two tunes are reminiscent of the writing style of Gil Evans and Keith Jarrett while most of the others could be compared to the heyday of Blue Note recordings. The musicians are Selvaggio's mentees and contemporaries displaying stunning interplay on the alto saxophonist's thoughtful, mostly original material, ranging from straight-ahead to avant-garde with even a bit of electronica mixed in on the pedals/effects driven epic "Spy Movie."
On the topic of live recording, Selvaggio notes "As a musician, and in particular an improvising Jazz musician, there is a different attitude in performing live rather than in a studio. The raw emotion of being in front of a sold-out house and experiencing every note, every moment with a 150-person crowd in an intimate Jazz Club setting really sets the stage for a special environment." The broad, eclectic mix of music is a compendium of selections from different points in Bobby's illustrious career.
The basic quartet begins with "Times A'Changing". A contemplative melody morphs to a fiery, impeccably facile solo by Selvaggio before pianist Theron Brown takes stride into melodic invention over the changes constructed by the bandleader. Bassist Paul Thompson and drummer Zaire Darden play tightly supporting the groove. "Hope" follows as a beautiful waltz featuring Dan Wilson on guitar. This standout track displays the ensemble's dynamic capabilities; driving energy flows seamlessly into subtlety and nuance and vice versa to create a conversational dynamic. "Run Away" shows the ensemble in an ebullient, swinging mode as the melody plays with the motif of the bridge from the standard "Have You Met Miss Jones", and the harmonic changes are a platform for the soloists to engage in adventurous excursions.
"Spy Movie," at almost sixteen minutes, is of a completely different timbre. The group experiments with pedals and electronic sound bringing a 70's Miles Davis sound into 2019. Again, the piece builds both in density and volume. Drummer Zaire Darden is wonderfully reactive throughout the track, while angular melodies are performed by guitar and saxophone – a true study on color. You'll recognize a straight-forward reading of Lennon & McCartney's "Blackbird" with Selvaggio's tone on his alto especially warm and expressive. "Bella" allows Selvaggio to stretch out lyrically and aggressively with Darden again providing plenty of percussive fireworks to spur him on. Brown begins with a thoughtful piano solo that builds in intensity before Selvaggio returns with a sentimental close. "Too Soon" ends the show as the woodwind quartet returns to add textures and provide some counterpoint to solos from Brown and Selvaggio.
As Christopher Coles states in the liner notes "Bobby has continued to be a relevant force on the national scene and locally he is continuing to help the local musicians find their voices and eventually carry the torch. This music on this record is a perfect way to go into 2020 and continue pushing the music forward."
Here is some more information on Bobby Selvaggio. In the words of pianist Kenny Werner, "Bobby is among the best of players out there," and legendary saxophonist Joe Lovano praises Bobby by calling him "one of the few young saxophonists on the scene today that captures you with his strong presence, focus, and sound."Bobby, who grew up in the Cleveland area, earned his Bachelor of Music in Music Performance from Kent State University. He eventually moved to New York City and earned a master's degree in jazz performance from the Manhattan School of Music. While in New York, Bobby studied with Joe Lovano, Bobby Watson, Dick Oatts, and Maria Schneider.
After living in New York City and gigging around town at places like the Vanguard, Smalls, and Birdland for four years, Bobby decided to move back to Cleveland with his family. Northeast Ohio has become his home base of operations where Bobby has toured extensively throughout the US and Canada with various working ensembles and musicians. He has dedicated himself to keeping jazz alive in Cleveland and his passion for jazz education has led him to serve as Director of Jazz Studies at Kent State University.
In addition to his work in jazz education, Bobby continues to expand his discography. His most recent recording is Quantum Man (Dot Time Records, 2016) which features a Jazz Quartet, String Quintet, Voice, and Percussion. As said by Downbeat (receiving 4 ½ stars): "Even at its most abstract, the highly textured, refreshingly unpredictable Quantum Man is persuasive and moving". Quantum Man was also chosen "Best of 2017" by Downbeat. Bobby has also recorded with Aaron Goldberg, Nir Felder, Kenny Werner and Sean Jones, among others on his previous releases Short Stories, Grass Roots Movement, and Modern Times, respectively.