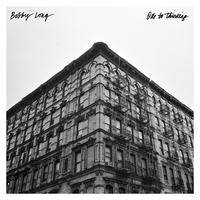 Let's just say right away that Bobby Long is not feel-good, dancing music. But it is powerful, strong music, on which American-based English musician Long uses elements of soul, folk, rock and blues to tackle some serious emotions and tough subjects. With this, his third releases, he has proved himself a proficient musician and guitar player. Here, he is helped tremendously by the contributions of producer/musician Mark Hallman, who plays every instrument that is not a guitar: bass, drums, organ, guitars, harmonica, piano, mandola and accordion.
The album consists of 11 original numbers, some acoustic and some electric. The more soulful numbers, "Cold Hearted Lover of Mind," "Treat Me Like a Stranger," and "Something Blue Something Borrowed" are more personal, with "Something Blue Something Borrowed" especially impressive with its beautiful layered vocal and very simple guitar accompaniment. "i'm Not Going Out Tonight," another personal song, is more f0lk-r9ck, with something of an early Neil Young feel to it.
Other songs deal with social issues. The roughest is "Kill Someone," an anti-racist rant that uses a Dylanesque folk style to hit the listener hard with the passionate lyrics. "The Songs The Kids Sing" is a perfect ode to the loss of hope and desperate search for soemthing to believe in, while "That Little Place" is a masterful piece of storytelling that bravely reveals the dark things we sometimes try to hide away. Long then does offer a slight ray of light with "The Dark Won't Get Darker."
This album really is an "ode to thinking." It stirs up emotions and forces you to think about things. And all this is offered up with stunningly simple arrangements and that really glorious voice of Long's. Buy this album and listen to it often, but you may want to have a glass of wine while you do.