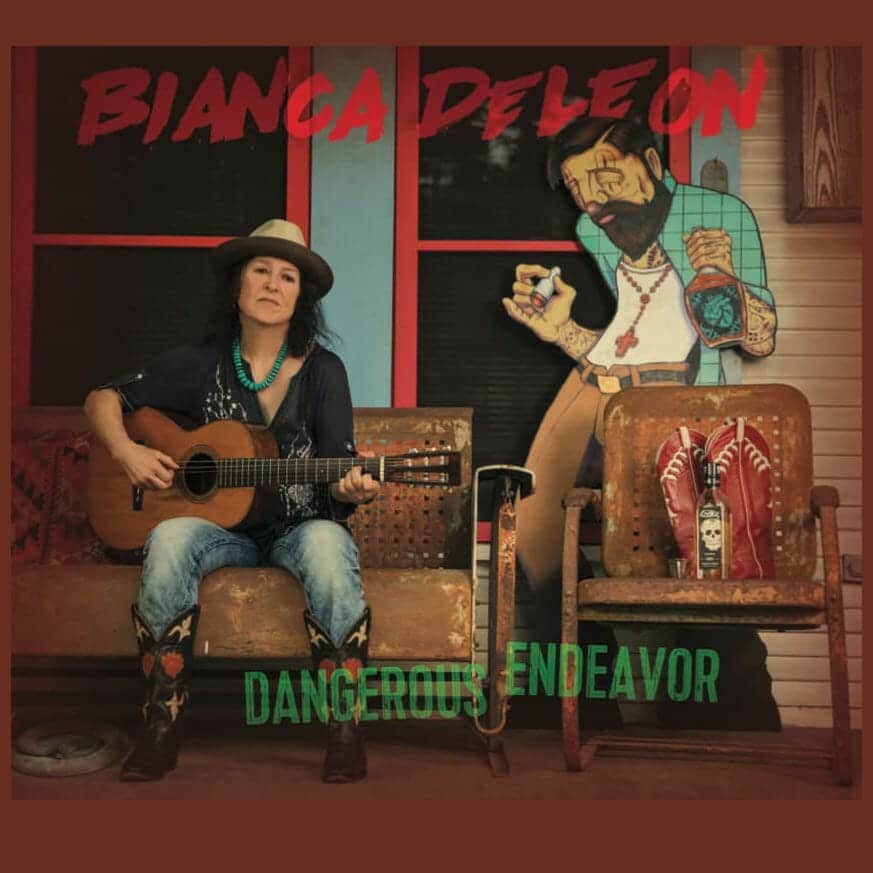 Bianca De Leon
Dangerous Endeavor
Lonesome Highway Music
South Texas native Bianca De Leon is an Austin, TX-based singer/songwriter and author dubbed "Queen of the border ballad" by Nova Lomax and "A voice from Texas that does it right" by Guy Clark. Outside of Texas, she's better known in Europe where she's been touring since 2001 while her albums have also charted very well there. She has an intriguing, sometimes sultry voice and an accomplished guitarist, utilizing both finger picking and flat picking. Given the high news visibility of immigration and the Mexican border, it seems more than appropriate for De Leon to step into the spotlight stateside with her fifth CD. After all she's lived on the border and witnessed far more than most. She hopped freight trains as a teenager, met the young Townes Van Zandt and lived through a decadent period in the early seventies full of car chases, drug deals and eventually the European tours.
The album is co-produced by guitarist and multi-instrumentalist John Inmon who has supported Austin artists for four decades now, most notably the late Jimmy LaFave and Eliza Gilkyson. De Leon and Inmon do almost all the heavy lifting with guests helping on select tracks. Six of the eleven have either violin or viola from Fulvio Renzi or Javier Chaparro. She renders Van Zandt's "White Freightliner" in a minor key at a slowed tempo in a truly unique version that will surprise most listeners. She puts her own stamp on Hank Williams Sr.'s "(I Heard That) Lonesome Whistle Blow," one that she's lived, unlike the many others who have covered it. Her originals are rather unforgettable too. We have the Texas waltz, done sultry style in "Let's Put the Dirty Back in Dancing," a dash of rockabilly with "That Vintage '67 Cadillac," the keening ballads – "Thorns of a Different Rose," "Has It Really Come to This" and "I'm Waiting for a Miracle."
Look a bit deeper and perhaps the two strongest tracks are those that embody the spirit of her nickname, "Hollow Victory" and the closing title track. On those she reveals authenticity, honesty, and expressive pain. Like her mentor Van Zandt, her rawness cuts to the bone. Here's an excerpt from "Hollow Victory " – "Your footsteps on the backs/Of all those in your way/And the battered wrecks /Of those you left behind." The title track could easily be autobiographical and is rather chillingly current – "I left Mexico/And everything behind/And I ran while I still could/Headin' for the border/With a change of my name/In the Texas Piney Woods/I settled in a town/With an ear to the ground/Where no one knows my name/Sometimes I wake in a cold, cold sweat/With a dream of them on my trail"
The darkness she sings about with its oblique references provided a chilling soundtrack to a late night drive in rainy, foggy conditions on the back roads in rural Pennsylvania for this writer. Expecting to encounter deer, images of coyotes and bandits were running through the mind instead. De Leon covers plenty of emotions and seemingly real life narratives on this disc. There's passion, wit, and drama; just what you want to stay engaged with a talented songwriter.